Business
Meenakshi Kumar

|
CMAI's Q1 Apparel Index for April-June FY 2017-18 gives a sense of positivity about business ahead. For Q1, the Index value is 2.77 which has moved up compared to previous quarter, Q4 (Jan-March FY 2016-17) when it was 2.25 points. Surely, the market has recovered after 'demonitisation'. However, the industry had to go through teething problems with the implementation of GST from July 1st. And most players paused deliveries, as buyers were uncertain about post GST inventory implications. They focused more on clearing inventories before buying fresh goods.
Giant Brands' clock in highest index value
Many stakeholders took this opportunity to clear inventory, especially big retailers and brands associated with them. This is evident in the apparel index as well. Giant Brands, mostly the ones with widest retail network clocked in 11.00 points, followed by Large Brands at 4.25 and Mid Brands 3.71 points; Small Brands with least retail control mostly dependent on trade recorded lowest apparel index of just 1.47 points.
Giant Brands also took this opportunity to facilitate recovery with a fabulous 11.00 points growth, with fast clearance of goods that increased Sales Turnover to 7.40 points. Comparatively, Large Brands sales turnover grew 2.00 points and Mid Brands sales turnover grew 2.30, Small Brands, the laggards, clocked in a mere 1.00 points this quarter. Overall the Index Value this quarter saw more impact and dynamism from sales turnover. Moreover inventory holding was much less compared to earlier quarters as the emphasis was on liquidation rather than inventory building.
Q1 Apparel Index clearly indicates Giant Brands have outdone Large, Mid and Small Brands. Small, Mid and Large Brands could manage small growth in sales turnover, perhaps due to stalled or reduced deliveries during the month of June. Giant Brands being connected with organized retail through MBOs, EBOs and large format stores managed their business and sales turnover well. Moreover, they took the discounting route which stimulated sales to clear off inventory at store and company level. This is clearly reflected in their increased sales turnover which was 7.40 points.
Success Mantra: High sales turnover, low inventory holding
There is a strong correlation between sales turnover and inventory holding , and this is clearly evident this quarter. Organized companies and brands understand boosting sales leads to lower inventory holding, relieving cash for the company which boosts fund circulation. Since Small and Mid Brands are more dependent on trade and have less control on retail, they are not in a strong position to push up sales. At the same time, Large and Giant Brands are using this tool successfully to stimulate sales turnover, thereby restricting inventory holding.
As Sanjay K Jain, Managing Director, TT Ltd points out, "We managed to reduce inventory by using MIS and forecasting tools effectively. Instead of monthly monitoring, we shifted to weekly monitoring of sales trends." Agreeing with this point of view Kapil Gupta, Director, Toppler goes on to add, "We focused on increasing sales and decreasing inventory holding. Inventory holding was low because we produced only those goods which were pre sold. We also stopped purchasing new fabrics and focused on clearing our stock. This helped us liquidate our fabric stock, and reduce inventory holding."
Positive outlook for next quarter
With festivals and weddings lined up in the upcoming quarter there is a sense of positivity about business, around 55 per cent brands feel the outlook for next quarter is 'Good', another 10 per cent say the outlook is 'Excellent'. Nearly 33 per cent foresee an average outlook and 2 per cent feel it will be 'Below Average'. Generally, Q2 of the financial year 2017-18, is seen as the best quarter as most festivities fall during this period, brands expect a good season, coupled with almost dry supply chain and shelves in quest of fresh goods. Consumers too are expected to return to stores, GST and new processes would be settled especially by beginning/mid August and this augurs well for business.
CMAl's Apparel Index aims to set a benchmark for the entire domestic apparel industry and help brands in taking informed business decisions. For investors, industry players, stakeholders and policymakers the index is a useful tool offering concrete and credible information, and is an excellent source for assessing the performance of the industry. The Index is analysed by assessing the performance on four parameters: Sales Turnover, Sell Through (percentage of fresh stocks sold), number of days of Inventory Holding and Investments (signifying future confidence) in brand development and brand building. The Apparel Index research is conducted by DFU Publications.
Meenakshi Kumar

|
V-Mart's Q1 operations revenue is up 39 per cent while EBITDA has risen 107 per cent. Profits after tax went up 139 per cent for Q1 FY18. Happy with the spectacular performance , CMD Lalit Agarwal, CMD says the quarter saw a longer marriage season and preponment of EID which helped boost growth. He acknowledged the efforts of team V-Mart for successful execution of GST and expressed gratitude to the entire vendor base for coming on-board the GST platform. V-Mart was GST ready and compliant on Day 1 of rollout in addition to being IndAS compliant. V-Mart opened eight new stores during the quarter taking its total store-count to 149 across 126 cities achieving same store sales growth of 23 per cent in value terms and 27 per cent in quantity terms.
V-Mart has been investing in building capabilities and capacities, though the upcoming quarter is the weakest quarter for Indian retail industry. In Q2, V-Mart's focus will revolve around increasing depth of business i.e. increasing the quantity and unique product options across size range besides increasing the contribution of private labels, investing in technology and building up the organization across functions to offer more value to the customers.
A new design team has been set up to ensure latest design inputs in the season color palette along with forecast and silhouettes. V-Mart is excited to see the overwhelming support from the vendor community towards improving the product options at a store level, which hints at strong prospects for the growth of business.
Angela Gonzalez-Rodriguez

|
Inditex continues with its supply strategy, following the trail of other heavyweights in the sector such as LVMH or Chanel and incorporating its suppliers into its investment portfolio.
In fact, Inditex already controls 100 percent of the capital of Indipunt SL, its largest supplier. The firm based in Arteixo appears in the Mercantile Registry as a sole proprietorship whose sole shareholder is Inditex.
It should be recalled that, to date, Inditex controlled 51 percent of the capital in Indipunt. The group created by Amancio Ortega invested for the first time in the tricot company in 1997, acquiring a controlling stake in Indipunt in 1997.
Indipunt SL registered 71,341,280 euros of sales in 2015, obtaining the first position in the Spanish newspaper 'El Economista' Ranking of Companies of the category.
Angela Gonzalez-Rodriguez

|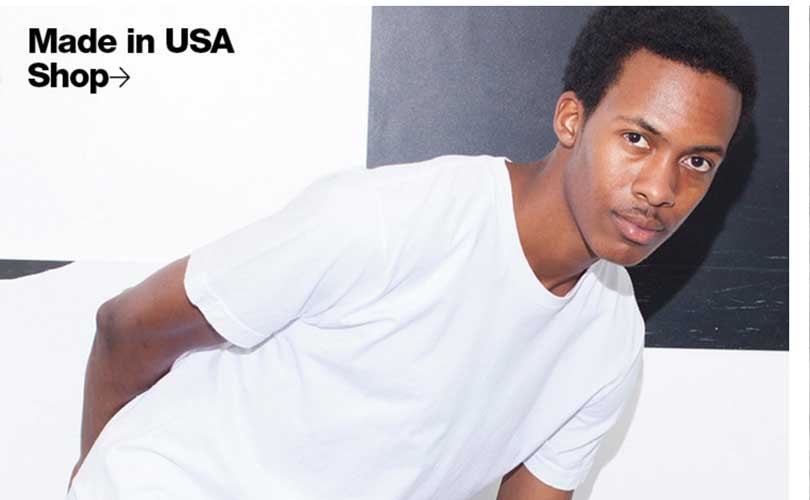 ANALYSISMany have cherished this weekend that American Apparel is finally back after a year of ups and downs that ended up with the Canadian brand Gildan acquiring the troubled fashion brand last January for 88 million dollars.
Fast-forward six months and the renewed retailer is back, online and dialling back the 'American' side of things. Six months ago Gildan bought American Apparel's intellectual property, leaving its operations divisions behind – the Canadian retail group actually acquired Don Charney's brainchild's intellectual property, that's the name, brand, and designs.
So, how does the 'new' American Apparel look like? "Globally Sourced, Ethically Made, Still Sweatshop Free. That's American Apparel," according to the new web. A web that looks pretty much the same than the former Charney's American Apparel.
Truly 'American' apparel limited to eight garments made in the U.S.
The most noticeable difference is that loyal American apparel's fans can still but a limited collection – made of eight different garments – actually manufactured in the U.S. and pay a premium (average price is 20 percent higher for this truly 'American' garments than other similar ones manufactured in any of the international factories owned by Gildan Activewear.)
Market sources told FashionUnited that other difference, less obvious, was that even if the photography bears a large resemblance with older American Apparel campaigns, this new look and feel "is less saucy."
The reasons why Gildan's executives are not concerned about Charney's new fashion label
In the meantime, American Apparel's founder Don Charney has also made a comeback with a quite similar first collection for its 'Los Angeles Apparel'.
Commenting on the potential shadow that Charney's latest venture could throw on American Apparel rebirth, a spokesperson for Gildan told 'Business Insider' that "The fashion basics business is crowded already with lots of brands. The only time we would ever become concerned is if something he was doing was seen to be infringing on any of our intellectual our property rights or purposely misleading consumers into believing the apparel he is selling is American Apparel."
Earlier this month, Gildan's CEO Glenn Chamandy expressed confidence that the American Apparel brand purchase "will be one of the best acquisitions this company has ever made in terms of investment. At the end of the day, we will do very well with this brand."
The Canadian retailer issued its second-quarter figures at the beginning of August, indicating that "Sales reflected the impact of contributions from acquisitions, which came in as expected, with progress on integration activities well on plan."
Photo: American Apparel Web
Meenakshi Kumar

|
Amazon India has seen a 90 per cent growth in sales of fashion segment in the first six months of this year. Amazon introduced as many as 200 brands in the last 18 months, with guaranteed one-day delivery for its Prime users, this has helped in clocking in a twofold growth for the fashion category.
Amazon introduced 50 brands this year and has seen multiple segments in fashion growing over 200 per cent on a monthly basis. The etailer expanded its private labels to 20 sub segments. Much like last year, Amazon is striking deals where brands will unveil latest collections on the portal this December while other market players will get access to it by February or March.
Over the past four years, Amazon has invested aggressively in India. Amazon has spent on building warehouses, large logistics unit, marketing, discounts and increasing product assortment. These efforts have translated into a significant lead in key metrics such as app downloads, desktop visits and mobile website visits.
Prachi Singh

|
Foot Locker's net income for the company's second quarter ended July 29, 2017 was 51 million dollars or 0.39 dollar per share, compared with 127 million dollars or 0.94 dollar per share in the same period of 2016. The company said, this result included a 50 million dollars pre-tax litigation charge related to the conversion of its pension plan in 1996. Excluding this charge, non-GAAP earnings were 0.62 dollar per share.
"Sales of some recent top styles fell well short of our expectations and impacted this quarter's results. We believe these industry dynamics will persist through 2017, and we expect comparable sales to be down three to four percent over the remainder of the year," said the company's Richard Johnson, Chairman and CEO in a statement.
Q2 same-store sales decline 6 percent
The company's comparable-store sales decreased 6.0 percent, while total sales decreased 4.4 percent, to 1,701 million dollars. Excluding the effect of foreign currency fluctuations, total sales for the second quarter decreased 4.3 percent. The company's gross margin rate decreased to 29.6 percent of sales from 33 percent a year ago.
"We are obviously disappointed in the results for the quarter. In addition to working with our vendor partners to identify and capture new trends faster, we are also evaluating a realignment of our capital expenditure priorities and additional expense reductions so we can regain our momentum on both the top and bottom lines and deliver long-term value for our shareholders," added Johnson.
During the second quarter, the company opened 24 new stores, remodeled or relocated 38 stores, and closed 19 stores. As of July 29, 2017, the Foot Locker operated 3,359 stores in 23 countries in North America, Europe, Australia, and New Zealand. In addition, 68 franchised Foot Locker stores were operating in the Middle East, as well as 14 franchised Runners Point stores in Germany.
First half net incomes drops to 231 mn dollars
Net income for the company's first six months of the year decreased to 231 million dollars or 1.74 dollars per share on a GAAP basis, compared to 318 million dollars or 2.33 dollars per share, for the corresponding period in 2016. On a non-GAAP basis, earnings per share for the period were 1.97 dollars, a 15 percent decrease compared to the same period in 2016.
Year-to-date sales were 3,702 million dollars, a decrease of 1.7 percent compared to sales of 3,767 million dollars in the corresponding six-month period of 2016. Year-to-date, comparable store sales decreased 2.6 percent, while total year-to-date sales, excluding the effect of foreign currency fluctuations, decreased by 1.1 percent.
Picture:Facebook/Foot Locker
AFP

|
China's first "cyber court" was launched on Friday to settle online disputes, as the legal system attempts to keep up with the explosion of mobile payment and e-commerce. Residents of the eastern city of Hangzhou -- home to e-commerce giant Alibaba -- can now register their internet-related civil complaints online and wait to log onto to their trial via videochat.
The cyber court will "offer regular people an efficient, low-cost solution to these new kinds of disputes that take place on the internet," Du Qian, the cyber-court chief justice, told the official Supreme People's Court news agency. "Not only will this make lawsuits as convenient as online shopping, but it will also give online shopping the same degree of judicial protection as consumption at brick-and-mortar stores."
The court will handle cases such as online trade disputes, copyright lawsuits and product liability claims for online purchases. China is home to the world's largest number of internet users -- 731 million at the end of last year -- and e-commerce is a vital part of the government's efforts to turn China into a consumer demand-driven economy.
Consumers spent 17.8 billion dollars during Alibaba's biggest online shopping promotion on November 11 last year, more than twice the five-day desktop sales from Thanksgiving through Cyber Monday in the US last year.(AFP)
Vivian Hendriksz

|
London - The wearable device market is expected to hit over 150 billion US dollars in sales annually by 2027, according to new research from IDTechEx. New advancements in wearable technology are being fuelled by increasing global interest, leading to numerous companies investing in new product development, including the likes of Nike and Apple.
Fitness trackers, smartwatches and smart eyewear (including VR and AR) remain the leading products within the wearables market, although some of these products may face difficulties growing in the future. Take fitness trackers for example, which are able to measure body functions during moments of physical activity and share the gathered data with the user via their smartphone. Once the most popular wearable, the market for fitness tracker is reaching its saturation point. In addition, as smartwatches, such as the Apple Watch and the Motorola Moto 360, continue to catch up the capabilities offered by fitness trackers, fitness tracker companies are struggling to keep pace. Market fitness tracker leader Fitbit experience close to a 40 percent decrease in revenue over recent quarters, and Jawbone is currently undergoing liquidation.
However, Fitbit has managed to retain momentum after acquiring smartwatch company Pebble and expects its new smartwatch to deliver key results. "Our smartwatch, which we believe will deliver the best health and fitness experience in the category, is on track for delivery ahead of the holiday season and will drive a strong second half of the year," said James Park, CEO of Fitbit in a statement in the company Q2 results. "In the long term, we are confident in our vision for the future and are uniquely positioned to succeed by leveraging our brand, community, and data to drive positive health outcomes." Smartwatches and fitness trackers remain the largest segment for wearables, accounting for more than 80 percent of shipments in 2016, according to a report from Tractica.
However, their shared market segment is predicted to decrease down to 50 percent by 2022. Body sensors, which can also be used in smart clothing, are predicted to become the third largest wearable device segment by 2022. This development is likely to be driven by wearable patches used in healthcare applications, as body sensor shipments are estimated to reach 92.1 million by 2022. Health-focused applications are currently pushing the next phase of growth in wearables, which are moving outside of fitness and activity trackers to devices which can help prevent and manage chronic health conditions.
Photo: Fitibi, via website
Prachi Singh

|
For the period between April 1 and June 30, 2017, Björn Borg Group's net sales increased by 10.4 percent to 134.8 million Swedish krona (16.5 million dollars) and by 7.2 percent excluding currency effects. The company said gross profit margin was 52.1 percent compared to 53.5 percent, while earnings per share before and after dilution amounted to–0.11 Swedish krona (0.01 dollar) against–0.09 Swedish krona (0.01 dollar) for the same period last year.
"In summing up the second quarter there are several victories to celebrate with a big payoff from our focus on social media, where we are increasing awareness of our sportswear brand in Sweden and the Netherlands. I can lastly add that our efforts in 2016 to improve deliveries and raise efficiencies have proven very successful. We are increasing delivery reliability at the same time that we reduced costs in the second quarter of 2017," said the company's CEO Henrik Bunge in a media release.
Björn Borg reports operating loss of 0.3 mn Swedish krona
The company's operating loss in the quarter amounted to 0.3 million Swedish krona (0.04 million dollars), against a year-earlier profit of 0.3 million Swedish krona. The loss after tax was 3.3 million Swedish krona (0.41 million dollars), against a year-earlier loss of SEK 2.2 million Swedish krona (0.27 million dollars).
For the reporting period between January 1 to June 30, 2017, the Björn Borg Group's net sales increased by 14.4 percent to 320.5 million Swedish krona (39.4 million dollars). Excluding currency effects the company's sales increased by 12.4 percent. The company said, the gross profit margin was 50.3 percent against 51.5 for the same period last year.
Operating profit amounted to 6.5 million Swedish krona (0.80 million dollars) compared to 14.2 million Swedish krona (1.7 million dollars). Profit after tax amounted to 1.7 million Swedish krona (0.2 million dollars against 4.3 million Swedish krona (0.5 million dollars), in the first six months of 2016. Earnings per share before and after dilution amounted to 0.07 Swedish krona (0.01 dollar) compared to 0.20 Swedish krona (0.02 dollar) in the same period last year.
Picture:Facebook/Björn Borg
Prachi Singh

|
On a reported basis, Gap said second quarter fiscal year 2017 diluted earnings per share were 0.68 dollar and 0.58 dollar on an adjusted basis, excluding a 0.10 dollar benefit from insurance proceeds related to the Fishkill fire. Gap's comparable sales were up 1 percent versus a 2 percent decrease last year, while net sales for the quarter were 3.80 billion dollars compared with 3.85 billion dollars for the second quarter of fiscal year 2016.
"With a third consecutive quarter of comp sales growth, we are seeing our investments in product, customer experience, and brand equity begin to pay off. Based on the strength of the first half, we are pleased to increase our full year earnings guidance," said Art Peck, President and CEO, Gap Inc. in a press release.
Comparable sales results of the brand portfolio
The company reported positive 5 percent comparable sales at Old Navy Global versus flat last year, negative 1 percent at Gap Global versus negative 3 percent last year and negative 5 percent at Banana Republic Global versus negative 9 percent last year.
Gap added that the translation of foreign currencies into US dollars negatively impacted the company's net sales by about 37 million dollars.
Gap updates FY17 earnings outlook
The company updated its reported diluted earnings per share guidance for fiscal year 2017 to be in the range of 2.12 dollars to 2.20 dollars. Excluding the benefit from insurance proceeds related to the Fishkill fire of about 0.10 dollar, the company expects its adjusted diluted earnings per share to be in the range of 2.02 dollars to 2.10 dollars.
The company continues to expect comparable sales for fiscal year 2017 to be flat to up slightly and net sales to be slightly below this range driven by an expected negative impact from foreign currency fluctuations year-over-year as well as the impact from international closures in fiscal year 2016.
The company paid a dividend of 0.23 dollar per share during the second quarter of fiscal year 2017. In addition, on August 10, 2017, the company announced that its board of directors authorized a third quarter dividend of 0.23 dollar per share.
Gap ended the quarter with 3,642 store locations in 47 countries, of which 3,179 were company-operated. The company continues to expect store count to be about flat at the end of fiscal year 2017 compared with fiscal year 2016.
Picture:Gap website