Bestseller, a family-owned clothing company from Denmark is optimistic about its India growth story. It retails three brands in India: menswear brand Jack & Jones; women's brand Vero Moda and Only. It also has an accessories brand, Pieces,

which is available within Vero Moda and Only stores. Talking about the retail success of Jack & Jones in India, Country Head, Vineet Gautam says year-on-year like-to-like stores is growing at 35 per cent. Overall the brand is growing at more than 100 per cent, "In May 2010, Jack & Jones was just about 10 stores, today we sell the collection through 40 exclusive shops and 38 shop-in-shops like Lifestyle, Shoppers Stop, Westside, and Kapsons in Punjab. The brand is targeting 100 selling points by December, so the number of exclusive stores will increase to 45 by then. Overall, the plan is to double the number next year."

Aimed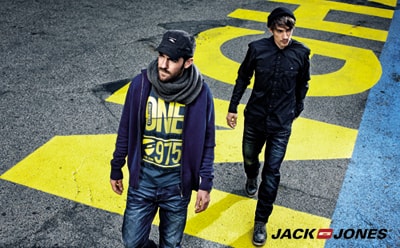 at 15 to 40 years old men, Jack & Jones' denim range start from Rs 1,995 and goes up to Rs 7,995. "This is the most extreme denim we have done so far. For Rs 1995, we have just one product today. Most of the products start at Rs 3,495 and go to Rs 5,995. We are working on the product at Rs 1,995 and Rs 2,495 for the next year because we are entering Tier II and III cities. So you will see a few more options in that range." The brand's biggest strength lies in denim and T-shirts. Their T-shirts go up to Rs 1,795, which are licensed tees. They have Captain America, Harley Davidson, and Mickey Mouse and next month they will introduce Donald Duck. The brand is very strong in accessories with 10 per cent of the business coming from shoes and 6 per cent from sunglasses.

"We aim to be present in the top 20 cities. We are already present in 18 of these cities. We will add the two cities Dehradun and Jaipur, in a couple of months. And then we are adding a lot of cities in terms of shop-in-shops," Gautam
says.

All brands under the Bestseller umbrella retail clothes and accessories in Europe, the Middle East, China, and Canada. They operate mainly through chain stores and more than 12,000 MBOs. Bestseller has more than 5,700 stores in 43 countries. They do not own any factories, but source from loyal suppliers in China, India, Bangladesh, Turkey, and Italy. Moreover, it has independent buying offices in Italy, Turkey, India, and China.

Their women's brand in India, Vera Moda has been their biggest success story. After one year it's almost equal to Jack & Jones, in terms of retail presence. It is present in 34 stores and three or four shop-in-shops. Generally Jack & Jones EBOs are launched along with a Vera Moda EBO. By December 2012, Vero Moda will have some 80 stores. Their other women's brand Only has 10 stores and three shop-in-shops. By December 2012, the brand plans to have another 15 Only stores.

With Jack & Jones the brand follows spring/winter seasons, it works on a fast fashion theory, wherein monthly schedules and weekly deliveries are planned. Currently, it is working on the Christmas range, which will have a bit of party and a lot of leather jackets. "The shortest life cycle for our product is 20 days. So it comes, hits and goes. Medium works from 20 to 45 days. And then you have long term, which may hold true for a basic shirt, this is close to 90 days, except for denims, which have a longer shelf life," Gautam elaborates.

Gautam feels with FDI, a lot of new brands will come in. But in a price segment like Rs 8,000, one can't have too many players coming in, and even if they do, in how many markets will they open? "But FDI will see a lot of money flowing in and people will invest in the business. And I am sure the industry will grow and segments will grow. Consumers will be able to digest these price points and get into fashion denims," he sums up.