Jinaam, incorporated in 2000 is now looking forward to being a complete ethnic wear brand apart from tripling its sales by 2020. Its current turnover is Rs 25-30 crores. Dharmendra Gada, Director, Jinaam Fashion World outlines their growth

plans and says, "We will be the leaders in our business by maintaining high quality and introducing new and innovative ethnic collections across the world. We will always remain customer-centric, constantly upgrading our knowledge and skills. We will add ethnic wear suits followed by women's wear because we want to be a complete ethnic wear brand." At the moment it offers exclusive sherwanis, coat suits, jodhpuris, Indo-western range, pathani suis, kurtas, shirts, trousers and many other allied accessories for men and boys.

Outlining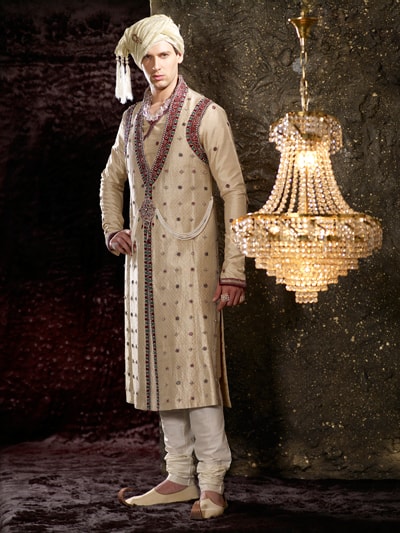 the reasons behind launching an ethnic wear brand catering to men, Gada says, "In today's world, a lot of attention is being put on Indian ethnic fashion. Men are constantly trying to perfect their look for important occasions. Our founders, through their research visualized the need to create an Indian ethnic fashion brand for men, which ultimately gave birth to Jinaam."

He says what makes them stand out is their focus on luxury finish, high quality fabrics with lovely textures, the silhouettes and colours keeping in mind the latest global trends. "We have won an award for designing and two years back, we were judged by CMAI as the best brand in men's ethnic wear," explains Gada. Right now Jinaam makes men's and boy's coat, suits, Indo-western, sherwanis and pathani suits and kurtas. The prices start from Rs 1,000-3,000 for boys and for men it's Rs 6,000-17,000. Every year they come up with 300 to 500 varieties. This time for the festive season they have velvet sherwanis and variety of trousers. Coats and suits also have velvet, silk.

The collection is present through three EBOs which are all in Mumbai. "After two years , we will add more stores. We are supplying at a pan-India level to 300 MBOs. And we will take this number to 400 in the next one year. In this network we are supplying to all major retailers like Big Life Ritu Wears, Benzer and so on. After two years, when we expand our production capacity, we will go to areas like Patna, Ranchi and Guwahati ," Gada says highlighting the retail strategy.