With the upwardly mobile urban Indian population focusing on ethnic clothes for various occasions and festivals, Manyavar the men's lifestyle brand is reaping on the demand while claiming that it has no other competitors at the national level.

With the ethnic market growing rapidly, Manyavar as a leading brand of Vedant Fashions is spiraling at a growth rate of 70 to 80 per cent a year with a turnover of Rs 200 crores at present. Their goal is to reach Rs 500 crores by 2014-15. With its innovative cuts and a range of uncommon colors such as pink, turquoise blue and orange, Manyavar's men's sherwanis, kurta sets, Indo-westerns , party wear and formal wear suits as well as accessories such as dupattas, cummerbunds seem to be striking the right chord with its target group.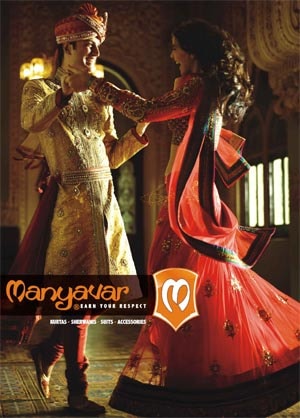 In fact, the brand Manyavar has been a success ever since its inception in 2001 by Ravi Modi. At present it has more than 100 EBOs across India and is 500 plus MBO's in Class I cities. Along with this are 150 plus shop-in-shops and retail presence in large formats like Pantaloons, Shoppers Stop, Lifestyle, Westside and Central. It also showcases its product range at Ethnicity, Pantaloons marriage theme concept in Ahmedabad, Ghatkopar and Kandivili outlets. These outlets offer made-to-order designer sherwanis. However, it's the EBOs and MBOs that yield maximum profits at 70 to 80 per cent, while the large formats bring in around 10 per cent. The company now has plans to cash in on their EBO's and will open over 500 EBOs by 2014-15. These will be both franchisees and company-owned.

"We cater to a range of prices from Rs 500 to a lakh. And it takes time to climb the price points because one has to offer value at every level. In ethnic wear, buyers don't have a budget and even if they set out to buy a kurta for Rs 3,000, they still buy it even if it costs Rs 4,000. Ethnic is worn for particular occasions when one wants to look their best," says Mohit Tikmany, CEO, Vedant Fashions.

The company targets the metros as well as Tier I-II-III cities as a part of its mission to be a pan-Indian affordable ethnic wear brand. However Tikmany says ethnic wear is a difficult business as a wrong move can wipe out an entire year's profits. "In ethnic wear you should sell 90 to 95 per cent of what you make. Otherwise you can't survive. And if you sell at a discount, no one will touch it. As regards our other categories, we may get into women's ethnic wear down the line. We already have children's ethnic wear range which we started one and a half years ago. It has kurta-pajamas and sherwani patterns and soon we will have Indo-western," he concludes.