Manish Mandhana is a happy man, for his company Mandhana Industries, which is rated among the top few textile and apparel companies in India, is now looking at scaling new heights. The company recently signed an exclusive deal with

Bollywood superstar Salman Khan's NGO Being Human for designing, manufacturing and distribution of their clothes line in India. "We have entered into an agreement with 'Being-Human - The Salman Khan Foundation' for designing, manufacturing, marketing and distribution of the Being Human clothing range. This tie-up is a good launching pad for the company in to the retail space and allows us to contribute to a social cause," says Mandhana. What excites him is the fact that by virtue of this agreement, the company shall have exclusive rights to promote and use the Being Human brand name worldwide for its clothing products for the next nine years and three months.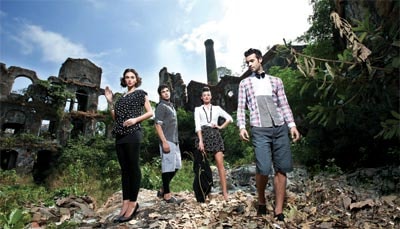 Mandhana says "Salman Khan is a big name in Bollywood with a huge fan following, and he will be the premiere brand ambassador for the 'Being Human' brand. The company has agreed to pay a fixed license fee to the trust and in the later years a percentage of the gross sales over the fixed portion will go to the Being Human Foundation." And on his part Khan will promote the brand.

Indeed Mandhana is now drawing up mega plans to take this partnership to the next level. They now plan to create a signature clothing line for Being Human with active involvement from Salman Khan. That's not all they also plan to open exclusive Being Human stores across India. "Our exclusive stores will open ideally by September 2011. Initially, we plan to introduce casual menswear followed by women and kids clothing," Mandhana explains. Customers will have the option of choosing from mid to premium segment, though it's too early to pin-point the pricing.

Initially, the plan is to start with stand-alone stores in metros followed by 10 more in Tier I and II cities. Later, they will go in for MBOs and adopt a franchisee model to ensure widespread promotion of the brand. Mandhana says they are planning to invest Rs 50 to 60 crores on expanding the Being Human brand. Also, as an addition to their value chain, they are scouting to acquire a spinning mill. For Mandhana Industry as a whole, the turnover for FY ended 2010 was Rs 625 crores and their top-line estimate for FY 2011 is at Rs 775-800 crores.