When the sports and business worlds collide, fashion is never far off. The World Cup, currently taking place in multiple Russian cities, has cost eleven billion dollars and comes with a blend of patriotism, folklore, and familiar aesthetics of the hosting country.
Sportswear remains one of the most successful clothing segments thanks to the recent athleisure trend. No wonder, today's World Cup game is no longer about selling team jerseys anymore, although garnering attention is a much more subtle sport. Nike and Adidas joined forces with big-name designers to create their merchandise for this years world soccer championship, while some luxury brands like Louis Vuitton and local stores like Aizel feature special collections dedicated to the event.
Overt advances
Photo credit: Louis Vuitton | Click through the slideshow to discover more.
What could a French luxury fashion label like Louis Vuitton contribute to a soccer World Cup? The answer seems almost obvious: Louis Vuitton's classic epi leather was embossed like a football and the exclusive versions of its Keepall and Apollo bags were inspired by the colours of Russia's national flag. Louis Vuitton, the namesake label of the French luxury behemoth LVMH group, has been cooperating with the international football association FIFA since 2010 and also designs the trunk carrying case for the victor's trophy in its historic workshops in Asnières, France.
Italian leather goods maker Furla took its cues from Russian folklore: Patterns of matryoshka dolls grace its bag collection that the Italian label launched just in time to sell during the World Cup.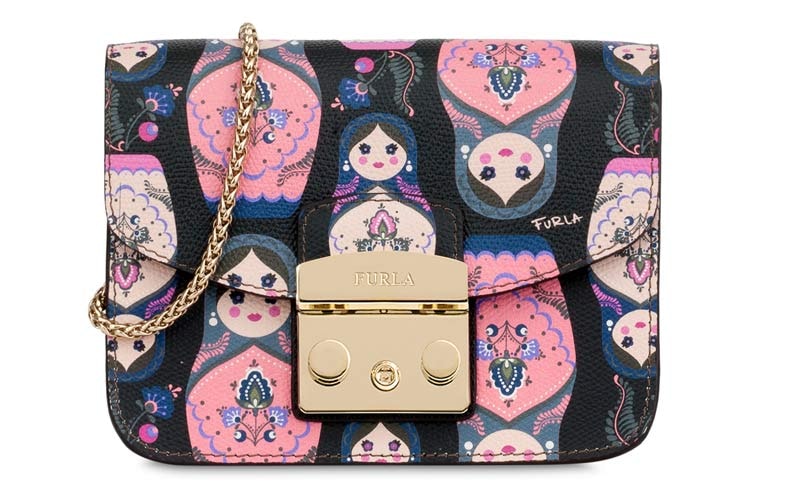 Photo: Furla
Alongside these luxury label's obvious efforts to break into a new set of customers, comes high revenue expectations. Last year, the Russian luxury goods sector recovered from a downturn, that was partly caused by economic sanctions against the country. Growth in this segment is predicted to continue this year due to increased spending power of the middle class, according to consultancy firm Deloitte. The World Cup may bring about half a million international visitors to Russia, who are forecast to spend 5000 to 8000 US-dollars on average, Anna Lebsak-Kleimans, head of the Fashion Consulting Group in Russia, said.
Sowjet street chic and big names
Over the next five years, Russia's gross domestic product may receive a boost from the World Cup by as much as 210 billion rubles (3.4 billion dollars) annually, according to forecasts by the country's Olympic Committee. That's a strong enough prospect to spur the competition between the world's biggest sports apparel brands.
Besides of spending millions of dollars to sponsor national teams from France to Brazil, Nike also aims to keep itself ahead of the competition by appealing to younger consumers with fashion. The US sportswear company partnered with Virgil Abloh from Off-White and Kim Jones for its World Cup capsules. Both designers tied streetwear to luxury fashion, or at least to its price tags; both are stepping on their next career level at the current Paris Fashion Week, that runs parallel to the World Cup. Kim Jones will present his first men's collection at French fashion label Dior, Virgil Abloh will succeed Jones at Louis Vuitton on Thursday.
Fotos: Nike x Off White "Football, mon amour" | Hover over the image to discover more.
"Young Russians, particularly females, will remain key consumers of sportswear that will drive overall growth," analysts of market research company, Euromonitor International said in a report. The 2018 FIFA World Cup is expected to contribute to "the enthusiasm amongst local consumers in being involved in various sports activities, which will translate into higher demand for sportswear."
Nike's rival, Adidas, sponsors the German team among others, resulting in a fierce race about whose logo will adorn the the jersey of the World Cup winner. Even though Nike is leading in global sportswear, the US company is trailing its German competitor in the Russian market. Adidas boasts a share of 8 percent in the World Cup's host country, while Nike trails behind with just 5.4 percent, according to data from Euromonitor International.
Adidas is fiercely defending its lead position in Russian market. The Herzogenaurauch, Germany-based, company created its World Cup collection with the help of Russian designer Gosha Rubchinskiy. The designer is internationally known for his ironic infusion of Soviet style into streetwear. The capsule collection, which became available for purchase from the start of the World Cup on Thursday is being sold at KM20 (Kuznetsky Most 20). The concept-store has been stocking Rubchinskiy's pieces since its beginnings, as a stronghold for streetwear that's often inspired by Sovjet elements. It's also selling the collaboration between Nike and Off-White.
Local tradition and ambition
Few places embody the Russian tradition of luxury as strongly as the GUM department store. Boasting World Cup pride, the store has been floating footballs in its fountain, and has over-sized ones hanging from the glass ceilings since last week. The football inspired collaboration of Russian brand BoscoFresh with British label Paul Smith is displayed next to the fountain. BoscoFresh belongs to the Russian fashion conglomerate Bosco di Cilegi, that also owns the majority in the GUM department store. The Muscovite institution hosts an official FIFA fan shop, while also selling the football-embossed Louis Vuitton and Furla's matryoschka bags.
The Moscow high fashion concept store and luxury e-commerce platform Aizel also partnered with local designers including Novaya, MyBacio, Artem Brivda, Alexander Terekhov, Alena Akhmadullina for a World Cup collaboration called "Russian Essentials". The line features T-Shirts, sweaters, jewellery, with which the owner Aizel Trudel hopes to showcase Russian talent.
After the world Cup in August, GUM is planning to open a permanent area for Russian designers, that have only been offered in the department store as a pop-up to date. Fashion expresses identity, as does sports, both may represent a country and its people. The establishment of the local designers between international luxury brands at GUM shows that there is demand for local talent and that these shouldn't only leave the field to others.
Local initiatives like the Russian Fashion Council, founded in 2014, are taking a similar view. Lately, events like the Fashion Futurum were developed to support start-ups and fashion made in Russia. The Russian fashion sectors wants to develop and also increase the market share of its own producers, said Alexander Shumsky, a fashion sector veteran and president of the fashion week Moscow at the shows in March: "We should evolve from the conventional retail market with all the major western labels into a hub for home-grown talent."
This story was written with the assistance of guest author Natasha Binar and Moscow-based editors Galina Uteshva and Natalia Popova.
Foto: Louis Vuitton 2018 FIFA World Cup™