Danielle Wightman-Stone

|
Swedish fast-fashion retailer H&M tops the list of the world's most popular brands, according to internet search data compiled by SEMrush, recording on average more than 30 million searches worldwide per month.
H&M was followed by Zara, which received 25 million searches a month, while sportswear giants Adidas and Nike shared third place with UK-based online retailer Asos with more than 15 million monthly searches each.
Rounding up the global top 10 most popular searched-for fashion brands were Forever 21, Next, Old Navy, Louis Vuitton and Gucci, showing that fast-fashion and sportswear are the big web search draws, with only two luxury fashion houses making the top 10 global fashion brands.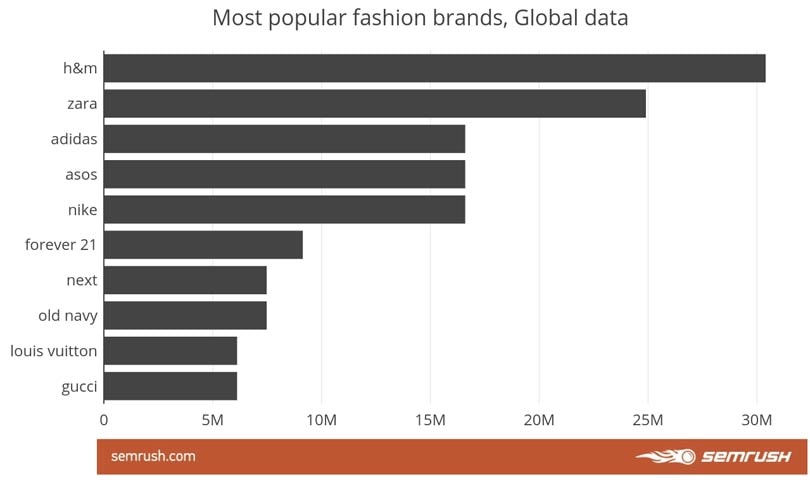 When it comes to UK consumers searching for their favourite fashion brands affordable fast-fashion is the winner with Asos and New Look sharing the top spot with more than 4 million searches, followed by Topshop and Boohoo in second place with over 2 million.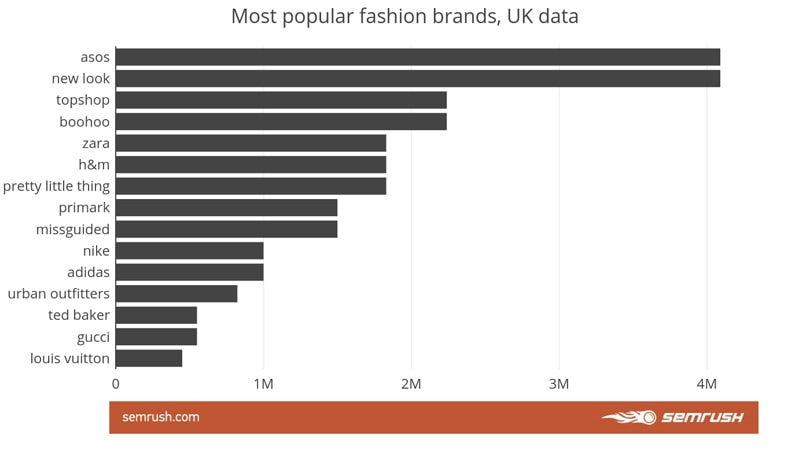 They were closely followed by Zara, H&M, Pretty Little Thing in third sport with more than 1.8 million searches, while Missguided and Primark took fourth place with 1.5 million searches, which is particularly impressive for the budget retailer Primark as its website doesn't allow for online purchases.
UK consumers search for affordable fashion brands Asos and New Look, while globally H&M is named the most popular searched-for fashion brand
When it comes to sportswear Nike and Adidas continued to dominate, taking fifth place with 1 million searches, while New Balance and Puma following much later on the list in 15th spot with 110,000 searches.
Gucci was the most searched-for luxury brand, taking 7th place with 550,000 searches, closely followed by Louis Vuitton and Hermes in 8th with 450,000 searches. Other high-end brands on the list were Michael Kors, Tommy Hilfiger, Calvin Klein, Hugo Boss, Burberry, Net-a-Porter, Vivienne Westwood, Mulberry, Christian Louboutin, Victoria Beckham and Chanel.
SEMrush's top 15 fashion brands based on UK search engine data:
1. Asos / New Look (over 4 million)
2. Topshop / Boohoo (over 2 million)
3. Zara / H&M / Pretty Little Thing (over 1.8 million)
4. Missguided / Primark (1.5 million)
5. Nike / Adidas (1 million)
6. Urban Outfitters (over 800,000)
7. Ted Baker / Gucci (550,000)
8. Louis Vuitton /Hermes (450.000)
9. North Face /Jack Wills / Forever 21/ Michael Kors (over 350,000)
10. Uniqlo / Tommy Hilfiger / Zalando/ Swarovski (just over 300,000)
11. Gap / Rolex (over 245,000)
12. Calvin Klein (just over 200,000)
13. Hugo Boss / Burberry /Under Armour / Moncler, Net A Porter, Skechers, Ray Ban / Vivienne Westwood (165,000)
14. Mulberry (135,000)
15. New Balance / Tag Heuer / Puma / Christian Louboutin / Aldo / Victoria Beckham / Patagonia /Chanel (110,000)
The SEMrush ranking of web users' favourite fashion brands is based on global data from between June 2017 and June 2018, as well as UK data from between May 2017 and May 2018.
Main Image: courtesy of H&M
Graphs: courtesy of SEMrush