Culture
AFP

|
Surrounded by green hillsides and fluttering flags, young women wearing silver headdresses and colourful costumes filed onto the stage, dancing hand in hand as sounds of singing filled the valley.
For centuries, the Yi people of southwestern China have celebrated their biggest holiday of the year, the torch festival, over three days during the sixth lunar month.
Traditionally an occasion for matchmaking, with young men and women searching for potential spouses, the festival has become an occasion for the Yi to pay maintain their customs in a time of rapid change in China's countryside.
In an effort to boost growth and lift living standards, Beijing aims to resettle millions of rural people in cities in coming years.
Modernisation has already brought transformation to the remote area of southwestern Sichuan province where roughly two million Yi people live, with a new airport and railroad networks crisscrossing the hills.
At this year's festival, an amplifier blared songs and a stream of commentary not in the local language but in Mandarin Chinese. Spectators watching the festival wore backward baseball caps and cargo shorts. Women with dyed hair snapped selfies with the girls as they adjusted their delicate and complex costumes.
At night, revellers and tourists carried long torches past a tall bonfire shooting sparks into a rainy sky, and dreadlocked shamans put themselves through painful rituals with scorching hot metal implements.
It increasingly rare for young Yi people to don the traditional clothes of their ancestors. "This is my first time wearing the full traditional costume," said one girl at the festival outfitted in a towering metal hat. "I really like wearing it. At other festivals we don't wear it."
Some women carried yellow umbrellas and sported long skirts of red and gold, others wore tinkling metal ornaments, embroidered belts, and hats shaped like chandeliers.
Men paraded in leather helmets and shields, bearing swords and staffs, while a troupe of young women walked together under brilliant yellow parasols. Wenze Mochen, 20, said she had had her costume since she was a child. "My mother had people make it for me," she said. "It usually takes a few months to make one."
(AFP)
Don-Alvin Adegeest

|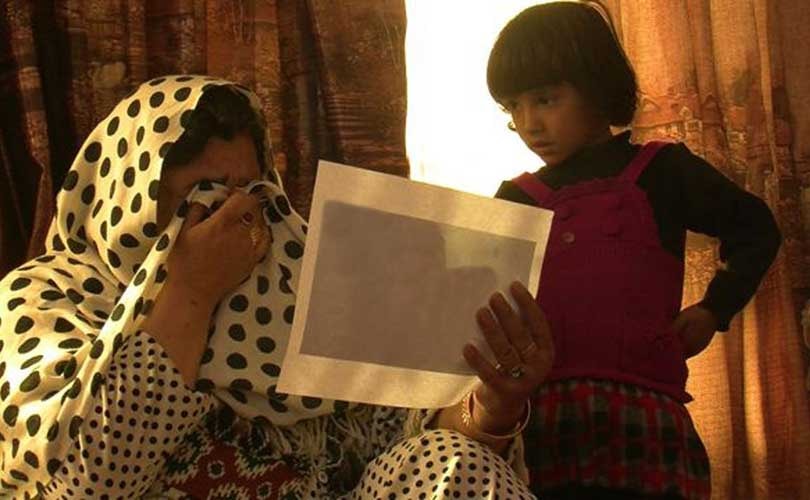 Moving image and fashion have long gone hand in hand, which is perhaps why Gucci have launched a Documentary Fund in association with the Tribeca Film Institute.
Partnering with the AOL Charitable Foundation Award, the names of the Gucci Tribeca Documentary Fund and 2016 Award recipients have been announced.
This year the winning documentaries all explore social and humanist questions, receiving a subsidy of 150,000 dollars to finance their production and finalization.
Since 2001, the Tribeca Film Institute has supported the filmmakers documenting the most interesting and poignant stories and issues in today's society. Via financial subsidies and professional development programs, the TFI provides the necessary resources to allow them to create their work.
Films highlight issues of social important
The Gucci Tribeca Documentary Fund provides finishing funds to feature-length documentaries which highlight and humanize issues of social importance from around the world. Funded films are driven by thoughtful and in-depth storytelling, bolstered by a compelling visual approach.
Gucci and AOL are also partners in this program, subsidizing the winners of the Gucci Tribeca Documentary Fund and the AOL Charitable Foundation Award respectively. This year, the jury, made up of director Sharmeen Obaid-Chinoy, producer Dede Gardner, director general of the International Documentary Association, Obaid-Chinoy, actor Josh Lucas and producer Dyllan McGee, have awarded the prize to seven humanist-themed documentaries that deal with issues and major social questions that force the spectator to stop and think, whether global conflict, the migrant crisis, women's role in Palestine or marital problems in India.
The award of 150,000 dollars will help finance a production in addition to access to professionals for guidance and to grow their businesses.
The winners include One Bullet Afghanistan by Carol Dysinger, Marriage Cops by Cheryl Hess and Shashwati Talukdar, and Radical Brownies by Linda Goldstein Knowlton.
For a full list and further info on the Fund go to www.tribecafilminstitute.org
Photo Credit: One Bullit Afghanistan
Vivian Hendriksz

|
"Helmut Newton did something extraordinary for the brand," said Ashish Sensarma, CEO of lingerie brand Wolford at during the press preview of the upcoming exhibition 'Helmut Newton - A Retrospective' at photography museum Foam in Amsterdam. "He captured the brand DNA, our true DNA, through photography." A sponsor for the exhibition, it is clear that Sensarma is greatly moved by Newton's work. "I had a tear in my eye when I saw the exhibition, it really is outstanding," he added. And he is not alone in being so touched by the work of the German-Australian photographer.
"Helmut Newton did something extraordinary for the brand. He captured the brand DNA, our true DNA, through photography"
Helmut Newton (1920 - 2004) is known best for his fashion, portrait and nude photography. A self-proclaimed voyeur, his work often revolved around sensual, mysterious yet powerful women and his vision/perception of them. Voyeurism, fetishism, eroticism, exhibitonism humour and death are all recurring themes in his work, which some may think of as slightly dated in 2016. However Newton was a true pioneer of his time, pushing the boundaries of fashion photography in the 1960s, which was when he began his rise to fame and started shooting for the likes of French and British Vogue, as well as Elle and Harper's Bazaar. Anna Wintour, the editor-in-chief of US Vogue has praised his work for being "unbelievably influential" and he is said to have been close friends with designer Yves Saint Laurent and Karl Lagerfeld, shooting both campaign and products shots for YSL and Chanel.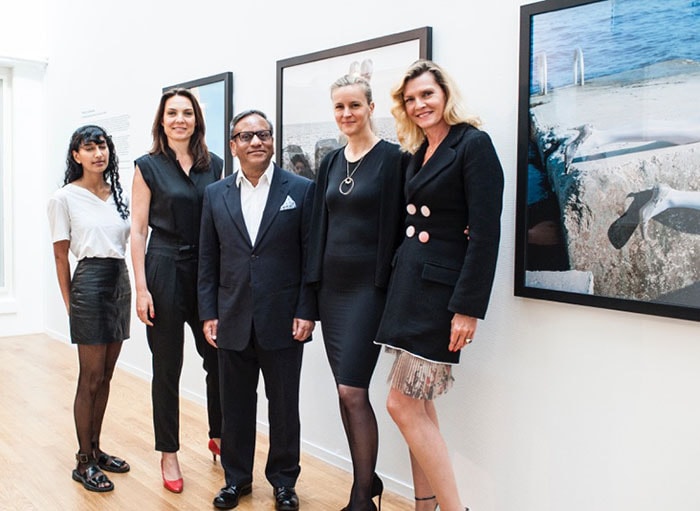 "I don't know if they were close friends or not. I would say they were more companions as I don't think friendship is a big word in the fashion industry" joked Matthias Harder, Curator at the Helmut Newton Foundation in Berlin, Germany which helped curate the exhibition at Foam. The retrospective features 200 pieces of Newton's work over the years, beginning from his early years shooting for French Vogue and on to his later years, when he began focusing more on portraits and nudes. The exhibition also features a short film shot by his life partner and wife June Newton aka Alice Springs, entitled 'Helmut by June' as well as the work of three young and upcoming photographers, who were inspired by Helmut Newton and an installment by Wolford. Newton knew from a young age that he wanted to be a photographer, and after fleeing his hometown of Berlin 1938 and briefly living in Singapore, he ended up in Melbourne, Australia. However, it was not until he moved to Paris in 1961 that he began attracting attention from the fashion industry with his stylized, erotic shoots, which portrayed women as dominant and sexually powerful creatures.
"There was a certain collaboration between Newton and Lagerfeld, and Newton took his portrait several times," said Harder. In the early 1970s Newton created a series for French Vogue which showed the models together with the designers, a very unusual decision seen in fashion photography at the time. Although Newton was commissioned by magazines to shoot editorials, he always worked with his own ideas and themes, toying with them as he saw fit. Newton often referred to himself as "a gun for hire" but never shied away from using a photoshoot as a means to tell his own story. The photographer is said to have altered the course of fashion photography as he created a mood and a story to showcase the clothing, rather than letting the clothing sell itself in the photograph. "The gaze, I think, is very important in Helmut Newton's work," said Marcel Feil, adjunct Artistic Director at Foam. "And the type of storytelling he does in his work. There is always a sort of game going on, of someone looking at somebody else - someone revealing something to someone else. And one would say that fashion is all about hiding and covering, dressing up. But it is also about revealing things. It is that complex game of revelation and disguise, of fact versus fiction."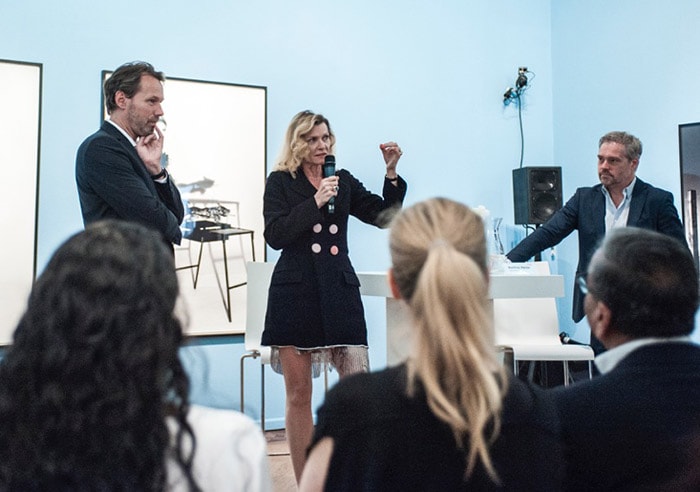 "Newton makes us observers of his voyeur"
In the many of his photographs, especially those taken after Newton suffered a near fatal heart attack in 1971, are said to have become more explicit, "more Newton." In these photographs, the artist almost forces the viewer to look at women and their bodies under a new light, not necessarily as a sexual object of desire but rather as the stronger, more powerful gender of the two. "Newton makes us observers of his voyeur," noted Harder and the photographer was often referred as the 'King of Kink'. "He forced us to really look at things and women and their bodies. He gives us a new approach to viewing a person, even in their naked form." Newton was hailed as a groundbreaking glamour fashion photographer back in the 1970s and 1980s, although some argue that his vulgar and voyeuristic view of his subjects defines their sexuality as he saw fit. Some of his most famous photographs include one of a woman in stockings and a garter belt and a saddle on a bed, and a shoot for Yves Saint Laurent, in which one androgynous model wears a suit and is accompanied by another model in nothing but a pair of high heel and a pillarbox hat. However at the same time it is clear that Newton also holds a certain sense of awe and respect of the power his models have. "It's a physiological effect his photos have on people, they can bring out a side of the viewers they did not even know they had."
This effect is perhaps the strongest in one of Newton's most well known photographs 'Sie Kommen!' (Here They Come!). A two part series, the photographs were originally shot as part of French Vogue special haute couture edition. In the first image, four models stand in defiant poses, proudly showing their ensembles. But it is the second image, in which the models pose in exactly the same way, only nude, which is the better known half. The nudity of the second photo is not erotic or sexuality, due to the stance taken by the models and the confidence they exude - rather their nakedness has become their shield, their clothing. "Of course the women in the photo look great in the haute couture, with their high heels on" said Sylvia Gobbel, a former model of Helmut and one of the four in 'Sie Kommen' during the preview. "But if a woman is truly strong, she is as powerful naked as dressed. She does not really need haute couture, she could come into a bedroom just in high heels and she would not be ashamed. Because this is not about creating an erotic picture. It is not about seducing the man - not one of us looks into the camera. All these women are their own chief."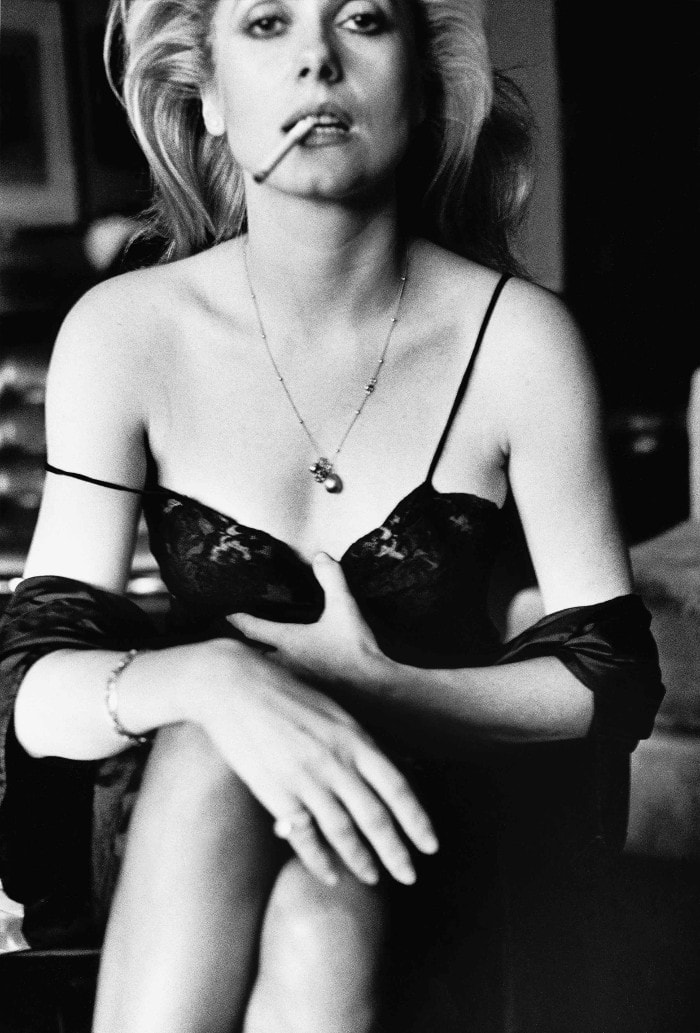 "We are not here to seduce men, we are here to show that women are actually the stronger gender," stressed Gobbel. "And that's actually what Helmut thought as well. He was a feminist." In this sense, the viewer can also see Newton's "rather nasty Berlin sense of humour," as he both mocks the fashion industry and its artificial power of seduction whilst strengthening it and underlining it at the same time in his work - a fine line for any artist to master.
'Helmut Newton - A Retrospective' is set to run from June 17 to September 4, 2016 in Foam Museum, Amsterdam the Netherlands.
Interested in reading more on Helmut Newton, or seeing more if his work? Then
click here
to see FashionUnited's virtual tour of the exhibition,
Photo credits: Homepage photo - Yves Saint Laurent, French Vogue, Rue Aubriot, Paris 1975 © Helmut Newton Estate / Maconochie Photography
Photo 1, 2 and 3: Foam, press preview - Simon Trel
Photo 4: Catherine Deneuve, Esquire, Paris 1976 © Helmut Newton Estate / Maconochie Photography
Vivian Hendriksz

|
Perhaps one of the most celebrated fashion photographers of the 20th century, Helmut Newton was a true pioneer in his field. Nudity, voyeurism, fetishism as well as humour, death and eroticism, are just a few of the recurring themes which are central to his work. Newton began working as a photographer in Singapore, and later Australis in the early 1950s, but his name was relatively unknown until the late 1960s and early 1970s, when his work began to catch the eye of French and British Vogue, as well as the likes of Yves Saint Laurent and Karl Lagerfeld. He saw clothing, or the lack of clothing, as a medium to tell the story, his story and was known for pushing the boundaries when it came to the female form. Women and their power are key to his images and have remained so over the years.
Anna Wintour: "[Helmut Newton was] unbelievably influential"
The museum of photography in Amsterdam Foam presents a retrospective of his work and celebrates his most iconic fashion photographs, portraits and nude shots. In order to see FashionUnited's virtual tour of the exhibition, move your mouse over the images below.
The Yellow Room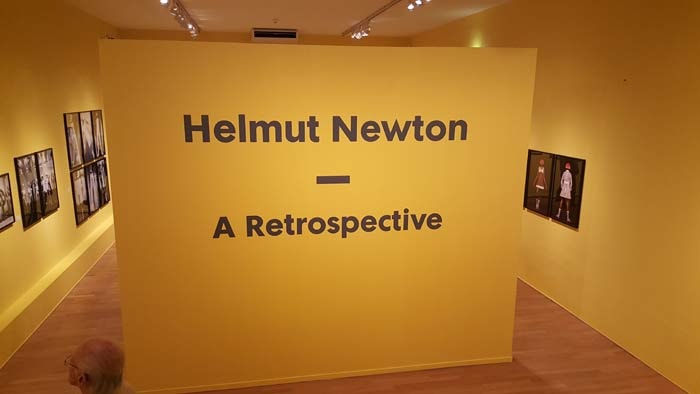 The Blue Room
The Green Corridor
The Red Room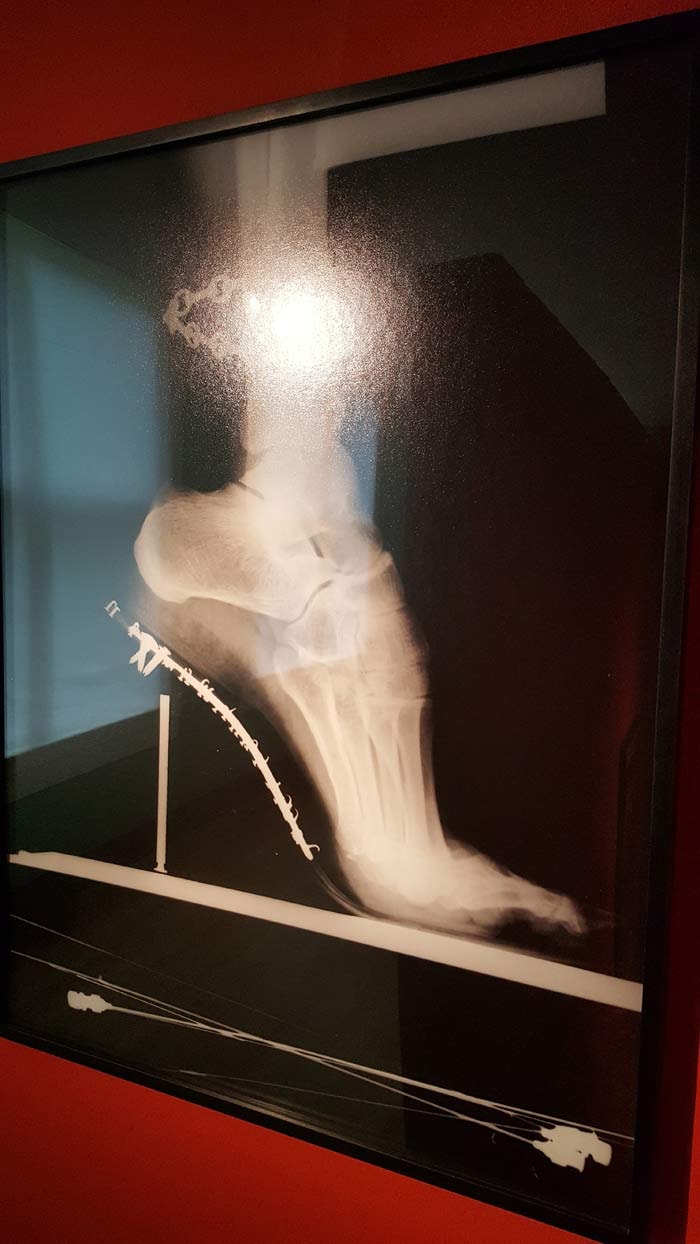 "What I find interesting is working in a society with certain taboos — and fashion photography is about that kind of society. To have taboos, then to get around them — that is interesting."
The Blue Room #2
The Orange Room
The Blue Room #3
"My job as a portrait photographer is to seduce, amuse and entertain."
'Helmut Newton - A Retrospective' is set to run from June 17 to September 4, 2016 in Foam, Amsterdam and features over 200 items of Newton's work in collaboration with the Helmut Newton Institution in Berlin.
Photos and videos: FashionUnited
Don-Alvin Adegeest

|
Careful examination of the LVMH figures show that not all brands, particularly Dior, are performing as well as they have been in the past.
Whether it is the departure of Raf Simons that had any effect, revenues at Christian Dior Couture declined 1 percent to 429 million euros in Q3 to March 31. The drop in sales was attributed to the LVMH-wide problem of lower tourist numbers in Paris and some Asian countries, the company said.
For the nine-month period, Christian Dior Couture revenues climbed 8 percent and by 3 percent at constant exchange rates to 1.39 billion euros.
France is the number one tourist destination in the world, and tourist accounts for 7 percent of gross domestic product.
In January Richmond, the world's second-biggest luxury goods group, stated it had been hit by the economic slowdown in Asia and in Europe.
The company said trade had been severely affected by the Paris terror attacks on 13 November in which 130 people died. France accounts for 8 percent of global sales.
Image:Dior
Sujata Sachdeva

|
Textile revivalist Gaurang Shah, who has been working with traditional weaves to revive various forms of saris belonging to different states, is all set to host an exhibition of Jamdani art through 'Kalpavriksha - Sari Art Show' from December 10 to 12, 2015 in Apparao Galleries.
Taking a cue from the theme Kalpavriksha - Tree of Life, the saris to be showcased in the gallery are the allegorical portrayal of 'Tree Of Life' through an opulent collection of Indian textile in the traditional art of weaving Jamdani . Shah through the 'Tree of Life' concept hhas worked on some of the exquisite and complex variety of Indian embroideries such as Kantha of West Bengal, Zardosi from Hyderabad, Kasuti of Hubli, Marodi of Rajasthan, Chikankari of Lucknow, Kashidakari of Kashmir, Bandhani from Kutch and Parsi Gara from Mumbai.
The aim behind organising this show is to create awareness among the people about these long lost weaving and embroidery techniques. After launch of his first flagship store in Hyderabad in 2010, Shah's works have received a celebrity fashion following, who include Vidya Balan, Sonam Kapoor, Kirron Kher, Kajal Aggarwal, Amala Paul, Tapsee Pannu, among others. His other stores are spread across Bangalore, Chennai, Kolkata and Mumbai.
Sujata Sachdeva

|
Leading online fashion platforms Koovs returned with its second edition of 'Koovs Goes to College' campaign that provides one lucky ambassador, a chance to pursue a course at the London College of Fashion. The campaign will enroll students across Mumbai, Pune and Bengaluru for the contest. Registrations for the campaign commenced from Monday and will be open till August 15.
The campaign aims to provide students with a platform to showcase their talent and get recognition in the fashion industry. Koovs will handpick about 400 students across the three cities, who will experience the entire process of fashion journey.
Koovs is a premium end fashion e-commerce retailer. The store retails over 200 premium brands and high end clothing, hand bags, shoes, fragrances, fashion accessories and jewelry. Koovs, floated a year ago, will seek further funding in due course to further realize the potential of business and market.
Sujata Sachdeva

|
A silver, Lycra gown designed by fashion designer Wendell Rodricks and flaunted by Sony Kaur at the Amazon India Fashion Week recently, has been picked by the museum at Fashion Institute of Technology (FIT), New York, for the Global Fashion Capitals exhibition. The 30 m gown is adorned with net panels. Director of the museum at FIT, Valerie Steele, and curators Ariele Elia and Elizabeth for the Global Fashion Capitals exhibition that opens in New York on June 3 selected the gown for display during the event. The museum is part of FIT, a State University of New York (SUNY) college of art, design, business, and technology that has been at the helm commerce and creativity for 70 years.
The exhibition traces the fashion trends spotted in the global fashion capitals Milan, London, New York, Tokyo and more, while exploring the factors that enable emerging cities, such as Seoul, Shanghai, Berlin, Istanbul, Johannesburg, Sao Paulo, Mumbai, and Stockholm, to rise to global prominence.
Meanwhile Rodricks has been conferred the 'Chevalier de l'Ordre des Arts et Lettres' title for his contribution to the fashion industry and for incorporating French charm in his creations. French ambassador to India Francois Richier honoured Rodricks with the medal of the Knight of the Order of Arts and Letters (Chevalier de l'Ordre des Arts et Lettres) on board the French naval frigate FNS Chevalier Paul in Vasco da Gama Port in Goa.
Wendell Rodricks is known for his ability to blend ancient Indian geometry with Goa's relaxed style. He got trained in Los Angeles and Paris. After designing for companies like Garden Vareli, cosmetic giant Lakme and diamond corporate DeBeers, designer established his own label in 1990.
Sujata Sachdeva

|
Leading fashion house, Manyavar is the latest to be a title sponsor for sporting event. The company has signed an agreement as the title sponsor for the Bangladesh Premier Football League 2014-15 season. The agreement was announced during a press conference held at the BFF House.
The prestigious football event in the country will now be known as Manyavar Bangladesh Premier Football League 2014-15. Manyavar was introduced in Bangladesh through Vintage Denim three years ago. The company expects the football tournament to provide much required boost in the country.
Manyavar from Vedant Fashion is witnessing good growth in the category as ethnic wear has moved beyond weddings and festivals. The company is eyeing to establish a strong EBO network apart from further strengthening its e-commerce presence to reach out to pan-India customers. On the other hand, venturing into women's ethnic wear is also on the cards. It now plans to open 600 EBOs by 2015-16.
Simone Preuss

|
In a novel way, German choreographer Helena Waldmann explores the subject matter of sweatshops and worker exploitation in the apparel industry through a 70-minute dance performance called "Made in Bangladesh", using the Indian classical dance form of Kathak. The piece even draws parallels to the "sweat shop" that a regular dance studio can be. Co-choreographed by Kolkata-based Kathak expert Vikram Iyengar, the piece has already had 11 performances in Zurich, Germany and Luxembourg and is currently being performed in India.
Waldmann got inspired to choreograph a piece on garment workers when she passed garment factories on a bus ride from Dhaka to Sylhet. Shocked by their run-down appearance, Waldmann vowed to take a look inside soon. She did indeed and visited a few garment factories in Dhaka with the help of Bangladeshi dance pioneer Lubna Marium, who is the director of Shadhona, a dance school and center dedicated to the advancement of Southasian culture in Dhaka.
Bangladesh could be anywhere
From the sense of order and harmony that Waldmann gathered through her visits and working under a strict time schedule and penalising workers if the factory outputs are not met on time, Waldmann had enough material to conceptualize "Made in Bangladesh". The location is not country-specific though; Bangladesh could be anywhere. "It is not just a piece about Bangladesh. It is about us and our unending demands," explains Waldmann.
The choreographer is also quick to emphasize that she is not out to criticize the garment industry. "The girls that I met at the factory are happy working there instead of going back to their villages where they will be controlled by their families and made to do household chores. Here, they feel 'independent' even though they have to work 10-14 hours daily for low wages, with hardly any free time," says Waldmann.
The 12 Bangladeshi dancers performing the piece are experienced Kathak dancers, all members of Shadona. To give them as authentic an experience as possible, Waldmann invited Nazma Akter, an activist tracking the exploitation in the textile industry, who worked with the dancers and the production team. Several meetings were organized between the performers and 12 workers as their mentors, who even invited them to their actual workplace.
Thus, the first part of the piece, which is 35 minutes long, is a representation of the factory floor, with the sewing machines' rhythmic patterns setting the tone, mirrored by the rudimentary foot and handwork of Kathak.
The second part (of 20 minutes duration) draws parallels between the members of the artistic community and the garment factory workers, who are exploited in the name of creativity and performance. "Dancers suffer the same problem. It is about more output, not about money. When I met some dancers, I was shocked to see that they have longer working hours and lower wages. That is especially the case for ballet dancers, when they always need to be disciplined and have to follow instructions," says Waldmann.
The third part, which is 15 minutes long, focuses on "optimizing performance of humans". Rather than pointing fingers or intending to change the face of the garment industry through her production, Waldmann rather hopes to show her audience a mirror of introspection useful for keeping a check on their demands in an aesthetic and artistic way. "We need to stop fulfilling this desire for more output and wants," says Waldmann. And this is where the fashion industry should take note too and reflect on the usefulness and humanity of its current practices and demands.