Vivian Hendriksz

|
London - The rise of the fast fashion model is said to have transformed the fashion industry and the way we perceive and consumer fashion. Amancio Ortega, otherwise known as the man behind the runaway fashion success retail story Zara, is said to have been the one to bring the business model into mainstream fashion, which has since been picked up by a number of fast fashion players, ranging from H&M to Forever 21 and Primark. The fast fashion business model was originally developed to rapidly respond to latest trends and deliver them to consumers in store within a matter of weeks.
But a new generation of young fashion retailers has seen the emergence of an ever faster model, turning fast fashion into 'ultrafast fashion.' These fashion retailers, which include the likes of Asos, Boohoo and Missguided, are said to have the shortest and leanest supply chain cycles. Their rapid turnover of new products sees them featuring new items every one to two weeks, tapping directly into consumers' growing demand for immediacy. In turn is said to drive their swift sales growth and success and sees them leaving fashion retailers like Zara and H&M in the dust, according to a new report from Fung Global Retail & Technology.
These fashion retailers have been able to tightly streamline their supply chains and move production closer to their key markets, making it easier for them to speed up their design and manufacturing process. In part, this is due to the digital revolution, which makes it easier for designers to find and share inspiration and designs with manufacturers. According to the report, Boohoo, Asos and Missguided are able to produce fashion products in as little to one to four weeks, in comparison to the five weeks it takes Zara and H&M on average to create new products and the six to nine-month cycle most traditional fashion retailers follow.
Ultrafast fashion retailers are able to avoid traditional retailers issues such as product shortages and excessive inventory by basing large quantities of production closer to their headquarters and main customer markets. This way they are able to balance undersupply and markdowns. Ultrafast fashion retailers make designs in small batches to test demand and if items prove to be successful, they can quickly be reproduced. This is why smaller utlrafast fashion retailers like Missguided have become so popular. Launching 1,000 new products each month, Missguided updates its site once a day with new stock. If a popular fashion trend does arise, then the fashion retailer aims to have it available for sale in under a week.
Photo: Asos, Facebook
Simone Preuss

|
Indigenous women weavers in Guatemala take action against a fashion industry that has been exploiting their culturally significant and often sacred patterns and symbols by copying them and using them for their own commercial purposes. The National Movement of Maya Weavers is made up of around 30 organisations from 18 linguistic communities in Guatemala, led by the Women's Association for Development of Sacatepequez (AFEDES). By now, they have even introduced a bill to safeguard their textile creations and thus their intellectual property.
A year ago, in May 2016, the weavers filed a legal action before Guatemala's Constitutional Court, challenging the constitutionality of omitting rules that would protect Mayan textile creations. Introducing a new bill in Congress a few weeks ago is the next to having their collective intellectual property rights recognised under Guatemalan law.
"We must protect our textile knowledge just as we protect our territories," says Angelina Aspuac, AFEDES weaver and university law student, as quoted by Intercontinal Cry. For her, "intellectual property protection is a fundamental dimension of autonomy."
The bill seeks to reform five legal articles on the Law on Copyright and Related Rights, the Law on Industrial Property, the Law on Protection and Development of Crafts and the Criminal Code, and has two objectives: First, to recognise a definition of collective intellectual property, which is linked to the right of indigenous peoples to administer and manage their heritage. Second, they should be recognised as authors, in which case they would automatically benefit from current intellectual property laws.
In addition, recognising indigenous nations as authors on the same level as individuals or companies means that the latter would have to pay royalties to the communities who make Mayan hand-woven goods if they profit from the export of the same. "We are artists," explains Angelina Aspuac. "The people are the artists and authors. What we ask is that the Indigenous Peoples, not just individuals or associations, be recognised as a collective subject."
The Maya designs are more than just pretty patterns - they are elements of cultural identification of the different Maya communities. Their ornamentation and patterns are not only signs of belonging but also have a magical, symbolic function. To "borrow" this symbolism for fashion purposes - as it happens repeatedly - is not only theft of intellectual property but also an affront to the cultural sensibilities of those affected.
"We are struggling so that our craft does not end. We demand that our works are not taken to other countries to make money, and also that other countries do not come to take away our [weavings], as they always have had the custom of coming; and they continue to come, they do not stop. Now there are machines coming from China and Taiwan to make our weavings. We ask that the authorities respect our identity," states Floratina, a 81-year-old indigenous Kaqchikel weaver from the community of Santo Domingo Xenacoj according to Toward Freedom. She has woven for 70 years of her life and traveled to Guatemala City in November of last year, together with hundreds of other women weavers, to demand intellectual property laws that protect collective intellectual property.
"There is a strong appropriation of our designs and textiles," confirms Aspuac when speaking to Truthout. "This isn't only the government, but more so, it is the companies that make bags, shoes and belts with our designs without respecting how we see these pieces within our communities or their significance in our communities. There are elements of our clothing that are sacred, that have a spiritual significance, and others that are only used in ceremonies or by the spiritual leaders in our communities."
In 2011, Guatemalan fashion designer Giovanni Guzmán outraged Mayan leaders from across the country when he used sacred, traditional clothing of the male spiritual leaders of the K'iche' Maya highland town of Chichicastenango for Miss Guatemala in the Miss Universe beauty pageant.
But not only local designer are guilty of this cultural affront - French designer Isabel Marant who may have found inspiration for her collections in numerous tribes from around the world, had to defend herself almost exactly two years ago, in June 2015, against plagiarism accusations by a Mexican indigenous community for motifs found on a blouse, dress and skirt in her Spring/Summer 2015 collection, which the Oaxaca community said was a direct and blatant copy of their traditional dress.
Photos: The weaver women holding their proposal; creating a traditional design /AFEDES
FashionUnited

|
Trendstop's womenswear team bring you a first look at an essential trend direction that will be impacting the women's market into F/W 2018-19 and beyond. First identified in our Themes forecasts this influential trend will be inspiring all sectors of the women's fashion market, from apparel and accessories to print and materials. Our carefully curated seasonal reports evaluate each trends commercial value and longevity with accurate analysis from our trend experts giving you the best possible basis for decision making.
This week, Trendstop reveals three key aspects of our Fall/Winter 2018-19 womenswear theme, Softly Sculpted to FashionUnited readers. 3D forms and sculptural shapes inspire a luxuriously feminine take on womenswear. Architectural influences, modernist styling and clean silhouettes are softened by tactile, natural textures in a refined palette of neutral tones for an effortless approach to winter dressing.
Softly Sculpted - Colour & Print
Off-white and putty tones with a chalky handle bring a fresh femininity to a neutral palette. Accented by inky darks or dusty synthetic pastels, classic blocking and two-tone placements are abstracted with rounded edges and muted textural contrasts. Stark linear patterns achieve a more painterly feel through expressive hand-drawn illustrations.
Softly Sculpted - Apparel
Cosy knits and outerwear are the core staples for any winter collection. Trumpet, flared, tapered and cinched silhouettes play with volume while Layering techniques offer a conceptual take on comfort, mixing regular and asymmetric placements. Self fabrics and trims ensure a clean, minimalist line to elongated forms.
Softly Sculpted - Footwear & Accessories
Simple shapes and constructions are elevated through premium quality, fabrications that are ultra-tactile to the touch. Glove weight, butter-soft suede and smooth, fine grained leathers bring a feeling of understated luxury to oversized clutches, structured belts and knee length boots.
Exclusive Offer
FashionUnited readers can get free access to Trendstop's Fall Winter 2016-17 Womenswear Commercial Themes, an essential report featuring the season's best commercial apparel, footwear and accessories products. Simply click here to receive your complimentary report.
Trendstop.com is one of the world's leading trend forecasting agencies for fashion and creative professionals, renowned for its insightful trend analysis and forecasts. Clients include H&M, Primark, Forever 21, Zalando, Geox, Evisu, Hugo Boss, L'Oreal and MTV.
Images courtesy of Trendstop, left to right: TSE Pre Fall 2017, Nina Ricci Pre Fall 2017, Max Mara Pre Fall 2017, Pringle of Scotland Pre Fall 2017, Joseph Pre Fall 2017, Eudon ChoiFall Winter 2017-18.
Vivian Hendriksz

|
London - It is not a big secret that ready-to-wear bridal wear is a fast growing market, as mass-market retailers continue to move in the wedding category. Now more than ever it seems as if the leading trends from the seasonal bridal shows are being held under a microscope, as bridal wear labels and fashion brands alike scramble to keep their competitive edge. But what are some of the biggest bridal wear trends for spring 2018? What does the future bride-to-be wish to wear on her big day? FashionUnited rounds up some of the leading bridal wear trends to emerge for spring/summer 2018 based on data from retail and research firm Edited.
Exposed Shoulders & Sleeve Detailing
Following on from last season, sleeve and shoulder details are set to become a big trend for next season. In particular, cold shoulders and off-the-shoulder designs were spotted on the runway at seasonal bridal shows such as White Gallery London, with the Bardot style being favored by many designers. In addition, faux-off the shoulder designs made by utilizing sheer fabrics in order to prevent slipping were also a key trend for spring 2018 bridal wear and seen from designers such as Alan Hannah and Sassi Holford.
Attention to the sleeve is also a big trend and was seen in many different forms. Balloon shapes, floaty, unstructured styles featured in many collections, as well as tighter sleeve styles with sheer layers in which lace appeared to be floating on the arm. 3D appliqués topped with embellishments, which were mostly floral inspired were also seen on the bridal runways, while both designers Monique Lhuillier and Naeem Khan accessorized their spring 2018 collections with statement-making beaded body jewelry.
Sweetheart Necklines & Frills
Even within bridal wear, there are some styles which are timeless, and the sweetheart neckline is one of them. Often cited as a no-brainer for bridal wear, strapless sweetheart necklines were seen across the majority of bridal collections for spring 2018. They were paired with a wide variety of skirts as well as a number of fabrics ranging from full-tulle to satin a-line and form-fitting mermaid. But even though most of the usual skirt shapes were spotted throughout the collections shown, the gowns felt less structured and more flowing, which translated to a more romantic and softer feel. Designers Randy Fenoli and Eddy K both paired a sweetheart neckline with a heavily frilled or ruffled skirt for a flowy, sweet look whereas Monique Lhuillier went for a full lace layered skirt for bridal spring 2018.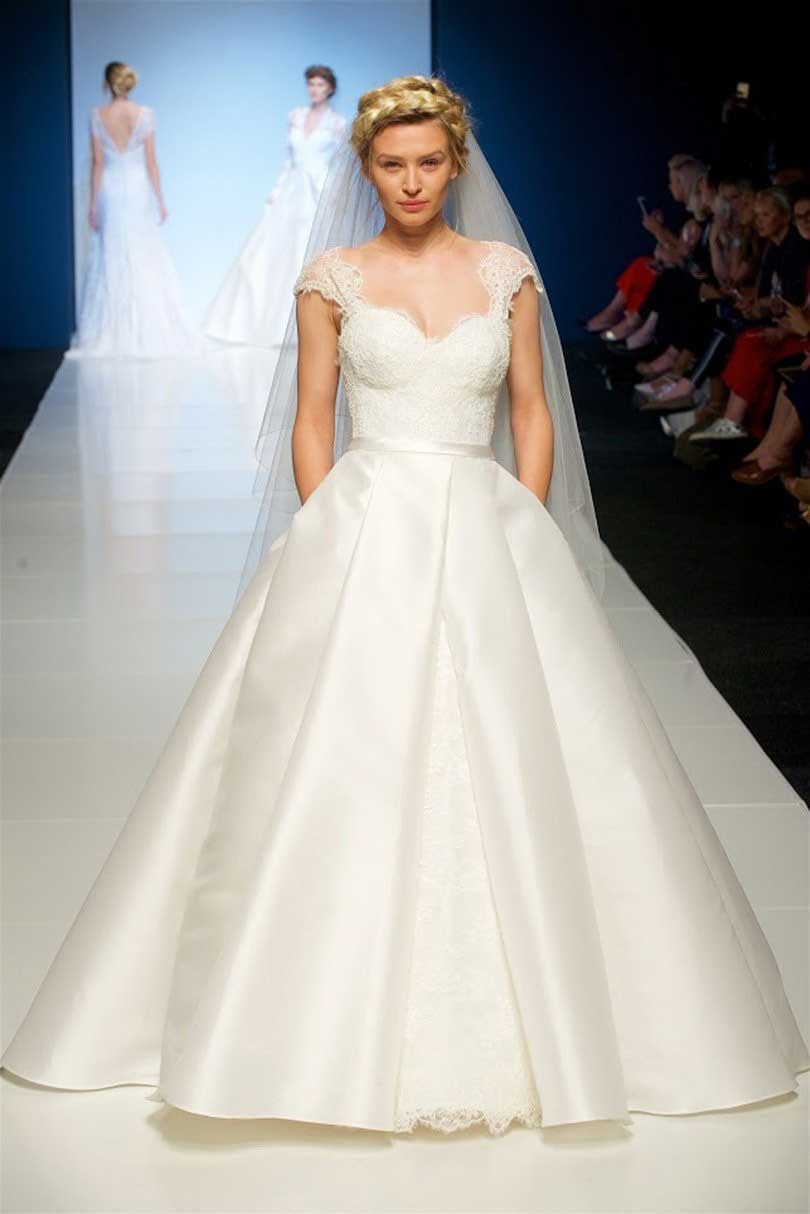 High Necklines & Long Skirts
High necklines, such as turtle necks and halter tops have been in fashion for the past few season and it seems as if this chaste look has made its move into bridal wear for next season. Unlike last year, which saw a number of very sheer and sensual bridal gowns, higher necklines, covered arms paired with floor length skirts were spotted all over the runway for bridal 2018. Vera Wang presented collared gowns with loose sleeves, while Elie Saab and Ines Di Santo included high neckline, demure gowns which completely covered the chest area in their collections for next spring. Monique Lhuillier took things one step further for her bridal 2018 collection presentation by accessorizing gowns with lace capelets and matching gloves, completing the image of a covered, modest bride, a key look for next season.
Plunging Necklines & Thigh High Slit
For future brides to be who may be a bit most daring with their look, then this may be the trend for them. Although a large number of designers favored a more covered look for next season, few entirely cut out the deep v-plunging neckline and thigh-high slit gowns which continue to be in demand. However, rather than sticking to the traditional colourway for this style, alternative looks came in the form of pastel shades such as pinks and blues. Other designers, such as Marchesa and Reem Acra complimented their white and cream gowns with black detailing, which gave the dresses a more modern feel. White or blush-pink, this sensual look will still be a big trend for next season
The Two-Pieced Outfit
Another increasing trend in bridal wear is the two pieced bridal outfit. Although most designers only included one or two two-piece ensembles in their bridal collections this trend is on the rise and will only become more visible for spring 2018. The most popular combination remains a fitted top with trousers or cropped top with a high-waisted skirt, as designers ranging from Carolina Herrera to Oscar de la Renta and Viktor & Rolf all showed two-piece bridal outfits for spring 2018. "I strongly believe in separates for weddings," said Herrera during her collection presentation "that, for me, is the modern way of dressing the bride."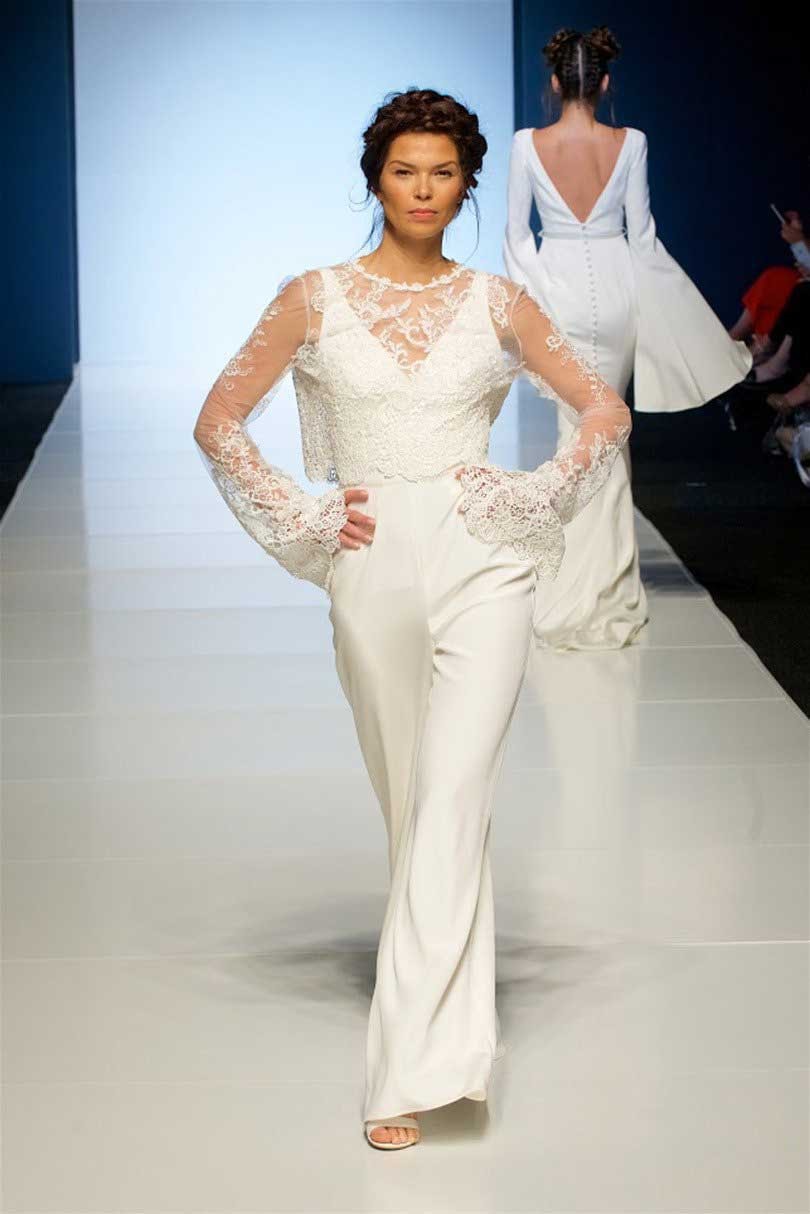 During the month of May FashionUnited will focus on bridal wear. For all reads on bridal wear, click
here
.
Homepage photo: Pexels
Photo 1: Alan Hannah Collection 2018
Photo 2: Sassi Holford Collection 2018
Photo 3: Alan Hannah Collection 2018
Photo 4: Sassi Holford Collection 2018
Vivian Hendriksz

|
Amsterdam - It almost seems unfathomable that a global industry which generated 1.5 trillion euros in revenues last year does not pay a living wage to all its workers. Yet this is the reality for a large majority of the 60 million people employed in the fashion industry supply chain. In countries like Bangladesh, India, and Cambodia, millions of female garments workers are forced to work overtime hours in unsafe working conditions in exchange for the national minimum wage - wage which does not even cover all of their basic needs such as rent, food, and electricity. A recent report entitled 'Fashion Focus: the Fundamental Right to a Living Wage' from NGO The Circle examined the highly profitable fashion sector through a legal view and concluded that a living wage is a fundamental human right which all states are obliged to guarantee. So why are millions of workers still submitted to such unfair treatment?
In order to raise public and sectoral awareness concerning the plight of female garment workers in the fashion industry the Women Power Fashion, a joint initiative of non-profit organisations Clean Clothes Campaign and Mama Cash, is inviting consumers to step into their 'sweatshop' for a first-hand experience of what daily life is like for these women. "The concept is similar to the 'sweatshop' store we ran in the Kalverstraat last year," explained Tara Scally, Campaign Coordinator for the Dutch branch of the Clean Clothes Campaign to FashionUnited. "We had such a great public response to the pop-up sweatshop in Amsterdam, so we wanted to something in the same vein but also new." Instead of just showing consumers what conditions are like in a garment sweatshop in India or Bangladesh, the new pop-up installation lets the public experience them first hand by sitting behind a sewing machine and making as many garments - in this case, ties - they can within an hour.
Women Power Fashion pop-up sweatshop urges consumers to demand a more transparent fashion industry
"The numbers on the wall simulate the targets workers in Bangladesh, for example, are expected to reach," continued Scally. "Some workers have to make up to 100 pieces in one hour and when you sit behind the sewing machine here and you try to do it yourself you realize how hard it is to achieve those targets." The pop-up sweatshop, which opened its doors on May 16, is open to anyone who wants to experience what it is like working in a sweatshop and a number of local celebrities and politicians have already taken their turn behind the sewing machine to raise awareness and ask brands to become more transparent. "We've already had a lot of public interest - which is part of the reason why the sweatshop is so open, so anyone can stop by and have a look." Outside of the transformed sea-container shoppers can also digitally have their say on working conditions in sweatshops and decide whether or not workers are allowed bathroom breaks, safe working conditions, and fair pay. "It might sound strange to most people, but in reality, these are the conditions faced by female garment workers. These are questions aimed at informing consumers."
Shoppers can also sign a petition outside of the pop-up sweatshop which asks fashion brands to become more transparent about where they are producing their products and under what conditions. "Transparency is exactly what we are aiming for - that way trade unions and NGOs can really do their work and brands will know who exactly they are working with and if things go wrong who is accountable. Then consumers will also be able to make an informed choice because no one wants to be a part of this exploitation in the fashion industry." Increasing consumer awareness and encouraging them to buy more consciously while asking fashion brands about the working circumstances their products are made are also key areas of the Women Power Fashion campaign. "It's a good initiative aimed at raising consumer awareness because consumers have the power," said Zehra Khan, feminist activist and founder of the Pakistani trade union 'Home Based Women Workers Federation to FashionUnited. "They are the one who can really make a change and pressure fashion brands to implement laws concerning workers rights. Consumers here in Europe are definitely more aware of these human rights issues than those in Pakistan."
A number of larger fashion retailers, such as H&M, Kering and C&A, have committed to become more transparent and to share their supplier lists with the public in the future, which is a good step added, Khan. "But is just a little step forward. I think brands should be much more open and share their full product supply list, from the farmers they buy cotton from to the factories they work with. Brands should also consider labor rights and regulations before agreeing to have their goods made in a certain country and bring in stronger monitoring systems to ensure these rules are upheld." Khan also believes that brands should be held responsible for working conditions throughout their entire supply chains, even though they do not directly own factories or productions hubs where their products are made because they are the ones who benefited the most from the profits.
"I really hope these types of initiatives will help bring change and that workers will be paid a living wage. I think it's good that people are fighting for change and exposing the ugly side many international fashion brands have, whose hands and bank accounts are soaked with the blood workers who are exploited and just working for their profit." However, in order to bring around systematic change, she believes collaboration is key. "NGOs, trade unions, governments, and brands all need to work together to make a change. They need to think together on how to better the situation. Even if they only increase all garment workers salaries by one dollar it will make a huge difference. Retailers profits won't change, but the lives of the workers will change. They need to think on this level."
The Women Power Fashion pop-up sweatshop on the Grote Marktstraat , the Hague is set to run from May 16 to May 21, 2017.
Photo credit: Anko Stoffels
AFP

|
Designers, buyers, and influencers have descended on Dubai for Arab Fashion Week, a five-day event dedicated to ready couture and resort wear for women, men and those who refuse a label. The show opened Tuesday night with Jordanian-Canadian sensation Rad Hourani, known for his unisex designs, Palestinian-American Jenanne Filat and her menswear lineup straight out of Arkansas, and runway darlings Marchesa.
Hourani sent his models down the catwalk in geometric, binary-transcending designs "based on style preference rather than gender," with men, women and gender non-conforming models in layers of dark boiled wool and poplin, and all in pastel slip-on shoes.
Filat, of the US-based menswear line Barakat Bespoke, meanwhile decked her all-men lineup in suits, metallic lipstick, and no shoes. The week will also showcase designers specialising in abayas, a traditional robe-like dress that is gaining popularity among major labels as they move into regional markets. The International Dwarf Fashion Show will also host a show by American Wardrobe featuring models living with dwarfism.
'Design is for everyone'
While listed as an international fashion week alongside Paris and Milan, the twice-yearly Arab Fashion Week offers exclusively see-now-buy-now collections and pre-collections -- an issue that has been met with some contention by traditional gatekeepers in the world of high fashion. "Design is for everyone," explained Hourani, an invited member of the Chambre Syndicale de la Haute Couture, France's exclusive trade association for haute couture.
Hourani, the first unisex designer to join the association, was handpicked in 2010 by Vogue's Anna Wintour and the late Franca Sozzani to showcase his work in Milan. Along with Burberry, he has been a vocal champion of expanding the traditional system, and timeline, of ordering designs strictly as they appear on the runway months in advance.
True to his aesthetic, his Dubai show was conceptually complex but structurally clean: square necklines, skirts layered over pants, and matte black shades in sharp contrast against uncoiffed hair and a soundtrack featuring the iconic songs of Lebanese diva Fairuz. "I don't aim to make men feminine, or women masculine," Hourani told AFP after his show. "It's... to infuse the two anatomies and create one pure unisex neutral pattern. I think it's important to understand what neutrality is, what unisex is about."
'Bold and unapologetic'
On the other end of the spectrum is Marchesa. The brand's trademark fairytale pre-fall collection was an instant hit with the Arab Fashion Week crowd, some of whom put on their Marchesa best for the occasion. Many were still snapping selfies on the catwalk moments after the lights dimmed and music started.
With three-dimensional floral appliques, layers of tulle, long beaded fringe and intricate embroidery in blush, blue and metallics, Marchesa's collection of gowns was met with nods and excited whispers. Her four-year-old refusing to leave his mother backstage, Marchesa co-founder and designer Georgina Chapman made last-minute adjustments to her lineup with her son Dash on her hip.
"We've always had a strong clientele base here and I think it's because the Middle Eastern woman, the Arab woman, appreciates fashion," Chapman told AFP. "She's not afraid of trying something ... She's bold, and she's glamorous, and she's feminine, and she's unapologetic about that." And it's not just the women who are bold in their sartorial choices.
Barakat Bespoke, a family business out of Little Rock, Arkansas, showcased a selection of suits, cuffed pants and cotton tees on a group of male models from around the world, and of different ages. "This is the first time we've done anything international," said designer Filat, as her gold-lipped, braided-haired models stopped to hug her backstage. "We have to design things a little differently for the Middle East, but it's a little more fun," she said.
"We can do things a bit more outside the box than what we do traditionally, since... we design for the (US) south, generally, which is very conservative." And with the Muslim fashion industry booming, spending on modest wear -- which includes both traditionally feminine and gender-shunning designs -- is expected to top 480 billion USD annually by 2019.
"There's more strictness in the Middle East, but I also see here so many women who are free, who are evolving," said Hourani. "People understand my clothes -- women and men. It doesn't feel at all that I'm in the wrong place." (AFP)
Photo Credit: KARIM SAHIB / AFP
Vivian Hendriksz

|
Fact - the fashion industry remains one of the most environmentally damaging industries in the world. In 2015 alone the global industry consumed 79 billion cubic meters of water, released 1,715 million tons of CO2 and produced 92 million tons of waste alone according to data from the Boston Consulting Group. In addition, because the industry has become so large and fragmented over the years, it is also fraught with social and ethical problems. These range from gender inequality and sexual harassment, to non-liveable wages and ongoing worker exposure to hazardous chemicals and waste.
In order to keep up with the UN's current growth trajectories, which project the global population to rise to 8.5 billion people by 2030, the overall apparel consumption will increase 63 percent from 62 million tons today to 102 million tons (equal to 500 billion t-shirts). This huge expansion will put even more pressure on the industry's finite resources which is why the fashion industry urgently needs to address its environment and social impacts. This is why the Global Fashion Agenda (GFA), a new leadership forum which aims to engage the entire spectrum of industry players in making a change, released its 'Call to Action' last week during the Copenhagen Fashion Summit, the industry annual conference on sustainable fashion.
"To take what we have done so far at the Copenhagen Fashion Summit from conference level and bring it into summit mode is the trick now," said Eva Kruse, president, and CEO of the Global Fashion Agenda, which organizes the Copenhagen Fashion Summit last week. "Since we first starting hosting the Copenhagen Fashion Summit in 2009, we have been trying to put across the message to get people to commit and engage - and we haven't succeeded. Does anyone remember the 10-year plan of action we launched in 2009? No? So we thought we have to do it differently this time. We tried to reorganize and reframe the proposal - we even tested it across a few companies so that we really delivered the message and this is our Call to Action."
Will the industry stick to its sustainable commitments through the Global Fashion Agenda 'Call to Action'
The Global Fashion Agenda is now calling on all fashion brands and retailers to pledge to take concrete steps towards adopting a circular fashion system which restores and regenerates materials. Their Call to Action' follows on from the release of a new report 'The Pulse of Fashion 2017' which aims to act as a comment fact base on the current 'health' of the industry. 20 brands have already signed the commitment, including Adidas, Asos, H&M and Kering, and pledged to take concrete steps on one of the four steps outline to make progress by 2020. However the GFA's 'Call to Action' is not the first, nor last initiative started aimed at bringing around systemic change. Over the years numerous initiatives and non-profit organizations have been founded to help combat the industry issues, such as the Sustainable Apparel Coalition, the Ellen MacArthur Foundation and the Ethical Fashion Initiative, which have all had a positive impact on the industry and its supply chains. But they have yet to make a significant impact on the industry.
At the summit frustration concerning the industry lack of immediate action towards making sustainability, the new norm was clear. "If we have to go to yet another conference where we hear pledges, promises, targets to achieve, discussions on what it will look like, we will all become old before it actually happens," said Livia Firth, founder of Eco Age later in the day. "In fact, the garment sector is the sector which has the most sustainability initiatives in progress - but is there actually one which has reached the scale which is needed to make an impact? I haven't seen it. If success were measured by the amount of promises made in these sustainability reports, well then the situation would be pretty green." However, the situation in the industry is far from green, as outlined in the Pulse Report which rated the current industry's health at 32 out of 100. So what sets the GFA 'Call to Action' apart? Is it enough to kick-start the industry into action and make sustainability the new industry norm?
'The challenge, of course, is the complexity of actually achieving change - since the fashion industry is so fragmented'
"The Global Fashion Agenda's mission and objectives hit the bullseye - to collaborate with multi-stakeholders to influence change from industry to consumers - and its intention, ambition, and commitment is certainly evident," said Christina Dean, Founder and President of Redress, an environmental NGO based in Hong Kong and co-founder of luxury upcycling fashion brand BYT to FashionUnited. "The challenge, of course, is the complexity of actually achieving change - since the fashion industry is so fragmented - not everyone is as aligned. I've been in this area for 10 years, and I've heard across the world that 'it's now' and 'it's urgent' to change, but really, the widespread adoption is pretty snail pace. This is through no fault of the GFA, of whom I'm a great supporter," she added. Throughout the summit speakers and panelist urged those present to start working together, collaborate to innovate and it seems as if some leading players have answered that call.
For example, a new initiative known as the Circular Fibre Initiative was unveiled. Launched by the Ellen MacArthur Foundation, this new initiative brings together key industry retailers and stakeholders to start developing a circular economy for textiles, starting with fashion. The initiative is supported by a number of key industry companies, such as the C&A Foundation, H&M, Nike, The Danish Fashion Institute, Fashion for Good, Cradle to Cradle and MISTRA Future Fashion. "The Circular Fibres Initiative aims to catalyse change across the industry by creating an ambitious, fact-based vision for a new global textiles system, underpinned by circular economy principles, that has economic, environmental, and social benefits, and can operate successfully in the long term", said Dame Ellen MacArthur, Founder, Ellen MacArthur Foundation.
Is circularity the answer to the industry's issues with sustainability?
Circularity, the main focus of the GFA Call to Action as well as the Circular Fibre Initiative, was one of the main phrases used throughout the summit as the leading solution to the industry's sustainability issues. It was mentioned numerous times throughout the day and was the main the subject of numerous breakout sessions, such as Circular Design and "It's been very exciting to see all this aligning of agendas. It's sort of like watching 500 vectors form a pattern," said William McDonough, Chief Executive of the McDonough Innovation centre, a renowned expert on Cradle to Cradle to FashionUnited. "In a way, it's like watching birds fly together as a flock, with that amazing organic coordination. There are subjects common to all of us in the industry, and now we are seeing how it all fits together." He is positive that the industry was coming together to work on solutions for sustainability and foresees change happening at a faster pace. "I always feel like a 30-year overnight sensation, but as far as I can tell change is happening fast - at least it's happening a lot faster now than it was 30 years ago."
"Going Circular is the new hot thing for sustainable fashion and it has concrete actions that brands can try to adopt, making it adoptable," added Dean. "Of course, this is simply another voluntary signatory scheme, but if it's true that, 'where's a will, there's a way', then the Call to Action will help to nudge brands out of the sustainability slow lane." Although most of the attendees at the summit were positive with the current steps taken and the initiatives made towards a more sustainable future, some questioned if it is enough. "This year's Copenhagen Fashion Summit focused on "circularity" – an industry buzzword that promises relief to the problem of limited resources within one of the world's most resource-intensive industries," argued Chiara Campione, Senior Corporate Strategist for 'Detox My Fashion', a campaign from Greenpeace.
'While their focus on circularity sounds promising, it's simply not enough'
"Industry leaders rarely talk about the real solution: reducing the overall volume of production. All their talk about sustainable investing and innovative new materials and technologies comes under the assumption that the industry continues to grow," she noted. "But unlimited growth is impossible on a planet with finite resources. The industry wants to place the responsibility on consumers to educate themselves and recycle their own clothes while continuing to heavily market cheap fast fashion at us. Real change is not going to happen without investing in designs and strategies to extend the life of clothing and reduce the environmental impact of production at the design stage. Fashion brands need to redefine their marketing strategies and start involving customers in a new narrative where people buy less and clothes are more durable and repairable. We need to slow down."
Others noted that although the Summit and the Global Fashion Agenda did touch on many points, they failed to address some key areas which could help contribute to bringing around circular change at a faster pace. "There was a huge gaping hole in the agenda - and that was the voice of the ever powerful Asia - particularly Chinese, textile manufacturers - who play tremendous roles - and also hold incredible knowledge - in the push for circular," said Dean to FashionUnited. "The lion's share of the clothes and textiles are made in developing countries, where there is huge innovation and leadership, but this message was not brought to the table."
Photos: Courtesy of the Copenhagen Fashion Summit
Danielle Wightman-Stone

|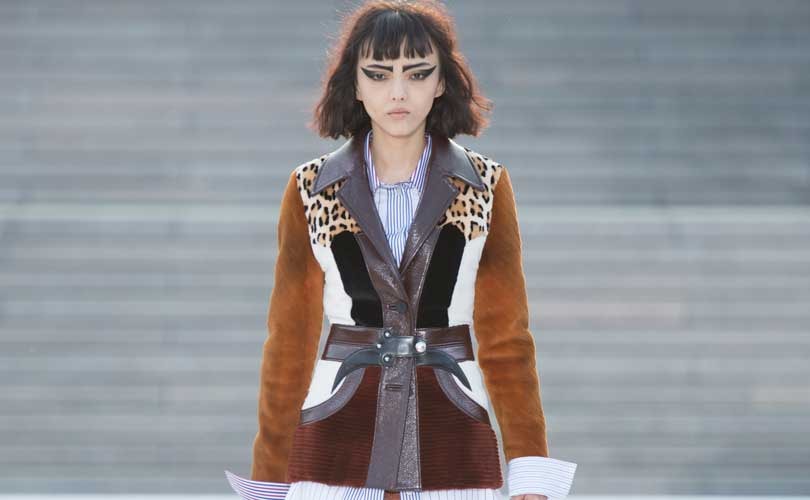 There's no change in the top four companies in the latest Global Powers of Luxury Goods report conducted by audit and consulting firm Deloitte, which analyses the top 100 luxury companies in the world.
Once again, the report ranked French conglomerate LVMH Moët Hennessy-Louis Vuitton, which includes luxury brands Louis Vuitton, Fendi, Marc Jacobs and Céline, as the world's leading luxury company after it recorded 22.4 billion dollars in sales for the 2015 fiscal year, which the report analysed.
They were once again followed by Swiss group Richemont, which reported 12.2 billion dollars in sales for the year in review, closely followed by Estée Lauder Companies with 11.3 billion dollars in third place, and eyewear specialists Luxottica Group, whose portfolio includes Ray-Ban, Oakley, Vogue Eyewear, Persol, and Oliver Peoples, reported 9.8 billion dollars.
Rounding off the top five luxury companies is French group Kering, which advanced from sixth place after reporting 8.7 billion dollars, helped by strong performances from Gucci, Saint Laurent and Balenciaga.
While there wasn't much change at the top, there were a number of newcomers to the top 100 including SMCP SAS, which owns Sandro, Maje and Claudie Pierlot, was ranked 51, while Ted Baker made the list at 54 out of 100. Other newcomers included British labels Barbour and Charles Tyrwhitt, German brands Marc O'Polo and Marc Cain, and the ranking also saw Swedish brand Acne helped into the top 100 at 99, up from 103 last year, due to sales growth in 2015 of 23.7 percent.
LVMH continues to dominate as world's leading luxury company
The fourth annual Global Powers of Luxury Goods report found that the world's 100 largest luxury goods companies generated sales of 212 billion dollars in FY2015, 4.5 percent down year-on-year, and the average luxury goods annual sales for a top 100 company is now 2.1 billion dollars. With Bernard Arnault's LVMH accounting for more than 10 percent of the total sales of all the top 100 companies.
Consumers in emerging markets, categorised as China, Russia and the United Arab Emirates, continue to drive luxury market growth, said the report, with 70 percent of consumers in these markets claiming to have increased their spending in the last 5 years, compared to 53 percent in the more mature markets, such as Europe, America and Japan.
Italy is once again the leading luxury goods country in terms of number of companies, while French luxury firms continue to have the highest share of sales.
Other key highlights include that companies in the multiple luxury goods sector nearly doubled sales growth, compared to the previous year and leads profitability, while bags and accessories continues to be the fastest growth sector. The report also added that travel and tourism is still the biggest growth opportunity for the luxury sector, with almost half of luxury purchases made by consumers who are traveling, either in a foreign market (31 percent) or while at the airport (16 percent).
Images: courtesy of Louis Vuitton - Cruise 2018
Meenakshi Kumar

|
Hyper City's spring/summer collection is edgy and upbeat. One can choose from a wide variety of apparels, casual wear, formal or athleisure. The men's wear range includes formal and casual wear. Infants' and children's range consists of day dresses, party dresses, playsuits, fashion printed tees and Bermuda shorts.
Women's western wear includes fashion crop tops, crepe shorts, printed tops, denim skirts, dungarees, floral dresses and linen printed jackets. Formal wear includes tops in pastel shades to be paired with skirts and trousers. The ethnic wear collection includes palazzos, digital print tops, printed churidars, short kurti, patialas, maxi dresses and long skirts for the perfect Indian look.
Hyper City plans to open only two stores in financial year '18. It will instead focus on improving online sales and adding international brands in the food and beverage segment. Hyper City has a total retail space of 1.34 million sq ft and has 19 stores operational. A Hyper City store is 20,000 square feet to 50,000 square feet.
Sales per square feet in the third quarter of financial year 2017 were up 11.8 per cent from a year ago. The company turned Ebitda positive in the third quarter and feels it is possible to turn profitable in financial year 2018. Hyper City Retail is a subsidiary of Shoppers Stop. Shoppers Stop has a 51 per cent stake in Hyper City.
Vivian Hendriksz

|
London - The fashion leaders of tomorrow are acutely aware of the problems they stand to inherit from the current industry which range from pollution to gender inequality and overconsumption. Which is why they insist on making sustainability the primary norm of the fashion industry. In order to achieve this, a number of fashion students from the industry's leading schools came together at the Youth Fashion Summit last week to explore how the fashion industry can play a meaningful role in supporting the United Nations Sustainable Development Goals. Afterward, they presented the industry's first ever UN Resolutions draft at the Copenhagen Fashion Summit on May 11, 2017.
"What is really distinctive about this is that we are bringing the system together in a much more holistic manner and in a much more democratic manner for the students," said Dilys Williams, Head of the Centre for Sustainable Fashion at the Copenhagen Fashion Summit. "It is the students' voices which are foregrounded." After meeting and negotiating with industry leaders like H&M and Swarovski, as well as NGOs like Greenpeace, the students presented their seven-point UN fashion resolution to over 800 industry leaders at the fashion summit.
Future fashion leaders present first ever UN fashion resolution draft at Copenhagen Fashion Summit
The UN resolution draft included areas which focused on civic empowerment and education as long-term community investments, pollution reduction and implementing a circular system to preserve and reuse valuable resources. It also encourages all fashion industry member and stakeholders to move towards more sustainable ways of production and product end of life, while taking into account the wellbeing of all citizens.
A greater focus on transparency is another area of focus in the UN draft, which encourages fashion industry players to improve the availability of information in order for consumers and stakeholders alike to make more informed decisions. "We aspire to have strong institutions, peace, and justice, clean water and sanitation, responsible innovation and infrastructure for fashion production and consumption, and strive to combat the damage done to society and the environment by the fashion industry," said Katharina Stohr, a fashion student from Austria during the UN resolution draft presentation.
The future fashion leaders of tomorrow also included points on informed fashion consumption, tackling inequality in fashion production and ethical practices. "The Sustainable Development Goals are the most ambitious plan in human history," continued Stohr. "Realizing this ambitious plan, let's use this enormous creative potential to shift the fashion industry from being a superficial giant to a giant with a purpose that can benefit 8 billion people by 2030. You need to tell a new story that goes beyond merely being a business. And we need you to do it in a way that includes 8 billion people – from the farmers in Uzbekistan to the shopping malls in Copenhagen. We need you not only to listen – we need you to reflect on these words and start telling this story," she concluded.
Following the UN resolution presentation, the students were invited by Lise Kingo, CEO and Executive Director of the United Nations Global Compact, to present their UN resolutions draft at the UN Global Compact leader summit in New York on September 21, 2017, during the UN General Assembly Week. "What this means is that you, the next generation, have been empowered to write the playbook for the next steps the industry needs to take today, to create the world we want for tomorrow," said Kingo to the fashion students at the Copenhagen Fashion Summit. "It is our hope that you, together with leading representatives from the fashion and textile industry will share your perspective with leaders from other summits to get the ball rolling. We need you to create the global trend where sustainable business is the mainstream business."
Read the students full UN resolution draft below:
1. Expects the fashion industry to begin immediately working with non-profit initiatives and government groups to reduce inequality, alleviate poverty and ensure food security, with progress made by 2030, including through:
(a) helping to reduce inequality by reinvesting 0,7% of annual sales to support local manufacturing communities;
b) providing all workers with access to free health insurance, day care facilities, a meal a day and professional training;
c) suggesting governments and industry leaders enforce sustainable agricultural practices to help ensure food security by increasing the share of organic polyculture farming by 50%;
2. Urges all stakeholders in the fashion industry to establish global and local partnerships to make the world a more equitable, just and peaceful place, by:
(a) requesting all stakeholders to collaborate on breaking existing barriers between people, companies and member states to enable a flow of sustainable progress;
(b) welcoming the UN to develop a full sustainability report by 2020 that provides a holistic evaluation of the fashion industry, measuring performance not only in relation to monetary value;
(c) encouraging the UN to facilitate the implementation of a third-party organ by 2025 to monitor the status of collaboration between stakeholders related to the fashion industry;
(d) insisting that fashion stakeholders fully commit to a standardized performance system, by 2025;
3. Compels relevant stakeholders to strengthen the human bond, from maker to wearer, through education and changing the mindsets of producers and consumers by:
(a) requiring fashion companies to provide on company websites, labels, social media, and in reports transparent information per garment of each step in the whole supply chain by 2030;
(b) demanding manufacturers to empower workers by prioritizing educational activities regarding labor rights, personal financial growth, leadership, and worker representation in 10% collective ownerships;
(c) encouraging the UN to facilitate an interactive platform in at least five languages, bringing people together to take action against inequality by participating in online courses and webinars, involving industry leaders, government, organizations and companies;
4. Requests stakeholders to protect and restore our natural capital by:
(a) implementing ecological systems and recycling technologies throughout the value chain by substituting conventional cotton, reducing landfills, and eliminating textile waste in the fashion sector by 2030;
(b) encouraging fashion companies and manufacturers to immediately commit to water stewardship programs and to disclose personal targets for the same, to protect life below water from microplastic contamination, aiming to eliminate all virgin plastic by 2030;
(c) insisting that brands and governments support manufacturers and producers in eliminating the use of hazardous chemicals and materials, complying with the Greenpeace Detox Campaign to reduce pesticide use by 50% by 2022, achieving total elimination by 2030;
5. Calls on the entire fashion industry and the involved member states to lead the global preservation of and access to freshwater for all by 2025 through intensified research and investment in innovative technologies by:
(a) reducing water pollution and the release of harmful chemicals by 50% in 2025 and by 100% in 2030;
(b) introducing closed-loop water recycling legislation on a government level;
(c) implementing shared value community water management in collaboration with governments, NGOs, industries, and local communities, as well as stressing the urgency and awareness of these issues through education provided by member states and the fashion industry;
6. Obliges stakeholders to meet the requirements of the Paris Agreement, ensuring that, by 2030, 100% of the total energy used in the fashion supply chain will be renewable energy by:
(a) inviting all member states to ensure renewable energy practices by encouraging public and private partnerships throughout the fashion supply chain, reaching a binding commitment agreed upon by 2018;
(b) requesting that all organizations' energy consumption statistics be published for public access;
(c) requiring the entire fashion supply chain to set in place the necessary infrastructure and encourage innovation to reduce energy consumption and increase energy efficiency; In commitment to our future,
7. Appeals to all stakeholders to invest in recycling technology and infrastructure with the aim to transition to circular mindsets and systems in fashion production by:
(a) encouraging all member states to adopt already existing technologies to collect and process commercial and industrial textile waste By 2022;
(b) investing in a platform to share information, facilities, and resources to provide guidelines and tools to enable a holistic circular system for all stakeholders in the fashion industry by educating them about circular strategies and solutions by 2020.