AFP

|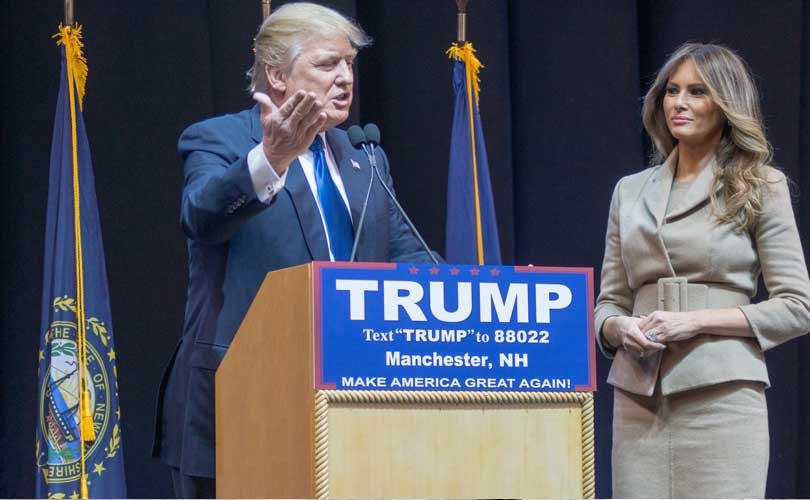 She may be tall, slim and a former model, but incoming first lady Melania Trump faces a new kind of fashion police -- designers refusing to dress her because of her husband's politics. She has posed nude for GQ, modeled in Paris and graced the cover of Vogue, yet what Melania wears to the inaugural balls on Friday night could be the most important sartorial decision of her life.
"It's hard to find a great dress for this inauguration," Donald Trump told The New York Times, trying to present the event as a society sell-out, though whether that is true remains to be seen. From Mamie Eisenhower's pink peau de soie gown to Michelle Obama's white Jason Wu confection in 2009, inaugural gowns worn by America's first ladies have wound up in the Smithsonian's National Museum of American History.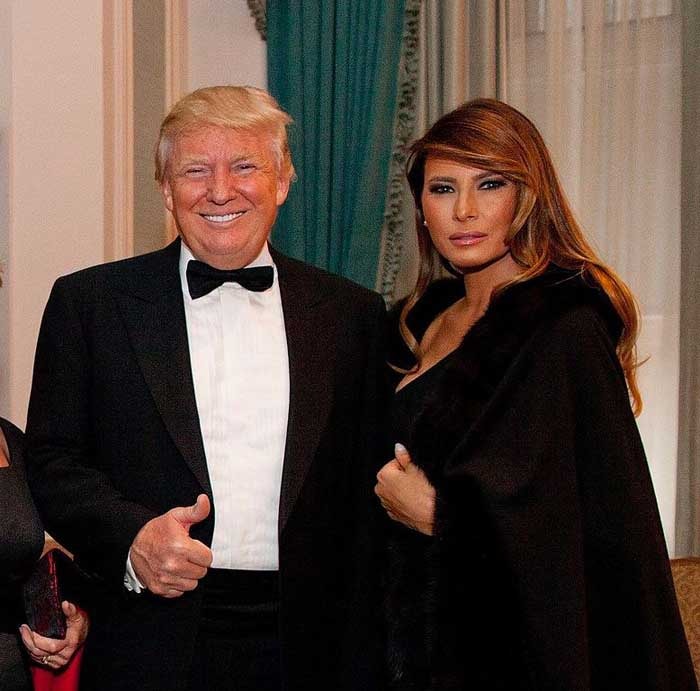 Melania has high heels to fill. Not only is she the only first lady to come from the fashion world, she succeeds one of the most stylish and beloved first ladies of all. Obama seduced the fashion world with her deft mix of high street favorites and high fashion, championing young and minority designers, managing to look both relatable and effortlessly chic at the same time.
It remains unclear what path Melania will take. Years ago, she said she would like to be a "traditional" first lady like Jackie Kennedy -- famed for her timeless elegance and love of French as well as American fashion. But she comes into the role at a time when an unprecedented number of designers are saying she simply isn't their style or urging each other not to dress her because of her husband's insult-dishing, divisive campaign. Sophie Theallet was the first.
Incompatible
"The rhetoric of racism, sexism and xenophobia unleashed by her husband's presidential campaign are incompatible with the shared values we live by," Theallet announced last November. Emotions were raw. Much of the largely Democratic-leaning fashion industry backed Trump's opponent Hillary Clinton and poured money into her campaign. "Personally, I'd rather put my energy into helping out those who will be hurt by Trump and his supporters," Marc Jacobs told Women's Wear Daily.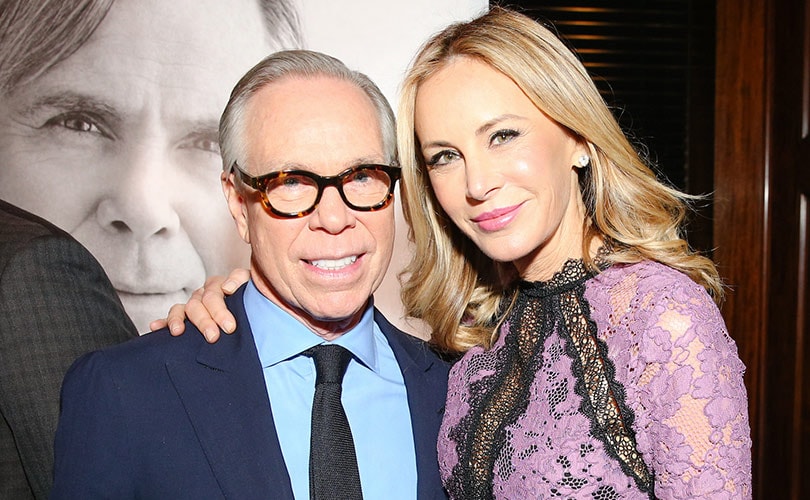 But top designers such as Carolina Herrera, Diane von Furstenberg and Tommy Hilfiger all said they would be honored to dress Melania. Hilfiger, who has an office in Trump Tower, told Women's Wear Daily that anyone should be "proud" to dress the new first lady and Trump's daughter Ivanka -- who is also expected to take on a prominent role in Washington. But in some ways, the debate is irrelevant. Melania, known to shop online, can snap up any fashion piece she wants without asking permission.
When she wore a Dolce & Gabbana black dress on New Year's Eve, the first Stefano Gabbana heard about it was when he stumbled across a picture online. He took to Instagram with pride, tapping out five hearts and a "thank you." Others say refusing to dress Melania stoops to the lowest denominator of the campaign. "Our role as part of the fashion industry is to promote beauty, inclusiveness, diversity," von Furstenberg has said.
Buy American
But what is Melania's style? Campaign and post-election appearances are rare, but she favors the sleek, figure-hugging and glossy look of a wealthy New York woman -- manicured within an inch of her life but not particularly individual. She buys expensive and she buys European, perhaps hardly surprising for a Slovenian-born woman -- Christian Dior for her wedding, but also Emilia Wickstead and a 2,200 dollar Roksanda Ilincic dress on the campaign trail.
Famously there was also a hot pink Gucci pussy-bow blouse at a presidential debate as her husband was under fire for lewd remarks about groping women. But on election night, she shopped locally: glowing with pride in a one-shoulder Ralph Lauren white jumpsuit, bought off the rack. She's already under pressure to shrug off her European taste and, if not mix it up with cheaper outfits to appear more in touch, then become a poster girl for the country's huge fashion industry.
"The first lady-elect should support American fashion as did her predecessors," Vera Wang told Women's Wear Daily. But she does have one powerful advocate in her corner: long-time friend and former Vogue director turned inauguration planner Stephanie Winston Wolkoff. "Don't underestimate (Melania) just because she is quiet and reserved," Wolkoff told luxury lifestyle publication DuJour before the election."She has always said, when and if the time comes, she will step up." (AFP)
Homepage Photo: By Marc Nozell, via Flickr
Photo 2:By U.S. Marine Corps photo by Sgt. Gabriela Garcia/Released. Unit: HQMC Combat Camera [Public domain], via Wikimedia Commons
Photo 3: Tommy and Dee Hilfiger, courtesy of UPR
Vivian Hendriksz

|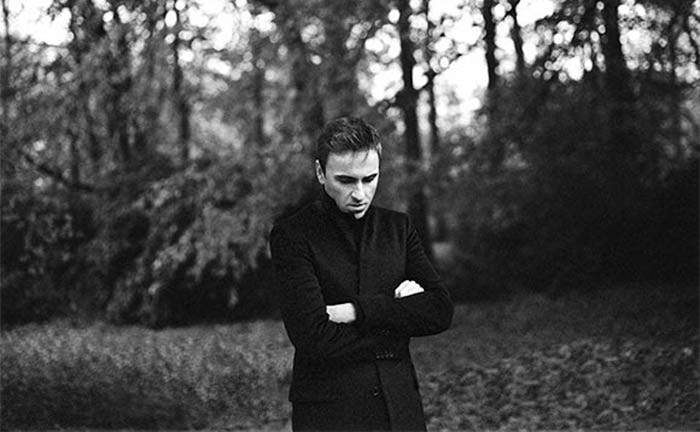 London - Raf Simons has partnered with The Woolmark Company to develop a special autumn/winter 2017 collection for his eponymous label set to feature fine Merino wool jersey, knits and woven fabrics.
The wool materials have been sourced from some of the industry's top fabric and yarn manufacturers, including Olimpias Group and Manifattura Sesia. The start of this new partnership, announced Friday afternoon, is said to mark the beginning of a "longstanding relationship" which sees The Woolmark Company working closely with the designer and his design team to create innovations with the use and sourcing of Merino wool.
Raf Simons enters long-term partnership with The Woolmark Company
"As the global authority on wool, one of the world's finest natural fibres, The Woolmark Company prides itself on partnering with designers that continually push the boundaries of contemporary fashion," exaplained The Woolmark Company's Managing Director, Stuart McCullough in a statement.
"Through our partnership with Raf Simons, one of the industry's most creative visionaries, we are able to demonstrate the distinct versatility of Merino wool far beyond its traditional positioning in the suiting market. Through his iconic work, Raf Simons will bring a newfound creativity to the world of wool."
Merino wool in particular is said to play an intrinsic role in many of the Belgian designer's collections. "I appreciate that The Woolmark Company encourages brands to come up with innovative ways to work with Merino wool - a material that I love and often use in my own collections. It feels very natural for me to partner with The Woolmark Company to create something special using the finest wool in the world," explains Simons in a statement.
Raf Simons joins a growing list of designers to partner with The Woolmark Company, including American designer Jason Wu, Comme Moi and Thom Browne .
Photo credit: Willy Vanderperre
Meenakshi Kumar

|
In early 2014, Virat Kohli signed a deal worth Rs 30 crores with Adidas, which came up for renewal recently, which Adidas decided against. Following the end of his three-year endorsement deal with Adidas, Indian cricket captain may tie up with sportswear brand Puma . After Kohli parted ways with Adidas amicably in November last year, highly placed sources confided that the cricketer was on the lookout for a sportswear sponsorship since then. At present, Kohli endorses 17 brands. Most of his brands are in sync with his personality.
While Puma has had a brand endorser in cricketer Yuvraj Singh since November 2011, the last few months has not seen much activity from the two. Apart from wearing Puma shoes, pads and gloves, the brand features also on Singh's bat, considered the most prized asset in a sportswear deal.
Adidas meanwhile will continue to support cricket through its assets such as Rohit Sharma, KL Rahul and many other next-gen athletes. It will also continue to drive its key categories such as running, football, training and originals with even more focus and investments.
Meenakshi Kumar

|
Anita Dongre will bring the curtains down at the forthcoming Lakmé Fashion Week Summer Resort 2017 to be held in Mumbai from February 1 to 5. Lakme has introduced a new generation of lipsticks enriched with argan oil, a beauty solution, also known as liquid gold. The ace designer will bring alive the liquid gold theme through her designs.
The fashion week hopes to give a bigger business platform, as more labels will be putting up their collections, giving buyers a large variety to choose from. A new batch of Gen Next designers have been chosen to showcase at this edition. The budding labels of Pallavi Singh, Nakita Singh, Soumodeep Dutta, Ishanee Mukherjee and Anirudh Chawla and Resham Karmchandani and Sanya Suri will be presenting their collection on the first day.
Dongre has been at the forefront of fashion for over two decades, having created one of the most successful fashion houses in India. Launched in 1995, the House of Anita Dongre comprises a portfolio of brands namely And (western wear for women), Global Desi (bohemian-inspired line of clothing), Anita Dongre bespoke bridal couture and menswear, Grassroot (sustainable luxury prêt) and Pinkcity (handcrafted fine jewelry in gold jadau).
FashionUnited

|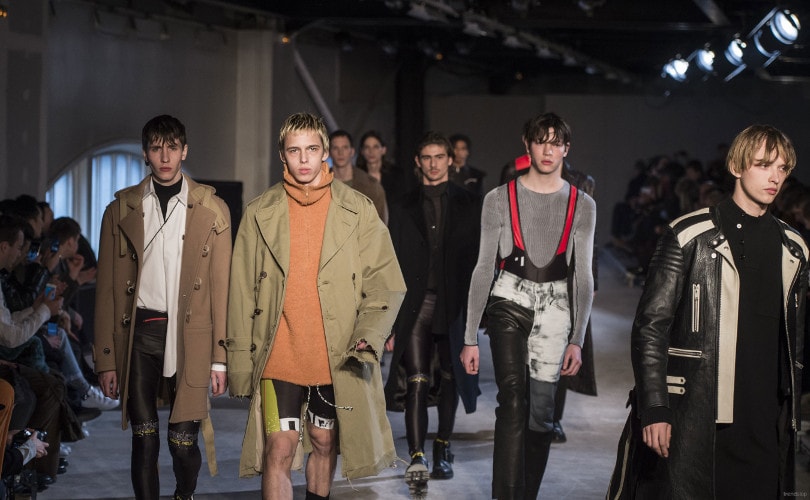 The Trendstop team bring you the latest trend direction that will be impacting the men's market in F/W 2017-18. First identified in our themes forecasts this key look will be inspiring the menswear sector into 2017-18 and beyond. Our inspirational seasonal reports are curated by our Consumer Insights experts who evaluate each trends commercial value and longevity, giving you the optimum analysis to inform decision making.
This week, FashionUnited readers get an exclusive insight into the four key elements of our Fall/Winter 2017-18 menswear macro theme, Minimalist Utility. As utilitarian themes continue to dominate the menswear market, functional fashion evolves in a new minimalist inspired direction. Functional wardrobe staples with a practical sensibility are reinvented for the modern man through integrated technical elements and subtle athleisure influences for an urbane take on cargo classics.
Minimalist Utility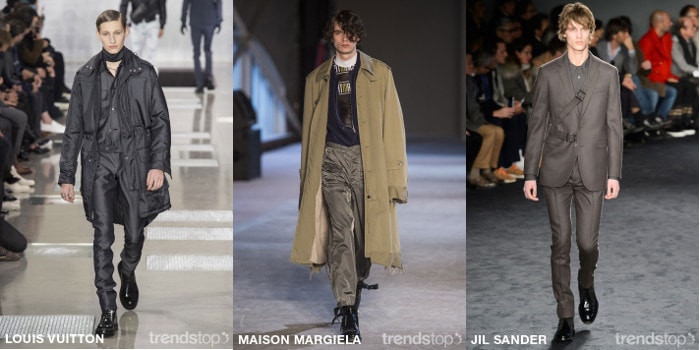 Blurring the lines between formal and casualwear, Minimalist Utility brings a feeling of precision and refined understatement to functional themes. Clean-cut silhouettes and pared back styling elevate cargo styles for a contemporary urban appeal while a restrained palette of earthy tones and considered textural elements accentuate the increasingly sophisticated feel.
Colour & Print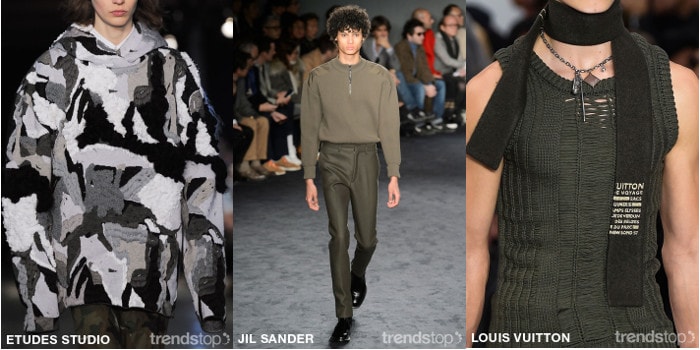 Dark earth tones and rich core shades strengthen the winter palette with a new depth of colour. A blend of cooling neutrals in frosty and frozen hues ensures a clean wintry feel. Screen print techniques and monochrome typography reference the urban and industrial aspects of the trend while military origins are updated with a textural, tribal take on camouflage patterns.
Surface & Materials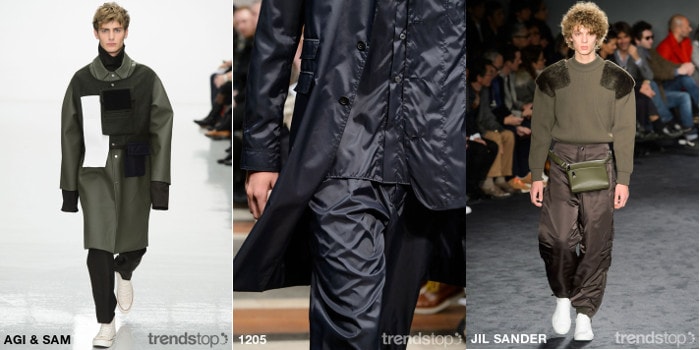 Traditional fabrications are given a modernist rework with contemporary cables, defined ribs and stretch jerseys. Performance meets practicality as waterproof finishes and insulated qualities are applied to tailored pieces. Waxed cottons and dry handles introduce a rustic element, adding surface interest to sartorial styles.
Apparel & Accessories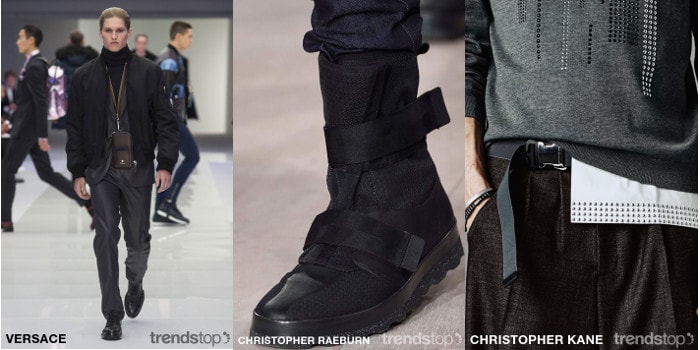 Hybridisation becomes key for Fall/Winter as apparel fuses casual and formal components. Menswear staples are reinvented through layered constructions and considered hardware details. Footwear bridges the gap between heavy duty worker and urban athlete while multipurpose accessories combine durable constructions with premium finishes.
Exclusive Offer
FashionUnited readers can get free access to Trendstop's Fall Winter 2016-17 Top Collections by City, an essential report featuring the season's most best collections and directional designers from the leading fashion capitals. Simply click the banner to receive your complimentary report.

Trendstop.com is one of the world's leading trend forecasting agencies for fashion and creative professionals, renowned for its insightful trend analysis and forecasts. Clients include H&M, Primark, Forever 21, Zalando, Geox, Evisu, Hugo Boss, L'Oreal and MTV.
Images courtesy of Trendstop, left to right: Louis Vuitton, Maison Margiela, Jil Sander, Agi & Sam, 1205, Versace, Christopher Raeburn, Christopher Kane, all Fall Winter 2016-17.
Meenakshi Kumar

|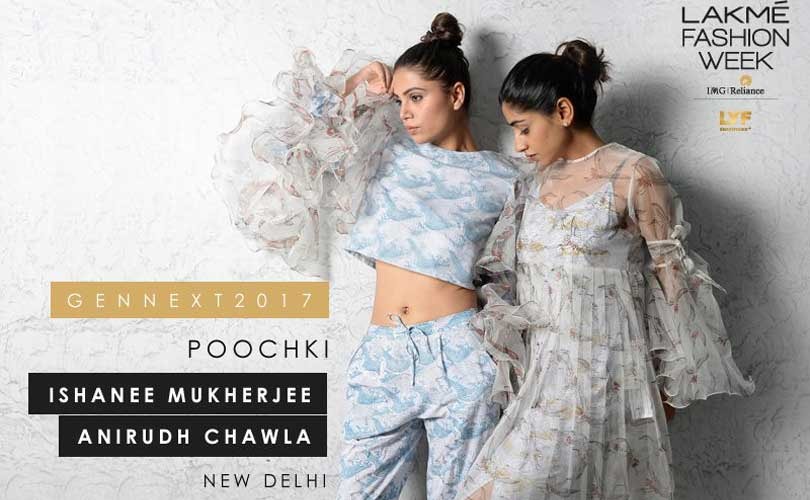 The time is rife for youngsters to put their feet into the world of ever growing expanse of the Indian fashion industry. The upcoming Lakme Fashion Week (LFW) is testimony to the fact that the ramp will witness shows brimming with freshness as GenX is ready to take the show ahead. Pallavi Singh, Nakita Singh, Soumodeep Dutta, Ishanee Mukherjee & Anirudh Chawla, and Resham Karmchandani and Sanya Suri are the five names selected to showcase their creativity at the fashion week platform scheduled from Feb 1- 5 at JioGarden, Bandra-Kurla Complex, Mumbai.
For Resham and Sanya of the label The Pot Plant, every new start up in any industry is challenging and the same goes for fashion industry. They feel, it is rife with opportunities to present their designs to the right audience through the right channel. Sanya believes the fashion industry is more receptive now. There has been a paradigm shift in how people perceive labels. As an industry, it's more open to new talent and individual design aesthetics. Experimental, minimal, or classic clothing, the realms are co-existing and it is more about individualism and what resonates with an individual.
Gen Next take the lead
Gen Next programme, which has given the Indian fashion industry names like Rahul Mishra, Masaba Gupta and Nachiket Barve, is now set to groom its 23rd batch with five promising designers who have been chosen by the members of the LFW advisory board. Anirudh and Ishanee of the label Poochki, being one of the young names, substantiate with the fact that there is no dearth of opportunities for young designers today. The fashion industry is flourishing over the years. Dedication and innovation is the key to success in this very competitive industry. And there is a change in the mindset of consumers. The modern-day consumer is an informed customer and is responsive to good design, and not only to 'bling' one can see prêt coming in a big way, points out Anirudh.
Nakita believes that every sphere needs consistency, patience, and hard work to make a space for oneself and the same goes for a young and emerging designer. Dutta, who is set to venture into the industry, young designers come out with a spirit of youth, creativity, and freedom and hence he feels that space is never there, you have to stretch boundaries and create your own space. Having said this competition has also multiplied. Today, fashion is a necessity. Customisation has created a need for more designers to cater to the huge population. Multi-designer stores also play an important role in supporting young designers who cannot start with a store of their own. The support nowadays is huge, you only need to arrive with your originality and innovation.
Danielle Wightman-Stone

|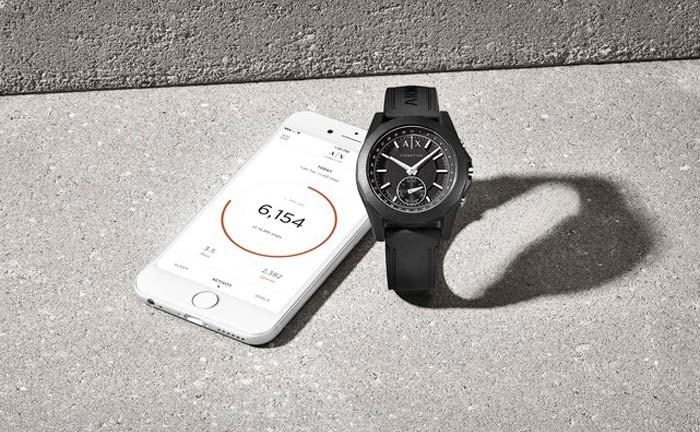 Armani Exchange is entering the connected wearables market with the launch of its connected hybrid smartwatches unveiled at the Consumer Electronics Show (CES) in Las Vegas.
The new line of connected hybrid smartwatches combines the Armani Exchange design with the latest wearable technology, including allowing users to sync to their smartphones via Bluetooth, send phone notifications, monitor steps, control music, ring their phone if it's lost and track sleep.
In addition, the smartwatch also sets time automatically, mirroring the connected smartphone time, as well as being able to display a second time zone, schedule alarms, and snap selfies with the smartphone camera.
The range of hybrid smartwatches also don't require charging as they feature batteries that last six months, and they also promise to stay linked to an Android phone or iPhone from up to 84 feet away.
The new collection launches in February and comes in four colours white, black, blue, and orange, constructed with silicone cases, and will be available via the brand's website.
Image: courtesy of Armani Exchange
Vivian Hendriksz

|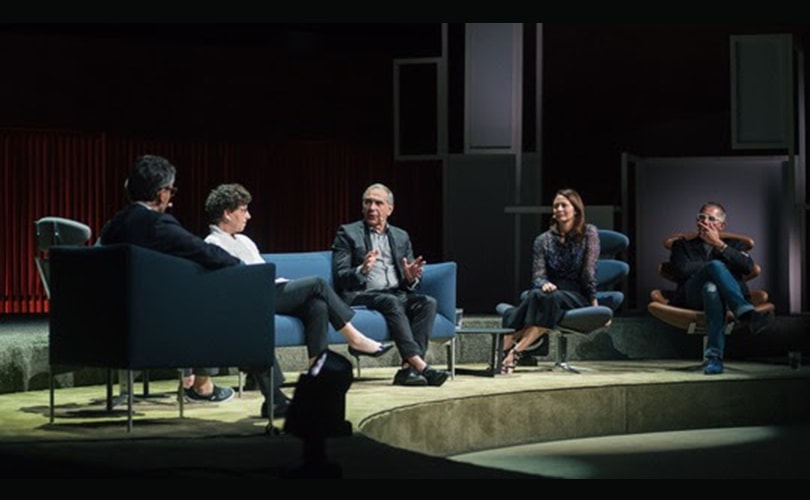 London - The Copenhagen Fashion Summit is set to become an annual event, with the fifth edition of the sustainable fashion summit taking place May 11 at the city's concert hall.
The decision to host the event every year is said to have been occurred naturally, as the Summit has evolved over the past years to become the leading forum to discuss sustainability in fashion and proven itself to be a safe and neutral space to launch new initiatives.
Copenhagen Fashion Summit to take place every year with launch of new initiative: the Global Fashion Agenda
Since the first even was held in 2009, during COP15, the Copenhagen Fashion Summit has grown to become the largest gathering of fashion businesses, non-profit organisations, policy-makers and media discuss sustainability. As responsible fashion is currently considered one of the most important aspects within the fashion sector, the Summit is set to launch a new initiative - the Global Fashion Agenda.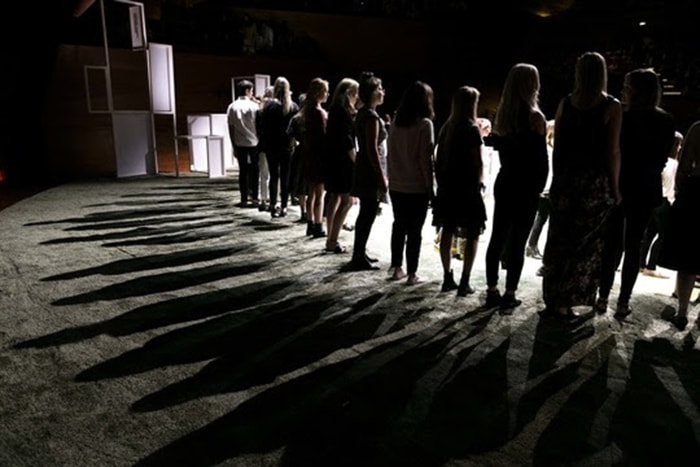 This initiative is a year-around agenda supporting the forum which aims to bring together the entire fashion sector, governments, civil society and other initiatives to make a global commitment to positive change. The agenda will be led by a flagship event at the Copenhagen Fashion Summit, and aims to transform the way the industry produces and consumes fashion for support the world beyond next season.
"It is a very exiting time for us; taking our initiatives to the next level! The goal is to take the Summit from being a great conference to being an actual Summit focusing on commitments from individual companies and on a much broader scale. The Summit must deliver tangible outcomes, guidelines and hands-on solutions that will create positive change," says Eva Kruse, CEO & president of Global Fashion Agenda.
"The Global Fashion Agenda cannot do this alone, therefore we are forming a strong group of strategic partners behind us and will focus on convening the conveners to help streamline the great many initiatives out there. The Summit will first and foremost be a fashion event but also has the potential to make sustainability mainstream and provide the business case for the industry."
In order to encourage the fashion industry to commit to a sustainable fashion future, Kruse has expanded her management team and appointed chief operating officer Caroline Chalmer, chief content officer Jonas Eder-Hansen and chief learning officer Johan Arnø-Kryger as part of her management team.
Photo: Courtesy of Copenhagen Fashion Summit
Meenakshi Kumar

|
The Woolmark Company recently announced four winners of its inaugural Wool Runway design competition that was aimed to give tertiary students a kick-start in their fashion career. The final four are: Ankit Kajla, Kavya Doultani, Apoorva Wadhwa and Miloni Kothari. They have won financial support and internships with brands like Raymond and Madura Fashion & Lifestyle.
For these young designers winning the Wool Runway competition has given them an enriching experience that will help in uplifting awareness of Merino Wool in India. The platform raises awareness and educates next generation of consumers and inspires emerging fashion designers to work with Merino wool.
Kajla, the winner of Wool Runway and also a student at NIFT Bangalore said that Wool Runway provided them with an enriching experience. The technique that went into producing an 80 per cent Merino wool inspired outfit was extremely challenging and that proved to be a great lesson. It was a learning experience right from making the garment to enjoying its journey. It facilitated in showing the criteria needed to be the designer he aspired to be in. For first runner up Doultani, a Pearl Academy of Fashion, Jaipur's student, doing something very innovative with wool was the best thing that could have happened to her. It introduced her to the style and design philosophy that is inspired by tapestry weaving. She was amazed by the practicality of Merino wool because it could be used across seasons, she added.
Vivian Hendriksz

|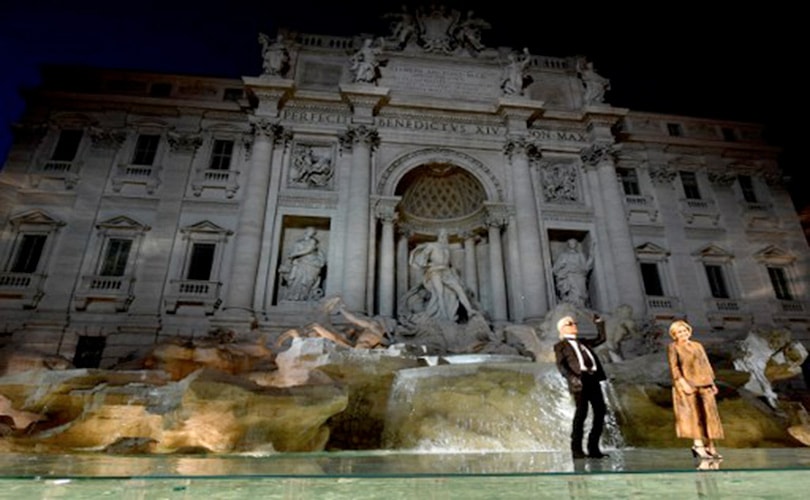 New Year's Eve is just a few days away. To round off the year, we revisit a number of our top articles from 2016. Today, we highlight some of the most memorable images. This was 2016 in pictures.
January
Chanel debuts green eco-system during Paris Haute Couture Fashion Week
Karl Lagerfeld transformed the Grand Palais into his own green eco-system, complete with blue skies, manicured green lawns and a modernist wooden doll-house, both "Japanese and not Japanese" for Chanel during Paris Haute Couture Fashion Week.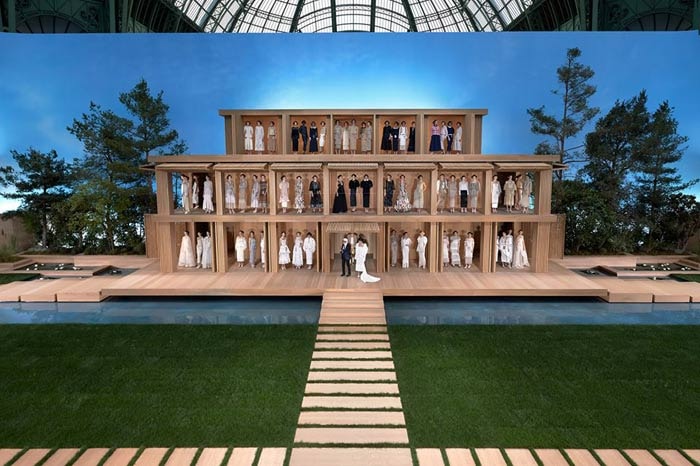 Photo: Chanel
February
Sies Marjan debut Fashion Week Show
Designer Sander Lak puts the finishing touches on a model backstage, before they take to the runway at newcomer womenswear brand Sies Marjan during Fall/Winter 2016 New York Fashion Week, at Ralph Walker Tribeca on February 14.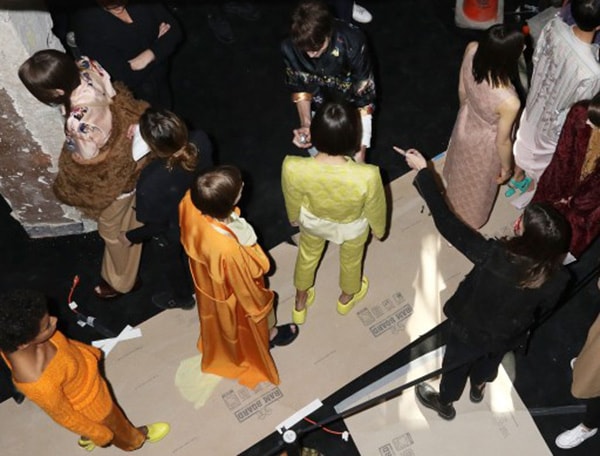 Related news: Ralph Rucci brand gives way to the NYFW's latest craze: Sies Marjan
Photo: Laura Cavanaugh/Getty Images/AFP
March
Kanye West opens surprise Pablo pop-up shop in Manhattan
Kanye West made his fans dreams come true with his surprise pop-up opening in Manhattan, New York. Crowds lined up at 83 Wooster Street in Soho near the Kanye West "Pablo Pop-Up Shop" March 18, hoping to score a piece of Pablo merchandise.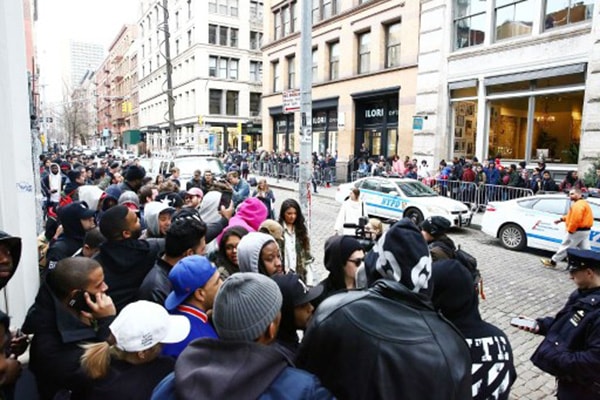 Photo: Astrid Stawiarz/Getty Images/AFP
April
Rana Plaza's three year anniversary
Bangladeshi onlookers gathered at the site of the Rana Plaza building collapse on the third anniversary of the disaster in Savar, on the outskirts of Dhaka on April 24. Thousands of Bangladeshi garment workers demanded justice and safe workplaces as they marked the third anniversary of the Rana Plaza factory disaster that killed over 1,100 people as they continue to work in poor conditions.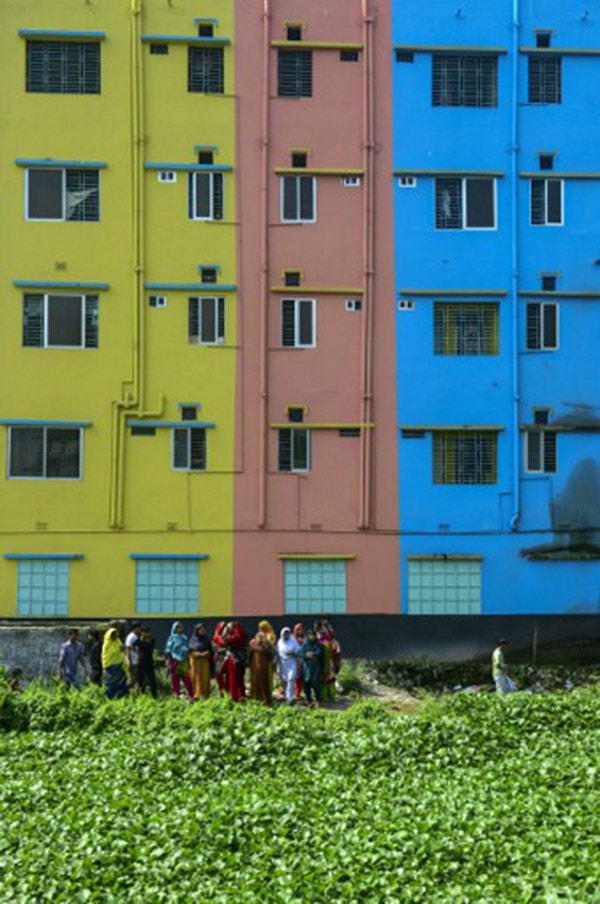 Related news: Bangladesh garment industry fears attack
Photo: MUNIR UZ ZAMAN / AFP
May
Chanel shows cruise line in Havana Cuba
Honored guests waited patiently outside to attend Karl Lagerfeld's "Cruise" line for Chanel at the Paseo del Prado street in Havana, Cuba, May 3. Inside their houses, Cubans tried to watch Chanel's show at the Prado promenade.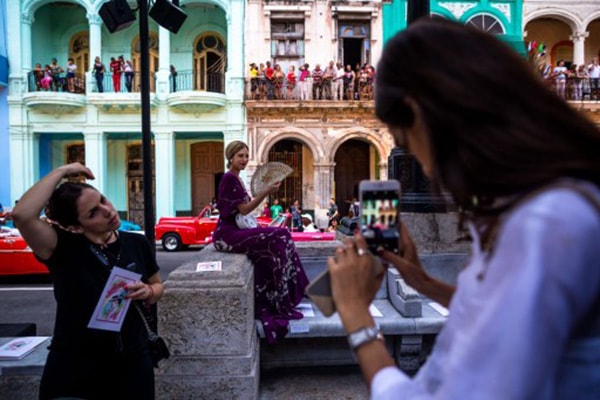 Related news: Chanel shows in Cuba, despite brand not available
Photo: LIU BIN / NurPhoto
Louis Vuitton cruise collection show in Rio de Janeiro
Louis Vuitton creative director Nicolas Ghesquière showed the brand's cruise collection in Rio de Janeiro, Brazil on May 28 in the Museum of Contemporary art (MAC) of Niterói.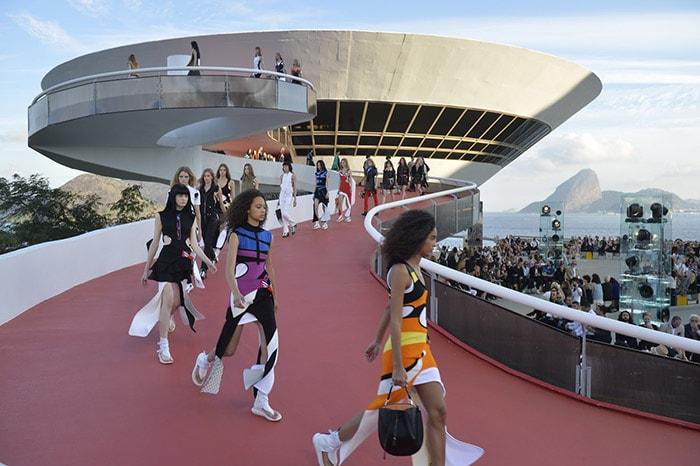 Related news: his Cruise collection 2017
Photo: Louis Vuitton Women Collection Fall-Winter 2016/2017 © Louis Vuitton Malletier – All rights reserved
June
Balenciaga takes Paris Men's Fashion Week by storm
A mark was made in fashion history when the 99 year old luxury fashion house, founded by master tailor Cristóbal Balenciaga, held it's debut men's wear fashion show, under the creative direction of Demna Gvasalia, during Paris Men's Fashion Week in June.
Alessandro Michele turns Westminster Abbey into catwalk
Gucci on showed its Resort 2017 in London's Westminster Abbey on June 2. While the choice of location drew plenty of criticism - how could a 13th century Gothic church, once of the most sacred sites in the UK let itself be reduced to a marketplace and fashion platform? - it was by all accounts spectacular, if the rapturous applause at the finale was anything to go by. "I chose Westminster Abbey because everyone has this idea of London being cool, but for me the history is what's really cool," said Gucci's Creative Director, Alessandro Michele at the time.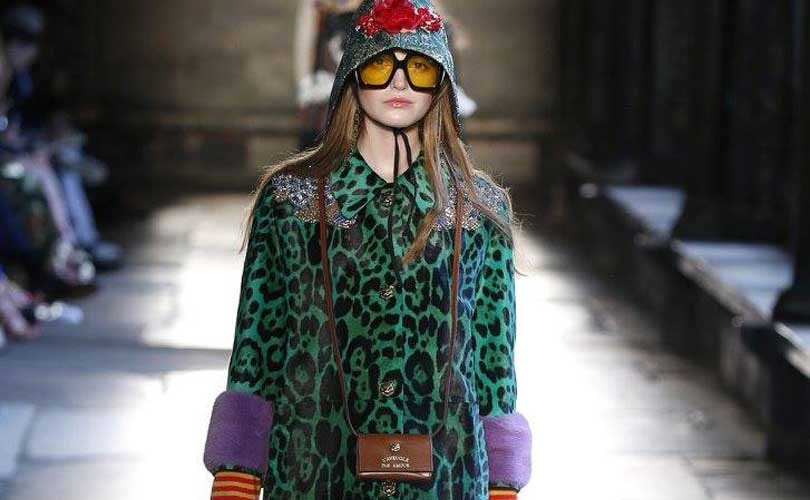 Photo: Gucci Resort 2017
July
Vetements show at Paris Couture Week
The Parisian 'design collective' Vetements shook the industry once more when it unveiled its collaboration with a total of 18 different fashion brands for its Spring/Summer 2017 collection on July 3. Vetements teamed up with the likes of Juicy Couture, Levi's, Dr. Martens, Reebok as well as Manolo Blahnik, Mackintosh and Comme des Garçons to recreate some of their most iconic designs, with a Vetements twist.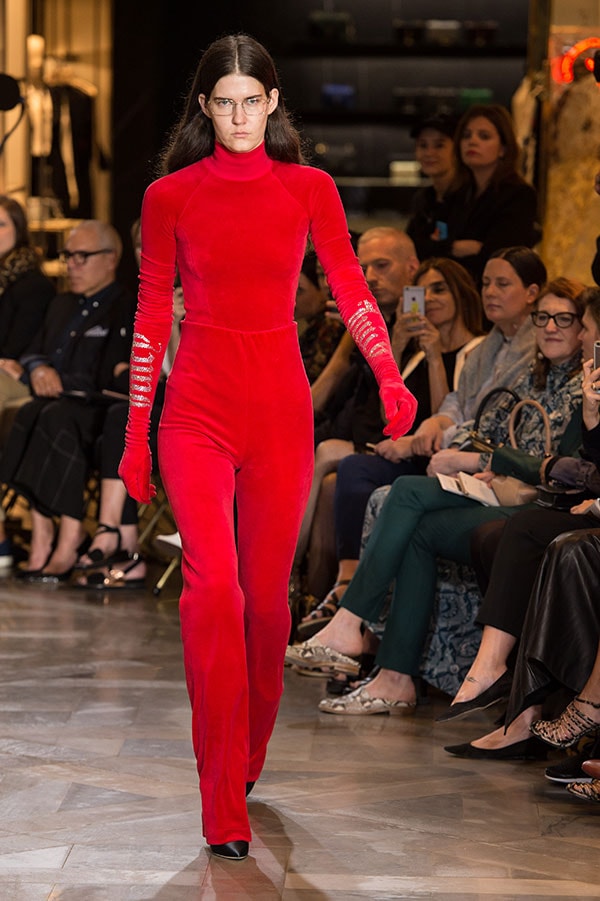 Related read: Vetements collaborates with 18 designers for SS17
Photo: Juicy Couture x Vetements. Credit: Catwalkpictures.com
Fendi's 90th anniversary show at the Trevi Fountain, Rome
German designer Karl Lagerfeld and Silvia Venturini Fendi acknowledged the audience at the end of the Fendi fashion show at the Trevi Fountain in Rome on July 7, which took place in Rome as part of Fendi's 90th anniversary celebrations.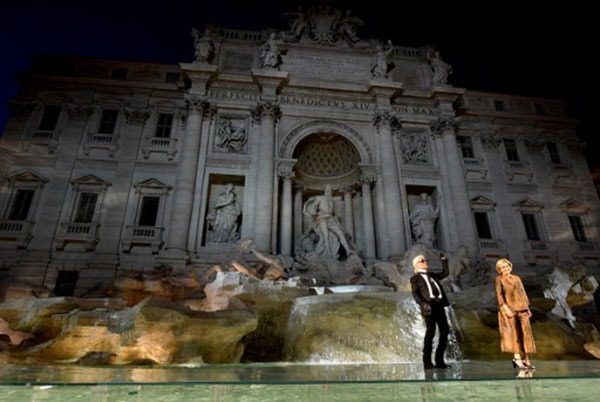 Related news: Fendi models walk on water in Rome's Trevi fountain
Photo: Tiziana Fabi / AFP
August
2016 Olympic Games: Gisele Bundchen returns to the runway
Brazilian fashion model and producer Gisele Bundchen participated in the Opening Ceremony of the Rio 2016 Olympic Games. She wore a gold a sequined dress from Brazilian designer Alexandre Herchcovitch for the ceremony, which took place at Maracana Stadium in Rio de Janeiro, Brazil on August 05.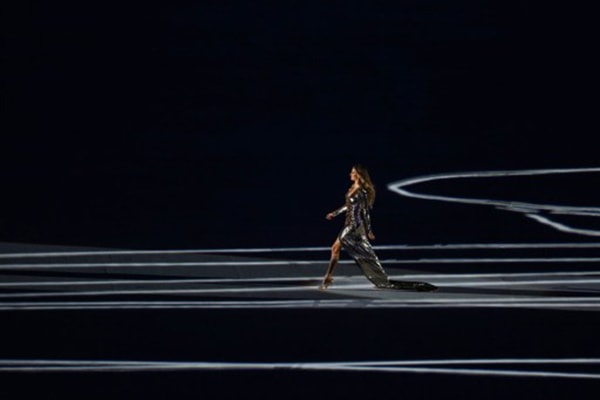 Photo: Salih Zeki Fazlioglu / Anadolu Agency
September
Yeezy show 4
Tyga, Kylie Jenner, Kendall Jenner, Kim Kardashian and Carine Roitfeld sat next to each other when they attended the Kanye West Yeezy Season 4 fashion show on September 7, in New York City.
But it was the social media coverage of the Yeezy Season 4 show which became an entire news story in itself, rather than the collection shown. Models fainted after standing in the hot sun for hours, which led to many viewers taking to social media platforms like Instagram to express their outrage, placing the attention on the treatment of models rather than the show itself.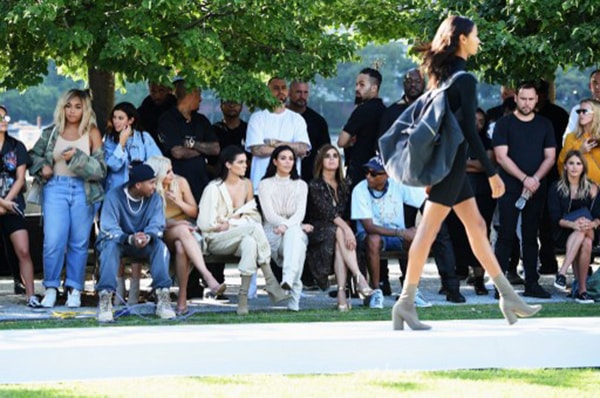 Photo: Jamie McCarthy/Getty Images for Yeezy Season 4/AFP
#TOMMYNOW
Model Gigi Hadid and fashion designer Tommy Hilfiger posed with models during the #TOMMYNOW Women's Fashion Show during New York Fashion Week at Pier 16 on September 9, 2016 in New York City.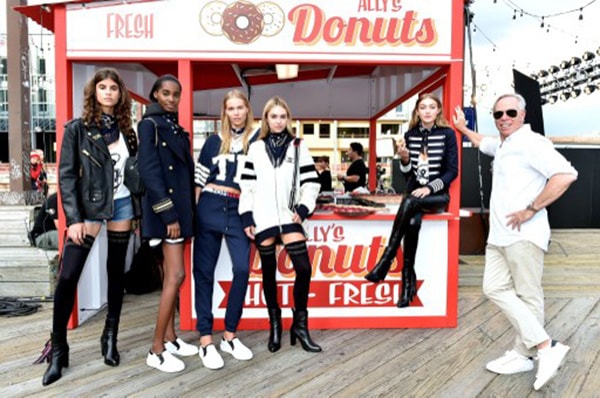 Related news: The effects of Tommy Hilfiger's see-now-buy-now approach
Photo: Mike Coppola / GETTY IMAGES NORTH AMERICA / AFP
October
Kenzo x H&M launch event directed by Jean Paul Goude'
Performers and models take the runway during the Kenzo x H&M Launch event directed by Jean-Paul Goude' at Pier 36 on October 19, in New York City.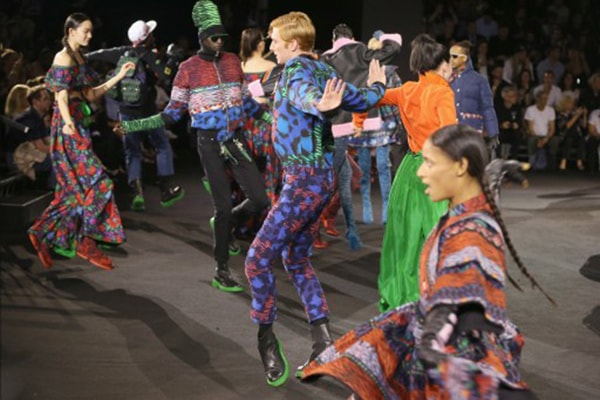 Related news: H&M launches collaboration collection in NYC
Photo: Thomas Concordia / GETTY IMAGES NORTH AMERICA / AFP
Alber Elbaz awarded France's highest honour during fashion week
Israeli-US fashion designer Alber Elbaz posed for the cameras after he was awarded the title of Officer in the National Order of Merit by French Culture minister Audrey Azoulay at the Culture ministry in Paris on October 3. Elbaz is pictured here with Instagram's head of fashion partnerships Eva Chen.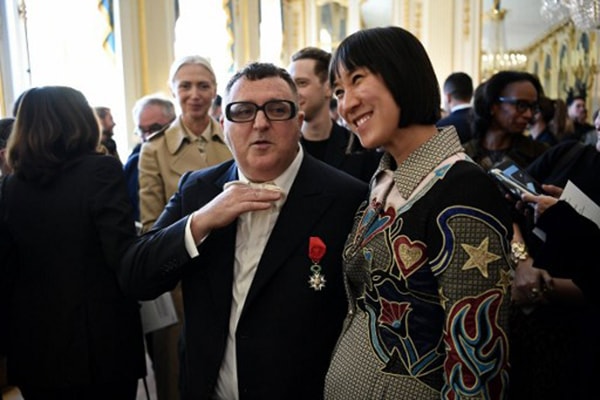 Photo: Christophe Archambault / AFP
November
Bella Hadid walks for the first time for Victoria's Secret
It-girl Bella Hadid gets ready for her hair and makeup sessions before her big debut for Victoria's Secret annual Fashion Show, held at Grand Palais in Paris, France, on 30 November.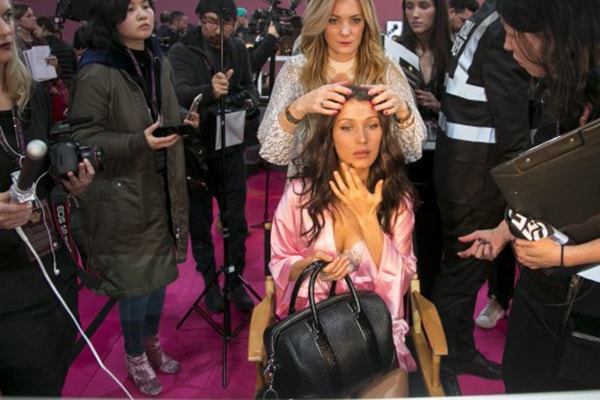 Photo: Hubert Boesl / DPA
Related news: 7 things you didn't know about Victoria's Secret and its Angels
170 years Vlisco
Dutch manufacturer of luxury African fabrics, Vlisco, celebrated its 170th anniversary last month. A model presented a creation by label Reda Fawaz during a fashion show marking the 170th anniversary in Abidjan on November 26.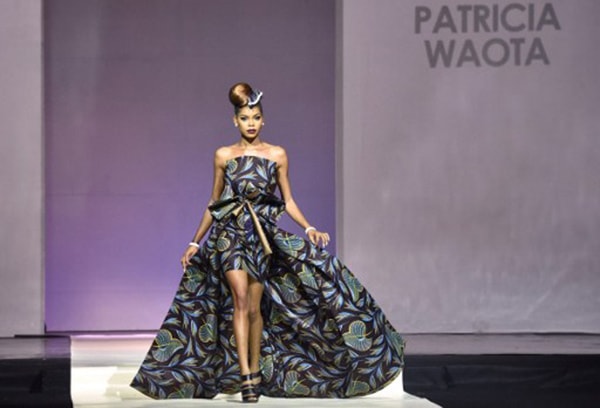 Photo: Issouf Sanogo / AFP
December
Demna Gvasalia named International Ready-to-Wear Designer of the Year
Designer Demna Gvasalia, creative director of fashion house Balenciaga and Vetements, posed with his award after being named winner of the International Ready-to-Wear Designer award during the Fashion Awards 2016 in London on December 5. The Paris-based Vetements was also crowned International Urban Luxury Brand.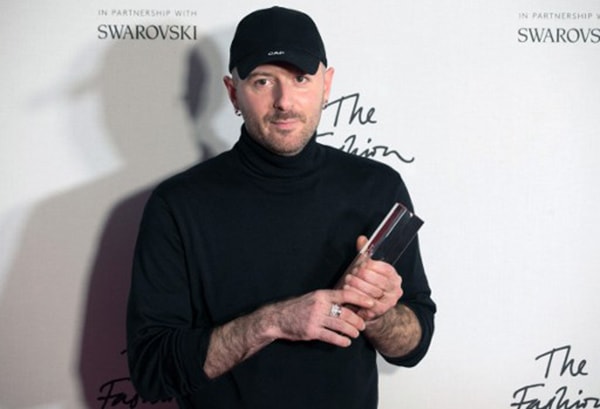 Related news: The Fashion Awards names 2016 winners
Photo: Daniel Leal-Olivas / AFP