FashionUnited

|
INTERACTIVE TIMELINEThe shoe industry has reinvented itself over the last 3 centuries. The production process of shoe making started with tailor-made pairs, with shoemakers producing shoes by hand until the early 19th century. Almost a century later, the production process had become less customised and almost completely automated. In the 20th century, the production process became even faster by using new techniques like, for instance, injection moulding. In the 1990's, most Northern European production had been outsourced to southern Europe and Asia to decrease labour costs. Nowadays, the introduction of speed factories, in-store production, renewed interest in craftsmanship and the biotech revolution, which is just around the corner, enables shoe production to return to Northern Europe and America once again.
Use the arrows to navigate through the events ordered by date or click on a timeframe to learn more.
SLEMinars 2017: The Future of Footwear Manufacturing
Will footwear come back to Europe and the USA through high-tech factories only operated by robots? Will in-store manufacturing of tailor-made shoes be the solution for brick and mortar retail? Will we be able to have computers and scanners simply generate the shoes we need so we can 3D print them at home? These questions and many more will be discussed during the Future of Footwear Manufacturing SLEMinars. A must for everyone who wants to stay on the forefront of the industry!
Book your ticket now and keep updated about the future of the footwear industry! Use your discount voucher for Fashionunited readers and get a 10 percent discount: SLEMXFASHIONUNITED.
Photo credit: Feetz
Vivian Hendriksz

|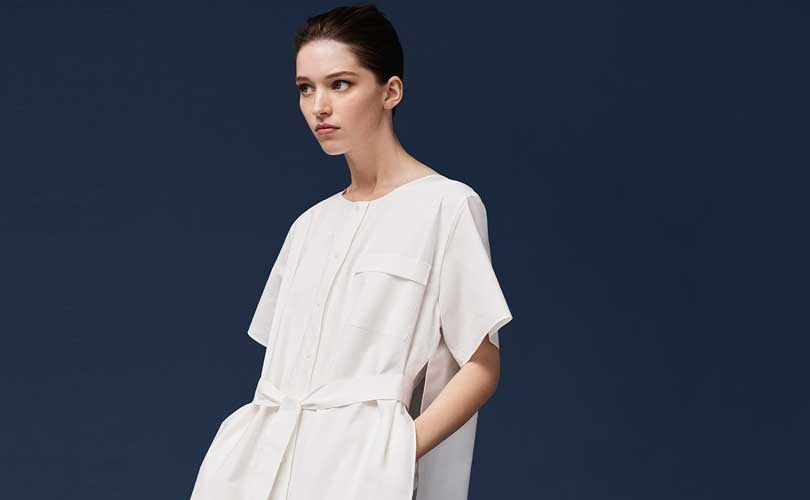 London - It may be hard to believe, but this year marks a decade since COS, the big sister brand of H&M, opened its first store on London's Regent Street.
Back in 2007 COS first launched as a modern brand which aimed to offer consumer high quality garments that consisted of both wardrobe staples and classic timeless piece. Since then COS has expanded its global presence and is now presence in 33 markets, counting just under 200 stores across Europe, Asia, North America, the Middle East and Australia. COS launches its first online stores in 2011 and is now available online in 19 countries.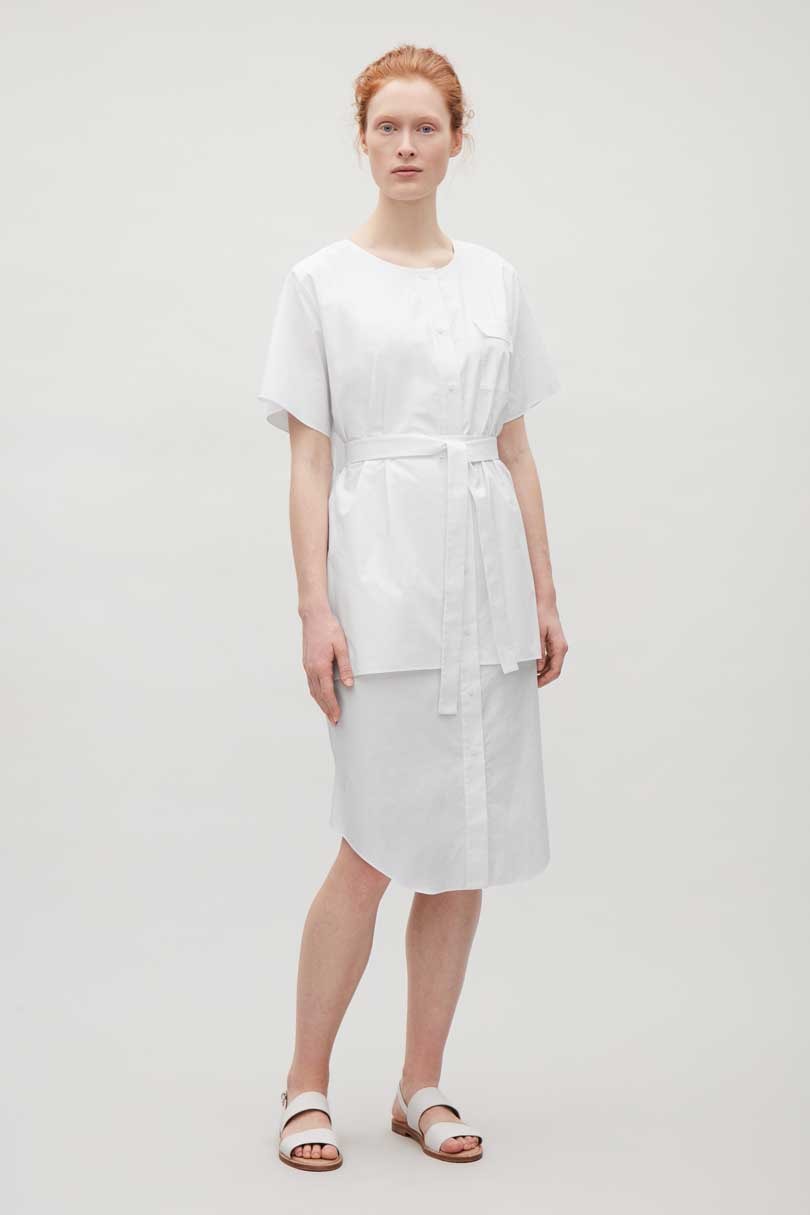 "We are proud of how the brand has grown over the last ten years," commented COS Managing Director Marie Honda. "We are pleased and humbled that our customers have continued to appreciate our approach and engage with our collections, stores and collaborative projects with the art and design world."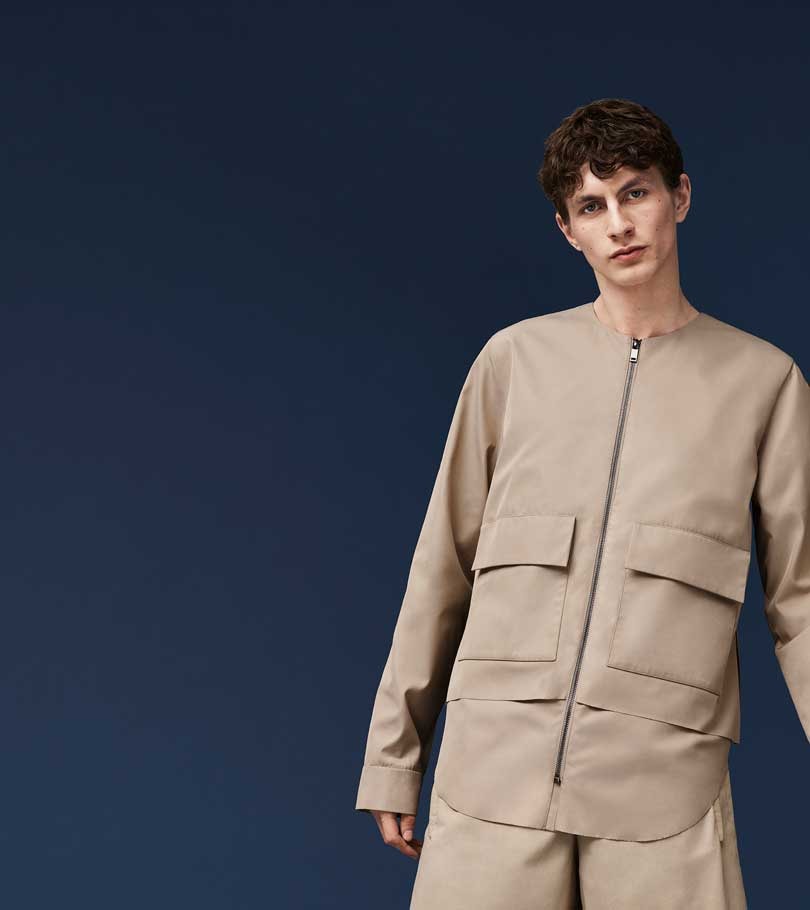 In honour of COS 10 year anniversary and its first store opening in London, COS has developed a limited-edition,10 piece capsule collection consisting of key pieces for women, men and children. What makes the collection unique is that each garment pattern was developed similar to a jigsaw puzzle, with the full width of the fabric used to dedicated the shapes, which decide the next thereby limiting any excess.
"The design team took the opportunity to play and experiment in the pattern-cutting process, re-imagining the methods behind the design," explained COS Creative Director Karin Gustafsson in a statement."The pattern-cutters and designers worked in parallel, referencing historical techniques that maximised the use of materials. As we look to the future we will continue to focus on the efficient use of fabrics and forward-thinking techniques."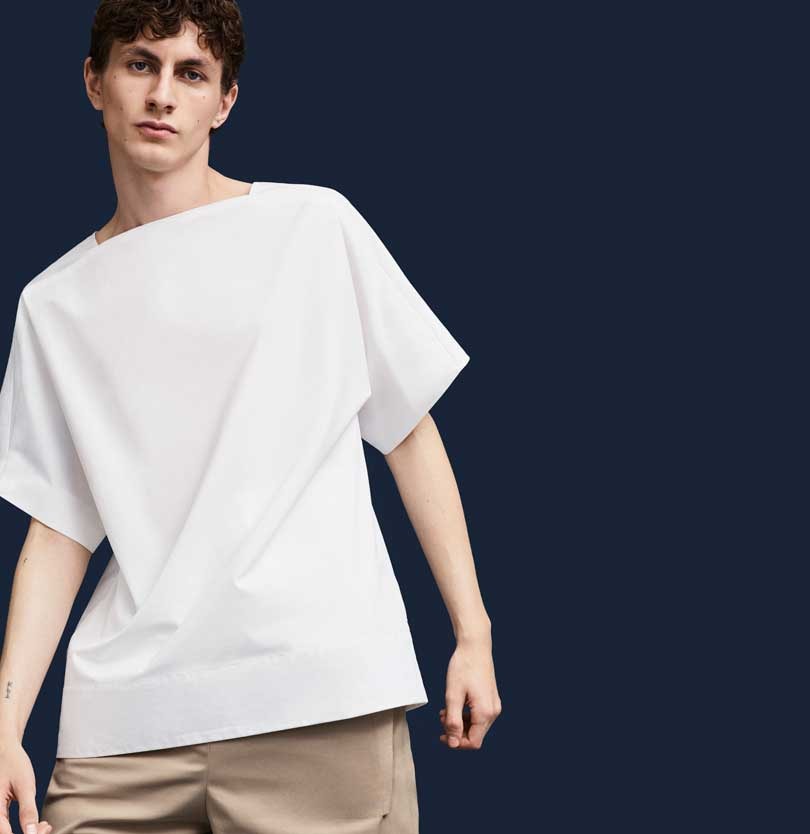 This resulted in a "clean and considered collection" which includes collapsing volumes and rectilinear silhouettes. A long-length shirt dress features soft double layered panels, whereas a men's technical jacket offers functional double pockets. The collection also features Japanese influences, seen in the square-cut proportions of a men's top and a women's coat featuring kimono-style sleeves. The collection consists of light fabrications of crisp cotton and technical polyester in a pared-back palette of sand and white.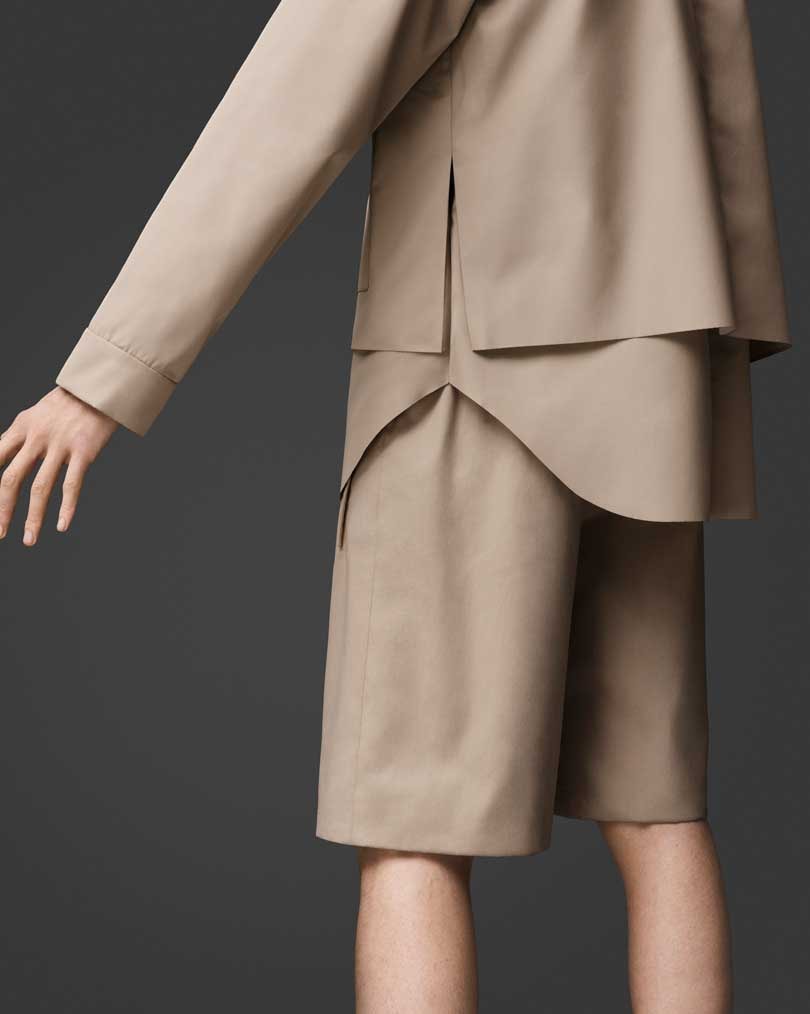 The 10 year capsule collection, which includes 2 childrenswear pieces, as well as 5 womenswear and 3 menswear items, is currently available in COS stores globally and online at cosstores.com.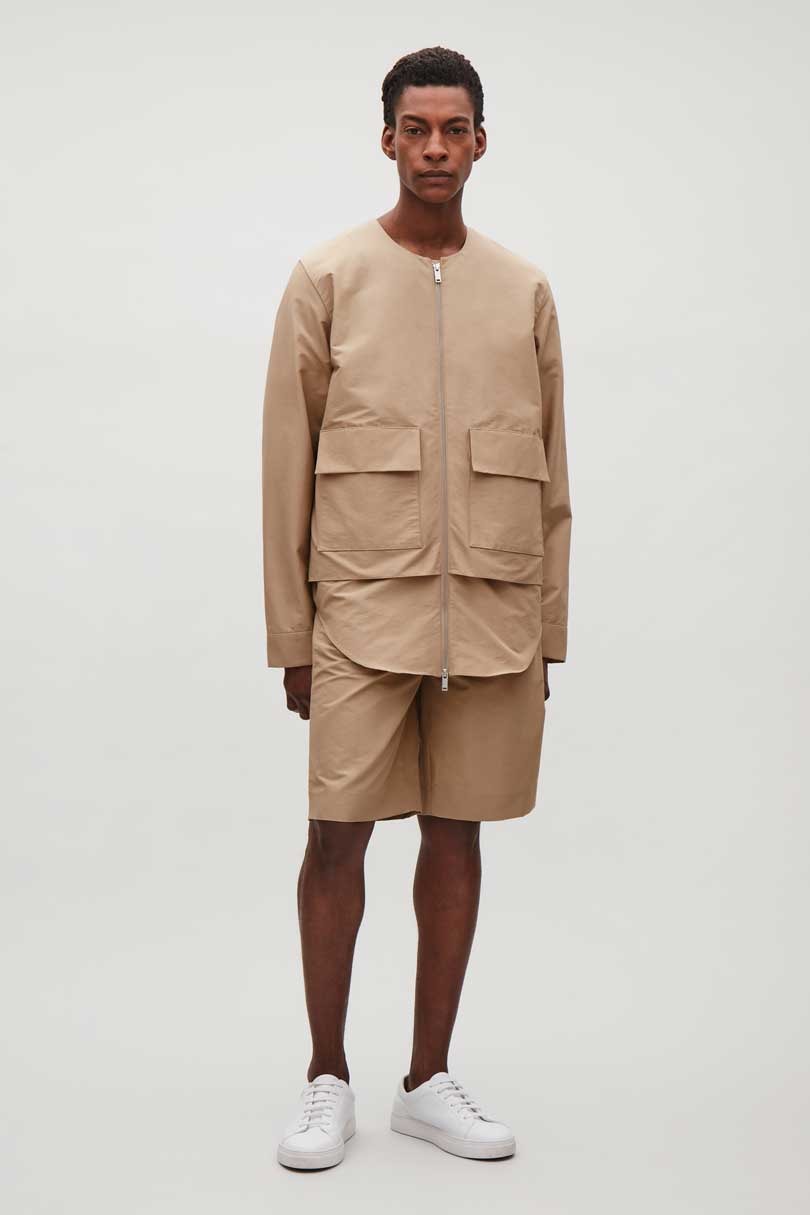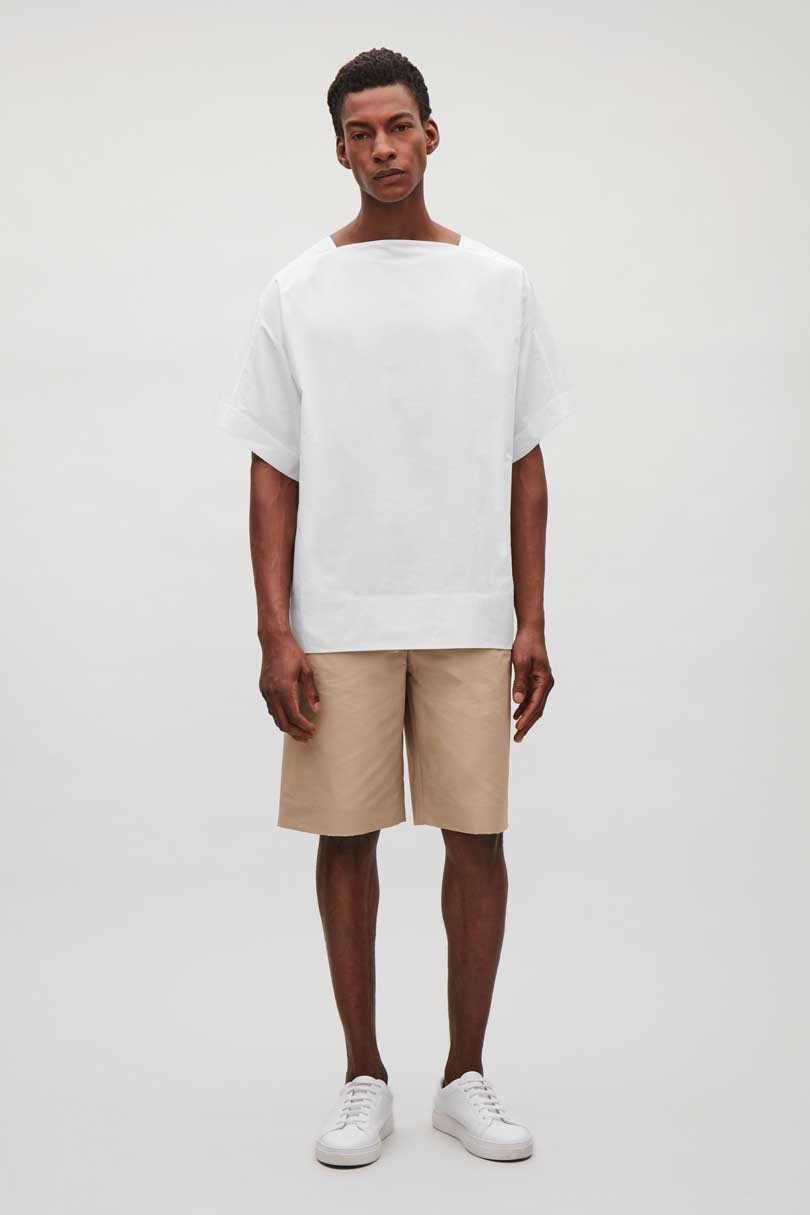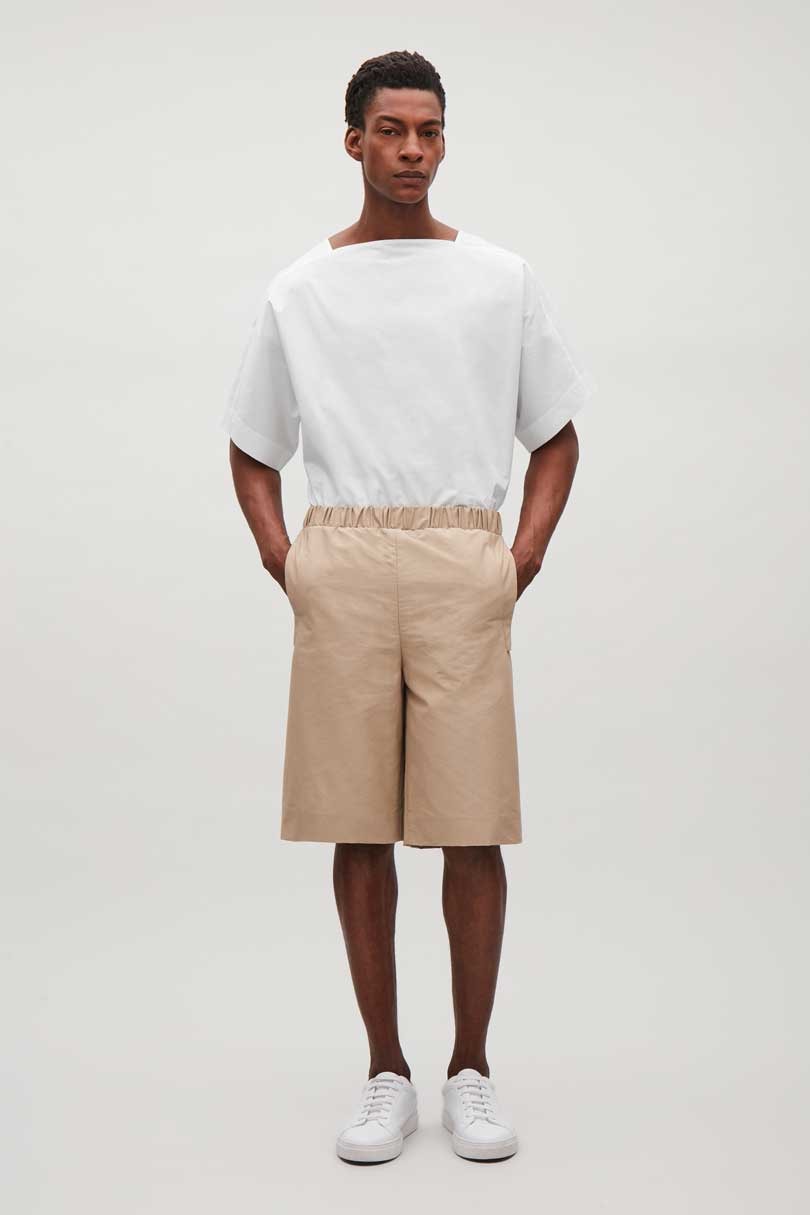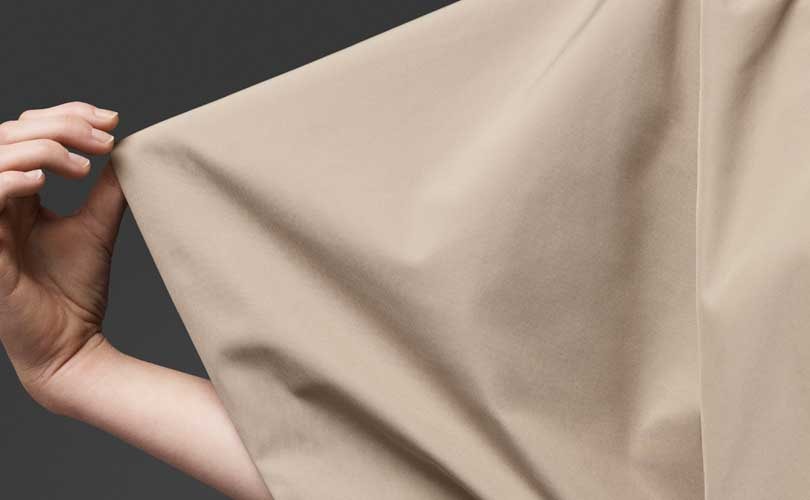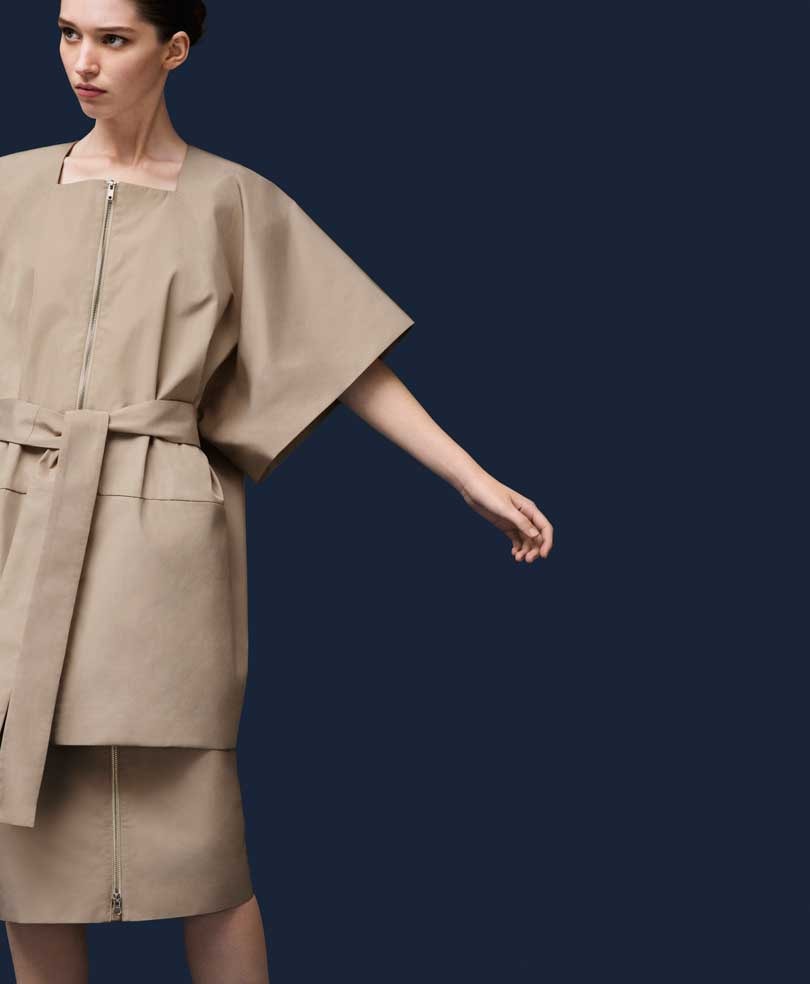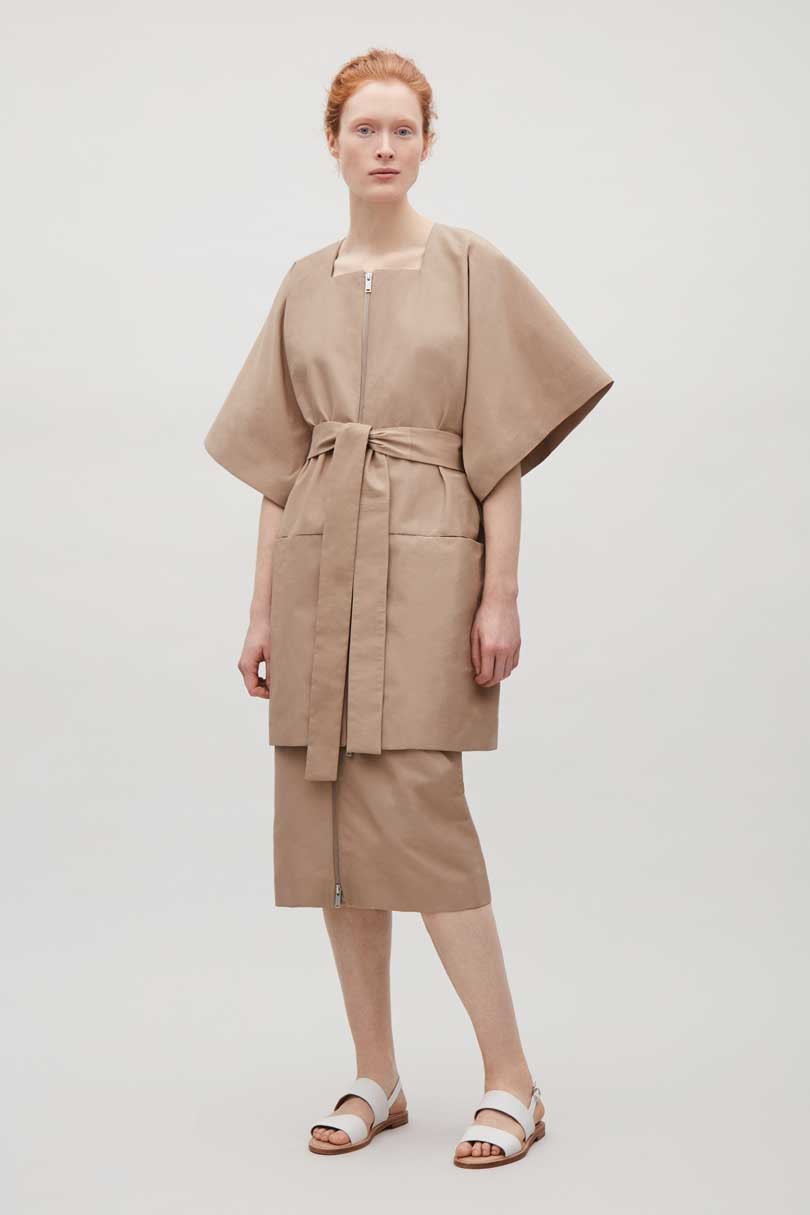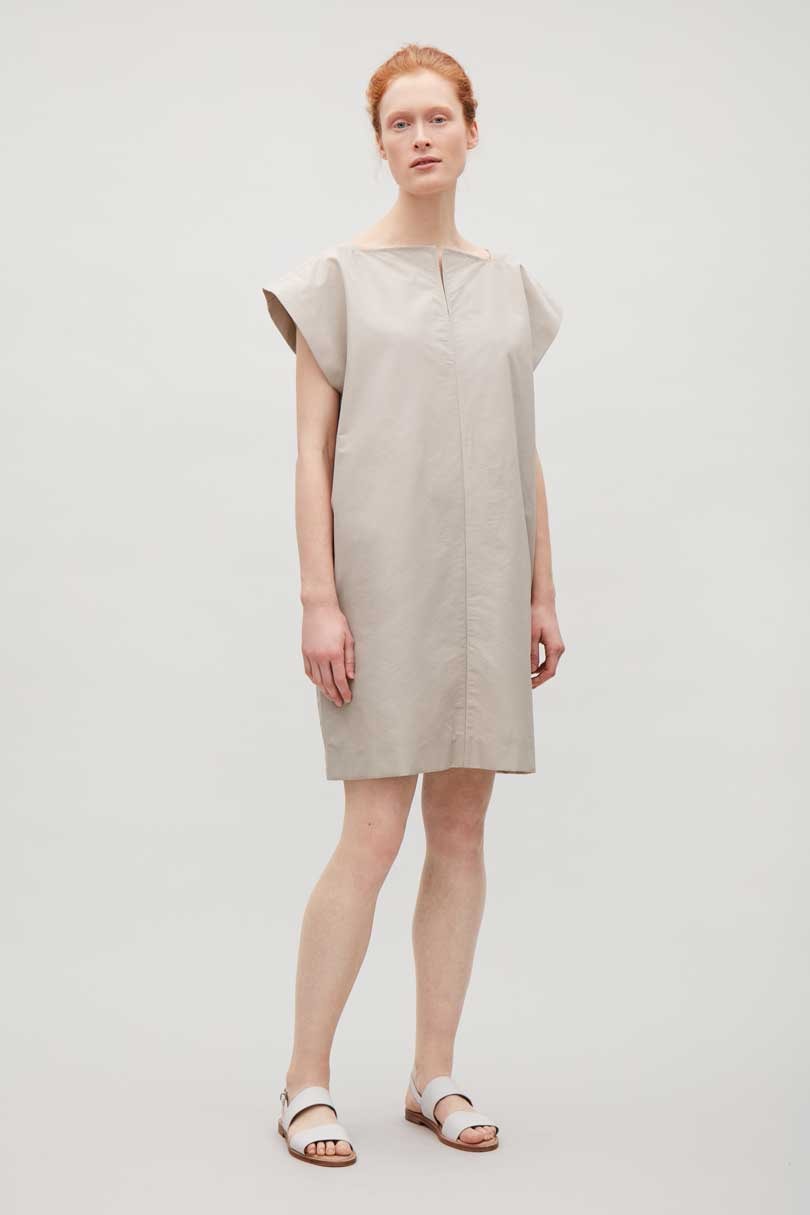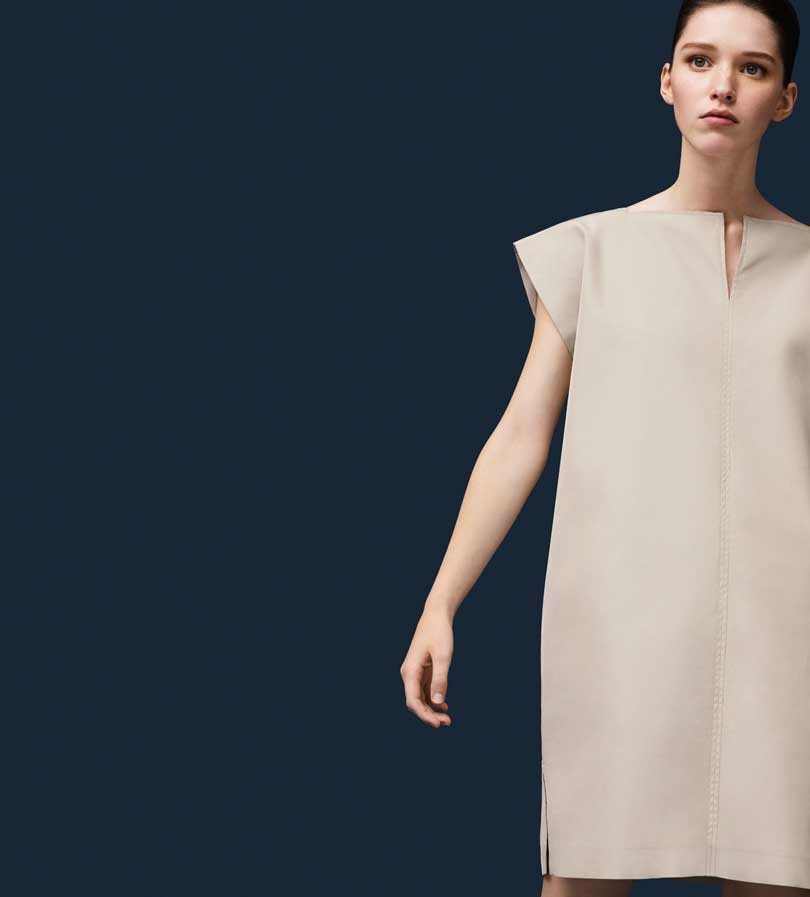 Photos: Courtesy of COS
Simone Preuss

|
Who hasn't experienced it - buying the seemingly perfect sweater in terms of colour, fit and cut, only to realise at home that the sleeves are much too long! Unfortunate, but this could soon be a scenario of the past. After the 3D printer, there is now the high-tech knitting machine that knits tailor-made sweaters while customers wait. Sounds like a future vision? Not for German sportswear giant Adidas whose Berlin pop-up store "Knit for you" offers just that since the end of 2016.
The pop-up store is part of the Storefactory project sponsored by the German Federal Ministry of Economics and Energy and implemented by Adidas' in-house agency Act3. The store houses a mini factory where some of the steps involved are handled by the customers themselves, such as design and bodyscan. "It is very individual. It is like knitting your own sweater," confirmed Christina Sharif, a customer who ordered shorter sleeves on her electric blue sweater than the standard model.
Adidas offers tailor-made sweaters in only four hours
After Adidas' Speedfactory, "Knit for You" is another project that is about store and production models of the future. In both cases, speed is of the essence, be it in the production process or when reacting to customer demands, which are becoming more and more important. With conventional production and design methods, it takes between 12 and 18 months until a garment finally reaches stores. Compared to just four hours, this is quite a long time. Too long in any case to finally catch up to competitor Nike, which is why Adidas has to be innovative.
Specifically, manufacturing of the future works like this: customers first get their body scanned via laser and use gestures to project different patterns onto their torso to see which one suits them best. Then, they select the desired colour combination on the computer (for now, the material is limited to merino wool) and wait for a period of four hours, in which the sweater is knitted in store, finished by hand, washed, dried and provided with tags.
Considering the relatively high price of the sweater at 200 euros (around 215 US dolIars) and the relatively low customer frequency (a maximum of ten sweaters per day during peak periods), Adidas is certainly not concerned with sales and mass production - at this stage at least. For now, customer data and feedback is what counts, which is now being evaluated before the company decides whether to pursue the project or not.
Feedback is also important in terms of reacting to customer demands. And this will speed up production times and customer satisfaction, in turn leading to an increased proportion of products sold at full price, which Adidas wants to increase from currently 50 to 70 percent by 2010. "If we can give the consumer what they want, where they want it, when they want it, we can decrease risk ... at the moment we are guessing what might be popular," admitted Adidas brand chief Eric Liedtke when speaking to investors mid March.
Photos: Adidas
Simone Preuss

|
Like few others, "Beauty and the Beast" seems to be the timeless fairy tale that has inspired the fashion industry the most, doubtlessly helped by Disney's recently released live-action remake featuring Emma Watson as Belle. Christopher Kane was inspired to launch a Beauty and the Beast' capsule collection'; Disney fashion hit the runway at Amsterdam Fashion Week and Central Saint Martins students got help from the film's costume designer Jacqueline Durran to reimagine "Beauty and the Beast" in their creations.
Apart from showcasing breathtaking dresses, the main character's wardrobe in the Disney adaptation has also put those on the map who usually remain hidden behind the scenes: the artisans crafting the beautiful pieces. FashionUnited has taken a look at one piece in particular, the white bodice with an intricate flower design created in India, to show that there is more to the country's textile and garment industry than cheap labour and fast fashion.
Designs made in India are far beyond fast fashion
In fact, nothing could be further from the truth - India has a long history of fine embroidery that has been influenced by a myriad of cultures, customs and religions over the ages. So much so that embroidery from every region has a flavour of its own and is so distinct that it is easily identifyable at a glance, be it Aari and Kashidakari from Kashmir, Chikankari from Uttar Pradesh, Kantha from Bengal and Orissa, Phulkari from Punjab, Persion Zardozi or Rajasthani patchwork and mirror work so popular with European tourists.
The feature film stood out for its breathtaking costumes and dresses and required a costume team of almost 100 people, which made an effort to source ethical, fair-trade and sustainable fabrics wherever possible - a fact that Emma Watson shared on her Instagram account.
The particular embroidery technique used for Belle's bodice is Aari, the traditional embroidery style of Kashmir in the north and the Kutch region of the western Indian state of Gujarat. Durran had the bodice designed and hand-stitched by Kusam and Juma, artisan brothers who live in Bhuj, Gujarat. They have learnt the craft from their late father Adam Sangar, a master craftsman, and have been practicing aari embroidery since they were teenagers.
Indian artisans are sought after
For the chain-stitch technique, which is also called crewel work after the long hooked needle that is used, the material is spread out on a frame. It involves a hook, which is plied from the top and fed by a silk thread from below, creating tiny concentric rings, which lead to a line of intricate chain stitches.
The advantage of the Aari technique is that it looks machine-made and is faster than other chain-stitching techniques. In addition, sequins and beads can be added for an even more festive look, which made the elaborate and intricate floral motifs favourites among Indian royalty. As Sinéad O'Sullivan, the film's assistant costume designer, explained in an Instagram post: "This style lent itself very nicely to this eighteenth century French floral design."
Needless to say, mastering this technique requires highly specialised skills and years of practice that do not come cheap. According to Quartz India, India is slowly establishing itself in the west as a source of highly skilled artisanal work: "With Hollywood movies and English-language TV shows indulging in the beauty of Indian textiles, the skills of the country's craftsmen are in the spotlight. Big name production houses aren't expecting Indian manufacturers to churn out a ton of cheap costumes. They're ordering one-of-a-kind outfits and paying people well to create them. Slowly but surely, the perception of the Indian handicrafts industry is undergoing a makeover."
Photos: YouTube / Disney movie trailer & Pinterest
Meenakshi Kumar

|
The first edition of India Intimate Fashion Week wrapped up recently in Mumbai. The most awaited and India first fashion extravaganza of the year, IIFW turned out to be a grand affair with the super models turning up the heat and setting the ramp on fire. Showcasing prêt collections of India's leading lingerie and resort wear designers like Nidhi Munnim, Karishma Jumani, Keith Jackson, Rajiv Mehta and jewellery designer Mona Shroff etc, the alluring event concluded on a mesmerising high.
Showcasing the lingerie expanse
The first edition of India Intimate Fashion Week was kickstarted by Sanghai based Fashion Designer of Indian Origin, Keith Jackson who showcased his intimate wear and evening/cocktail gown collection under his brand 'La Joli'. Miss Manipur 2016 Phapha Cara Ge Gachui walked the ramp as showstopper. This was followed by a stellar showcase by 'La Intimo', a brand that specialises in intimate clothing. La Intimo showcased an elegant collection of undergarments which included both men and women's wear, showcasing the finest intimate apparel of all shapes and sizes.
IIFW upped the glam quotient with a ravishing jewellery line by internationally acclaimed jewellery designer Mona Shroff who brought her fine line of jewellery during the show. The show was followed by Karishma Jumani, who featured her collection at the French-European-Indian Fashion Week, 2016 in Paris, who showcased her latest resort wear collection of intimate wear 'fairytale floral' under her label 'La Lencería'. Her collection pairs unusual forms of fresh flora with subtle and elegant style at the India Intimate Fashion Week. Reflecting the 'Sun's out, bra's out' trend this season, the collection walks you through the untrodden pathway to a secret garden where flowers catch the sunlight through the thicket and sprightly sprigs stretch forth unabashed.
Triumph's new collection
Triumph International, the leading women's inner wear brand in India, presented an exclusive line of high quality, fashionable and comfortable womens' wear which turned out to be a major highlight of the show. Their Body Make-up Lace Collection, Magic wire collection, Beauty-full collection and many more during the show. Jennifer Kapasi, Commercial Director, India and Sri Lanka, Triumph International, said, "The India Intimate Fashion Week 2017 is an endeavour to bring together the best of India and Global intimate wear designers and brands on a single platform. We being one of world's leading manufacturers of lingerie, are thrilled to be part of this event."
Grand Finale
Nidhi Mumnim's inspiring swimwear, resortwear and sportswear collection added a high with oomph and allure to the grand finale. Her collection was inspired by strange beauty of the deep sea illustrating a dark and enigmatic mood to the line. Tropic inspired beach swimwear abd athleisure looks morph into sophisticated resortwear. Nidhi's show was opened by famous Indian model and beauty queen from Odisha, Sushrii Shreya Mishraa. Bollywood actress and model Dipannita Sharma walked the ramp as showstopper. And as the designer explained "My collection breaks the conventional boundaries by ease of wear, drape and use. The idea was simple; to let everyone be comfortable in their own skin."
India Intimate Fashion Week (IIFW) is a platform designed to shed a powerful spotlight on all facets of the intimate apparel and personal care industry. The event exposes both emerging and established brands and designers, manufacturers and distributors from India and around the globe, spanning market categories of lingerie, loungewear, sleepwear, legwear, lingerie accessories, men's underwear, swimwear, beachwear, shapewear and more. India Intimate Fashion Week is also taking immense endeavours to let India speak its mind about this world largest industry and become shy-away so that we can involve and nurture the emerging talent in this massive industry to command a bold stand.
Vivian Hendriksz

|
London - In its efforts to encourage textile innovation and led the way towards a circular economy within the fashion industry the H&M Foundation has launched the second cycle of its annual Global Change Awards. Now the second round of 5 winners have been selected and H&M has opened up its voting up to the public to decide how the 1 million euro grant should be spilt.
By opening up the vote to the public, the H&M Foundation hopes to encourage individuals to use their voice to influence the fashion industry and help contribute to a more sustainable future. The online vote, set to run from March 27 to April 2 on globalchangeaward.com, lets the public vote for one of five ideas designed to bring around sustainable change within the fashion industry.
H&M kicks off second cycle Global Change Award 2016
The five winners of H&M 2016 Global Change awards offer a wide range of ideas and include: a digital content thread which facilitates recycling of apparel; a carbon-binding nylon made from biomass and solar energy instead of oil; vegetable leather crafted from wine production waste; used denim used to dye new denim; and transforming cow manure into biodegradable textiles.
"The second round of Global Change Award received 2,883 innovative ideas from 130 countries, which is even more than last year," commented Karl-Johan Persson, Board member of H&M Foundation and CEO of Hennes & Mauritz. "Cross-border challenges call for a cross-border approach. I am convinced that by bringing people from different industries, with different backgrounds and perspectives together we can make a fundamental shift, speeding up the transition to a circular waste-free fashion industry."
A panel of international experts, including Vikram Widge, Head of Climate and Carbon Finance at the World Bank Group, Rebecca Earley, Professor in Sustainable Textile and Fashion Design at University of the Arts London, and Ellis Rubinstein, President and CEO at The New York Academy of Sciences, selected the five most promising innovations for the second cycle of the programme, who are set to spilt the 1 million euro grant between themselves.
"On a planet that is not sustainable, every industry must change its practices," said Ellis Rubinstein, President and CEO at The New York Academy of Sciences and member of the Global Change Award expert panel. "The Global Change Award is one of the boldest efforts to catalyse transformation in an unsustainable industry, and H&M Foundation's prize winners embody the enormous potential of innovative science and technology to make a difference."
Each of the five winners offer innovative solutions to reusing waste products to facilitate the recycling of old materials into new garments, an important step to moving towards a circular economy. The innovation which receives the most public votes is set to receive a grant of 30,000 euros. The second highest innovation will receive 250,000 euros and the remaining three winners will each receive 100,000 euros.
The winners of the second cycle of the H&M Global Change Awards, as well as the individuals behind the innovations will be announced on April 5, 2017 during a Grand Award Ceremony at the City Hall in Stockholm Sweden. But what of the winners of the first cycle of the H&M Global Change Awards?
The leading winner from H&M first cycle of the Global Change Award, the Finnish team behind making wast-cotton new, is said to be hard at work at making recycled cotton a closed loop cycle, free from pollutants and waste. In order to complete its project, the team has applied for additional funding for another three years from the Finnish Funding Agency for Innovation. But spokesperson Michael Hummel maintains that winning the Global Change Award played a big part in the positive response the team has received since then, both nationally and internationally.
"Before winning the Global Change Award, our main means of communication was through academic articles and scientific conferences," said Michael Hummel. "The award gave us a broader and more international audience, and in a way it made our discovery more real—something that everyone could relate to. That also motivated our previous partners to stay dedicated to us, as well as new partners to join."
Photos: Courtesy of the H&M Foundation
FashionUnited

|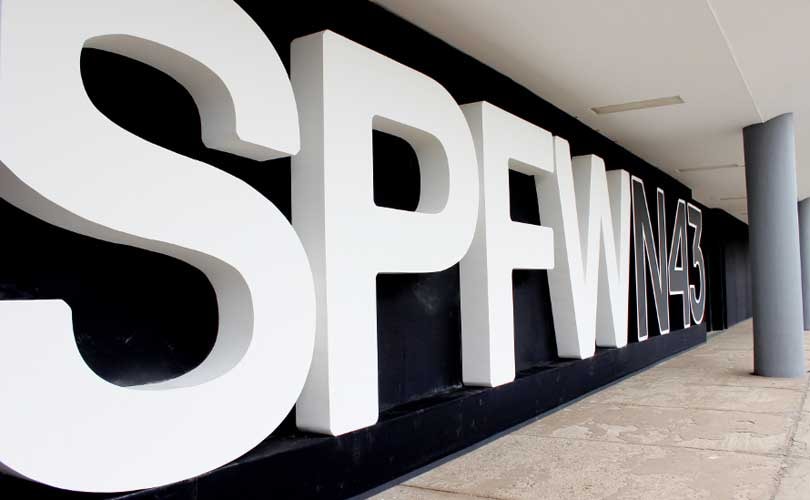 Trendstop's global catwalk team return from South America's premiere fashion event having identified the most essential styles to emerge from the Sao Paulo catwalks. The SPFW N43 edition of 31 fashion shows introduces 6 new designers to the schedule as the event continues to operate outside the traditional seasonal calendar and tap into the influential transseaonal movement. We reveal three key looks to FashionUnited readers that will inform and inspire your next collection while our comprehensive catwalk coverage and expert analysis gives you the best possible basis for your decision making, evaluating each trend's commercial value and longevity.
This week Trendstop present three season-less themes that will be impacting across Spring/Summer and Fall/Winter 2017-18 with products and pieces that work throughout the year. Designs blur both seasonal and gender lines with exaggeratedly masculine proportions of The Oversized Sweat and the reinvented tailoring techniques of the Shirting Rework. Sportswear takes a tougher stance in Sleek Fighter with a powerful athleticism straight from the boxing ring.
The Oversized Sweat
Sporty sweatshirts go OTT with extra large proportions. Longline styles feature extended arms, creating a slouchy masculine silhouette. Block colours and geo prints enhance the oversized aesthetic while varsity inspired graphics and slogan typography introduce a 90s urban athletic vibe.
Shirting Rework
The white shirt is reengineered as classic styles mix the masculine with the feminine. Traditional tailoring techniques are updated with innovative constructions such as asymmetric eyelet laced fastenings, delicate sheer panels and funnel collars while retaining man-tailored proportions.
Sleek Fighter
Fashion looks to the boxing ring for inspiration as athletic and streetwear styles adopt a fighting mentality. Body-conscious colour-blocked pieces in technical satin and leather are layered with baggy sweatpants and flowing hooded robes that amplify pugilist aesthetics while towelling sweatbands and fingerless gloves enhance protective elements.
Exclusive Offer
FashionUnited readers can get free access to Trendstop's Spring Summer 2017 Themes on the Catwalks Report, featuring key catwalk womenswear apparel themes from directional designers. Simply click the banner to receive your free report.
Trendstop.com is one of the world's leading trend forecasting agencies for fashion and creative professionals, renowned for its insightful trend analysis and forecasts. Clients include H&M, Primark, Forever 21, Zalando, Geox, Evisu, Hugo Boss, L'Oreal and MTV.
Images courtesy of Trendstop: A La Garconne, A Brand, Just Kids, Vitorino Campos, Animale, Coca Cola Jeans, Lab, Memo, Ratier all SPFW N43.
Meenakshi Kumar

|
Athleisure is the biggest international Spring/Summer trends that will become big in India, feels designer Narendra Kumar Ahmed. For men the bomber jacket will become big this season and for women it's the great white shirt in all its ruffled glory that will make a comeback. Also, it will be a trip down the '80's glamour with shinny metallics in the form of cropped tops and pleated skirts.
A trailblazer in men's wear fashion, Ahmed was the first fashion editor of Elle India, the first Indian fashion designer to embrace e-commerce by becoming the creative director at Amazon, and the only designer whose store was featured alongside iconic brands such as Tom Ford, Prada, Louis Vuitton and Valentino on Esquire's Big Black Book of Style.
He has also been image and brand consultant to some of the biggest textile and fashion brands. He gets inspired by ideas that are at cutting edge of trends. He takes influence from music, society, economics, and politics, all of which impart a sense of zeitgeist to his fashion. Being experimental brings an edge to his creative endeavor.
Ahmed does not think it's important to showcase one's collection at an international fashion week. Given the economic environment across the globe and its impact on designer wear, leading to closure of brands ,downsizing, growing importance of e-retailing, and the burgeoning mass branded market, he feels it makes greater sense today to work the brand in the domestic market. Indian design might have needed validation from the west, but that situation no longer exists.
AFP

|
Britain's impending divorce from the European Union helped inspire perhaps the least likely cultural response: a Korean designer's fashion show on the other side of the planet in Tokyo.
In unisex brand ACUOD by CHANU's mission to sweep away gender boundaries, the Japanese-trained Chanwoo Lee gave the zip a starring role Wednesday in his fall/winter 2017 collection on day three of fashion week.
Lee uses zips to "connect different cultures and open a new world"
It was a veritable zip fest: zips on hats, snaking from buttocks to crotch, on sleeves, and up the back and down the front of jackets making it possible for the wearer to customise each garment to their own desire.
With surgical masks ubiquitous on the streets of Tokyo, offering protection from viruses or solace from a "bad face day," Lee dressed his models in black leather versions with giant zips across the mouth.
Heavy and looped over each ear, each model wore a mask that could be zipped up or zipped apart at the mouth, plastering each face in an almost menacing metallic grin and obscuring much of their features. Zips, Lee said, "connect different cultures and open a new world".
He dubbed the show "Break Down Walls, Zip Up Difference" that bizarrely turned out to be about EU secessionist movements just days after Britain announced it will trigger its exit next week from the European Union.
"Today there are many political movements such as EU secession in the world, but basically I think that we're all the same humans," said Lee, speaking to reporters in fluent Japanese after the show. "I wanted to express peace through my collection. But just a 'love and peace' kind of thing would be boring so I wanted to express peace with a rebellious spirit," he added.
The show kicked off with a performance by beatboxer Kairi and a freestyle dance from Gendai and won loud cheers from the normally reticent Japanese fashion audience in what was standing-room only.
Lee only made his Tokyo Fashion Week runway debut last season in October 2016 but ACUOD by CHANU has already won a slew of awards for its blend of mens and womenswear, sporty and semi-formal street cool.
"I want my brand to be a street brand that people can even wear at weddings," Lee said professing a distaste for formal suits. "I'll never wear one as long I live." (AFP)
Photos: ACUOD by CHANU, Chanwoo Lee, Courtesy of Amazon Tokyo Fashion Week
FashionUnited

|
So far in this series we have heard from designers who feel they have been exploited in the past by interviewers who have asked them to do a project in order to get a job, then often heard nothing or been dismissed with a brief email from an anonymous HR representative upon submission of the requested free work. Now we hear from a group of recruiters and hirers who offer their views on how to navigate this thorny yet commonplace scenario…
RitaSue Siegel says
RitaSue Siegel of RitaSue Siegel Resources, a Manhattan-based global executive recruiting firm specializing in all areas of design from industrial to digital to fashion, brings a historical perspective, "Over 25 years ago, prospective employers used to ask industrial, graphic and interior designers to "do a project" for them. After the designers asked how much they were going to be paid for the freelance assignments, the requests stopped. Fashion designers have obviously not learned this lesson yet. Stick together folks, if you want these requests to stop, say that you get paid for your work. If an offer of compensation isn't forthcoming, publicize the event in comments to embarrass those who ask for free work."
This is certainly along the lines of what designers would hope to hear. What it really amounts to is the old Why would they buy the cow if they're getting the milk for free argument? RitaSue's words are a reminder that in such a competitive market it is the candidates who need to learn to place a higher value on their time and skills before expecting others to do so. The designer who completed between fifteen and twenty projects, for example, won't like to dwell on the amount of weeks he spent working for free, but maybe he should…
Paid Assignments
RitaSue continues, "The reason designers have portfolios is to demonstrate their capabilities to prospective employers. If the prospective employer cannot extrapolate from the visual material provided, it is perfectly acceptable for them to offer a paid assignment to the candidate to provide further demonstration. And the compensation should be fair and relevant to what the candidate is being asked to provide. People didn't used to be paid as interns, until the IRS and labor dept. intervened. I hope it will be helpful and that candidates for jobs will keep standing up for themselves and not do work for no pay."
This advice is timely considering the judge's ruling this week in favor of the interns who sued Mary Kate and Ashley Olsen's company, and won 140,000 dollars compensation because they claimed they were doing the same work as paid employees, but for free. There is always a first time, which then paves the way for others. While the practice of paid projects exists in other industries it is not common in fashion, but that doesn't mean it couldn't become so, right?
Alex Brownless says
Alex Brownless, co-founder of ARTS THREAD, an organization that bridges the gap between graduation and the fashion designer's first creative job, pulls no punches: "It's pretty cut and dry really. I think a project needs to be done if the designer has to prove that they are relevant for the job. If the designer has a proven track record and is working in the same sector then I really think it shouldn't be necessary. If the designer needs to prove that they are capable of designing for that particular brand and is working in a different sector they really have little option. Having said that, they should present their project, but not leave it unless there are logistical issues."
Is it beginning to sound like designers might need to take some responsibility for facilitating the growth of this practice? By Alex's reckoning, the designer who arrived from the European design office of a brand, and was asked to do a project for the U.S. office of the same brand should have refused. But he was new to town, accustomed to European ways and seeking to establish himself on the corporate U.S. ladder, so maybe we can cut him a break.
Sabrina Damassa says
Sabrina Damassa, co-founder of fashion recruitment firm, Between, based in Milan, Italy, doesn't dwell much on the U.S. versus Europe debate, but creates two categories of a different sort: "I can confirm that for many years it's common that companies ask candidates to prepare projects. Today it's more and more frequent, but I would definitely separate two kinds of behaviors. I understand when a company HR manager selects one or two candidates from a short list and then requests a small project from them, often without specifying numbers or types of pieces to be included. In this case, the request is ultimately justified by his commitment to hiring the best candidate. However, what is completely different is the case of companies, more often in the fast fashion sector, who require all candidates to prepare work, often extensive, ad hoc and to a very specific briefing, more similar to a complete collection than a small project. In this case I'm strongly convinced these important and big companies should pay the designer for the project. Then, under those conditions, companies would have every right to use those projects created by designers, as and how they see fit."
It's difficult to deny this prospect seems fair to all concerned. Two out of our three recruiters have voluntarily and independently introduced the idea of payment for work rendered as a possible workable solution.
Manhattan Complex
I'm struck by a thought. Manhattan, where the majority of the designers assembled are based, is a city of aggressive hustling, where one's dream job is always just around the next corner, where the philosophy "Fake it till you make it" drives every industry, and where productivity is at a premium. Those who aren't doing, who find themselves in between jobs, are swimming against the flow of this city, and it's a most disorienting sensation. As a result, there might be a tendency, a compulsion even, for designers to commit to projects as a way to be doing, to have something going on. Even if it's just an illusion.
But the underlying message seems to be that in the scramble to succeed, it's more important to sit back and evaluate what's being offered. Asking questions is the least you owe yourself; working with recruiters you feel are honest and straightforward; accepting their feedback; finding out how many candidates in total have been asked to do projects; sending nothing digitally; even having the courage to say no.
Be the change you wish to see
"I would add that I have seen very often people who have obtained a job after preparing a project," says Sabrina. "Today this is the most common way in which companies act in the final phase of a selection."
There it is. The practice seems here to stay. However the rules of play don't have to be so unfairly set in one's side's favor. Designers, get with the program, but rewrite the rules. As RitaSue put it, "Stick together, folks."
Or, as we exit this roundtable, we can even choose the words of Gandhi as our motto: "If we could change ourselves, the tendencies in the world would also change. As a man changes his own nature, so does the attitude of the world change towards him. We need not wait to see what others do."
"Yeah," erupts David, the designer who had done between fifteen and twenty projects, "Let the Resistance start now!"
By contributing guest editor Jackie Mallon, who is on the teaching faculty of several NYC fashion programmes and is the author of Silk for the Feed Dogs, a novel set in the international fashion industry.
All photos and imagery Jackie Mallon for FashionUnited.com