Meenakshi Kumar

|
The Chennai Apparel Association is hosting the 14th garment fair from July 18. This is a platform for garment manufacturers and retailers of Tamil Nadu to showcase their products to expand business. They get a chance to understand current market trends and upgrade themselves to new technologies.
This year the fair is being held at the Chennai Trade Centre and Convention Hall. Nearly 400 to 500 participants from all over India are attending. Though the focus has always been on men's apparel section, a great amount of emphasis is being given to the other sections as well like women's and children's apparels. A string of well known Indian brands including Lawman, Sunnex, Citrus and Perrymoni have been constant exhibitors. This year new sari section has been introduced.
This fair is open to all manufacturers and retailers in India. Participation in the fair consists of 75 per cent from other states and 25 per cent from Tamil Nadu. In the long run they are looking to increase greater participation from Tamil Nadu. The fair has seen steady growth over the last 12 years. Starting with only 40 stalls it now houses about 100 stalls. The intention is to grow, to be one of the biggest garment fairs of India by 2018.
Meenakshi Kumar

|
For last 50 years Mumbai's Sasmira is a landmark with strong roots in textile sector. The institute which has trained over 30,000 professionals run businesses globally, has come together to form Sasmira Alumni Foundation (SAF) to give an impetus to a cause which truly needs to be voiced. The concept, aptly titled 'No Naked Child', is an unique initiative which aims to provide clothing to under privileged children across the country by hosting Texathon, an annual affair which is an effort to galvanize the alumni and others from the textile industry in a unique. The world's 1st textile community run, 'Texathon', is scheduled July 9, 2017.
At the onset of the major announcement of the tie-up with Goonj, a national NGO recognized for its vast reach in addressing basic need of clothing through its various campaigns across the country, SAF will reach out to many helping hands to give their surplus to the No Naked Child cause. This will be done through financial contributions by spending on stitching of fabrics as well sourcing surplus garments from the industry. Charan Ahuja, Project Head No Naked Child, Sasmira Alumni Foundation (SAF) says over the next two weeks, SAF proposes to have a garment collection drive at across places in Mumbai for students, alumni, textile companies and the public in general to give sparingly used clothing, fabrics and garment surplus for the cause of 'No Naked Child".
This marathon will give a chance to people to participate in an initiative which will help in clothing underprivileged children. The aim is to raise funds to support 'No Naked Child'.
Simone Preuss

|
Africa Sourcing & Fashion Week (ASFW), taking place at Millennium Hall in Ethiopia's capital Addis Abeba from 3 to 6 October 2017, will focus on sustainability and its central theme "Sustainability in Clothing".
Given that currently, clothing and textiles represent about seven percent of world exports - a percentage that is likely to rise - the trade fair puts particular emphasis on production, the environment and certifications. A fashion show, trend area and matchmaking platform for finding business contacts are just some of the other programme highlights.
From this year onward, Messe Frankfurt's three trade fair brands Texworld, Apparel Sourcing and Texprocess have been integrated into ASFW after Messe Frankfurt reached an agreement with the fair's organiser Trade and Fairs East Africa last year. More than 250 international exhibitors from 25 countries worldwide are expected to participate.
Because the origins of fashion and sustainable production are becoming particularly relevant to more and more fashion buyers, ASFW is anticipating an increasing interest in eco fashion and will present new approaches in this regard. Fast fashion giant H&M, GIZ (Society for International Cooperation) Ethiopia as well as circular economy and resource efficiency experts of WRAP and development agency Solidaridad will present sustainable solutions.
In addition, international manufacturers of textile machines will showcase new technologies for the African market. This includes the Italian textile machine association ACIMIT, which will be represented with a range of product innovations.
Visiors also look forward to the annual fashion show with African creations as well as the designer conference where experts will give presentations on "International fashion – designed in Africa". In terms of trends, trend forecasting and analytics company WSGN will present future trends in women's, men's and children's clothing while "Trend House" showcases international trends made in Africa.
The ASFW will take place for the seventh time in Addis Ababa, Ethiopia in 2017. It serves as a meeting point for garment manufacturers and the east African textile industry, focusing on apparel fabrics, leather, fashion and fashion accessoires to home and contract textiles, technical textiles and the processing and care of textiles. Machine manufacturers for garment production, CAD/CAM systems, printers, inks and accessories also have a strong presence.
Photos: Africa Sourcing & Fashion Week website
Simone Preuss

|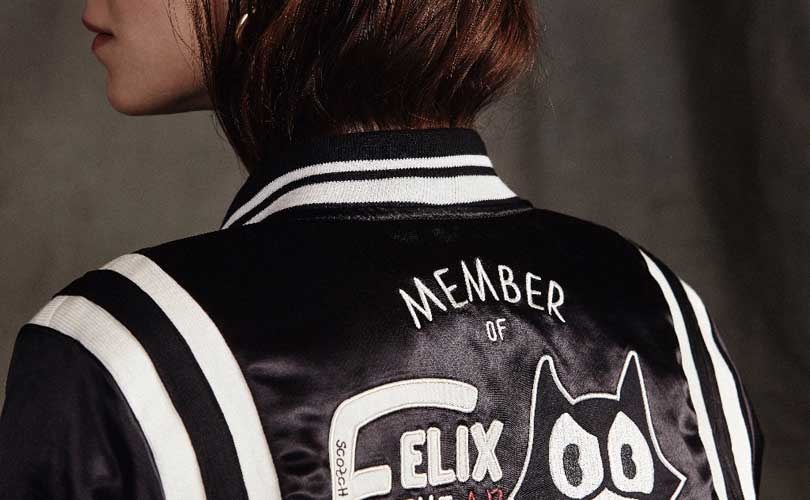 Amsterdam denim brand Scotch & Soda will show for the first time at international fashion trade fair Premium Berlin, which will take place from 4 to 6 July 2017 at Station Berlin. The brand's presence at the trade fair supports a recent increase in investment in Germany as part of Scotch & Soda's strategic growth plan.
"Berlin's naturally buzzy, creative and open spirit is a lot like Amsterdam, our home city. Premium Berlin feels like the right event to profile Scotch & Soda at, as part of our growth plan in this key market. We look forward to making the space at Premium our own, showing the full Scotch & Soda offering for our main line," commented Alex Jaspers, global director of merchandising at Scotch & Soda.
At Premium Berlin, the brand will present its spring summer 2018 lines for men and women in a 220 square meter space that includes an outdoor terrace. In the past year, Scotch & Soda has invested in three permanent showrooms in Germany: a 1.500 square meter space in Dusseldorf and two 600 square meter spaces in Hamburg and Munich. In addition, a new shop-in-shop concept with accompanying refreshed P.O.S. concepts has been rolled out with wholesalers across Germany, where a team of 25 sales experts led by sales director for Germany, Andreas Firneburg, services the market.
The decision to participate in Premium Berlin is part of a number of steps implemented to drive the brand's growth in Germany, including two seasonal instalments of Scotch & Soda's first global campaign "From Amsterdam, From Everywhere." A third phase of the brand campaign is currently in development and will be released in fall winter 2017.
The brand also just launched an exclusive denim capsule collection together with Universal Brand Development featuring Felix the Cat, the world's oldest cartoon character. The capsule collection offers denim and sports apparel for men, women and children that has been inspired by Felix the Cat. It will be launched in addition to the Amsterdam Blauw SS18 collection and will be supported by launch activities in October and November of this year.
Photo: Scotch & Soda PR
FashionUnited

|
Paris - On the eve of its tenth anniversary, Denim Première Vision demonstrated what might be tomorrow's denim. The buzz at the Paris Event Center on 26th and 27th April was all about ecology and technology. "If ecology is the major topic for the whole industry and has experienced real evolution, then technology remains associated with active sport, namely performing-fibre products, for example, with a vintage look", explains Marion Foret, fashion product manager of Denim Première Vision.
A greener denim
In the field of recyclable denim, Advance Denim (China) displayed a canvas combining 100 percent recyclable cotton and filament. The recycling of cotton/polyester mixes is usually impossible as fibres cannot be separated. Here, this action is possible because it dissolves in water thus enabling both fibres to be recycled. The idea is like inviting the consumer to take their used denim to the shop and from there it will be sent back to the factory so that the product can be fully recycled.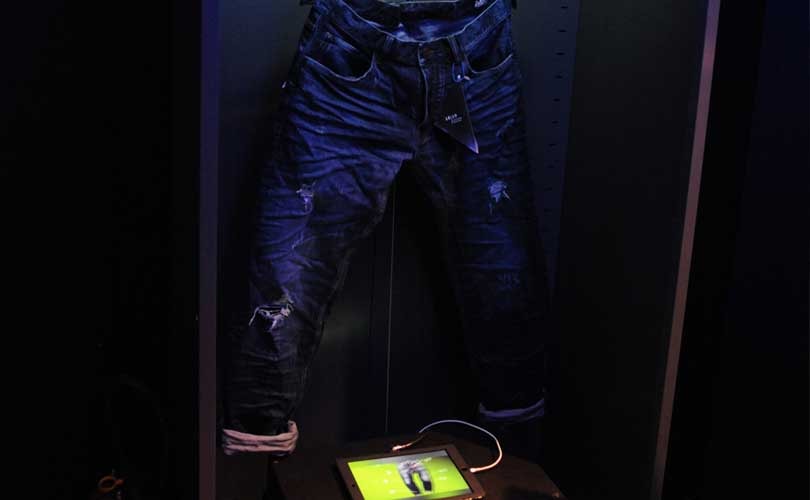 At M&J Group, innovation involves the reduction of laundry costs. Water, energy, chemical products…by means of a full-cycle monitoring and measuring system enables complete traceability of the denim canvas production process, all measures are taken into account in order to help the implementation of a consumption reduction plan. The only one of its kind, this software should soon be available at various launderettes.
A revolution is at last taking place on the display shelves of Artistic Fabric Mills (Pakistan) who aim to stock articles with a QR code allowing access to production information for jeans. As an overview, the strategy of the company's ecology manager is to provide full transparency of the production process: from cotton to the finished garment. This already involves a mix of eco-responsible fibres (bio cotton, cotton BCI, recycled coolmax polyester), a greener dye (reduced amount of water used), a cleaner wash…."This kind of approach which aims to attract the consumer is very new for manufacturers", outlines Marion Foret. "We are entering the era of global traceability which allows customers to understand the product manufacturing process."
The technological side
Meanwhile, another world enables the discovery of tomorrow's denim. This way, the artist Pauline Van Dongen, was able to present Solaar Windbraker: a recycled, waterproof denim jacket featuring solar panels. Concealed within the lining is a battery recharged by means of flexible solar panels thus allowing any mobile technology (telephone, camera, GPS…) to be recharged even with little sun. A smartphone can also be recharged wirelessly.
American streetwear brand Rochambeau displayed one of its limited edition jackets with Avery + Evrythng (15 units were marketed in December 2016). Equipped with microchips and QR codes concealed in the lining, it enables access to exclusive content. The wearer can use their smartphone to interact with the technology concealed in the jacket. It offers a tour of New York city and suggests unique points to the user for a personal itinerary (art galleries, shops, events or restaurants).
Written by Céline Vautard for FashionUnited France
For all our articles on Denim, click
here
.
Foto: Denim Première Vision
Simone Preuss

|
The denim market in India is booming, thus attracting its first international denim exhibition, Denimsandjeans, which will be held at the Lalit Ashok in Bangalore from 25 to 26 September 2017. Buyers like key retailers and brands as well as factory representatives from India, Europe, South East Asia and USA are expected.
"It gives me great pleasure to bring our show to India after successfully running it in Bangladesh and Vietnam," said Denimsandjeans founder Sandeep Agarwal. "I feel that the Indian denim industry is at an inflexion point, where we will see it take off strongly and attain depth and breadth. While we are already the second largest consumer of jeans today, we will see the market maturing substantially in terms of usage across regions and demographics. Our show aims to bring together the major stakeholders in the supply chain to come together and help in this process."
The two-day international trade show will be the first-of-its-kind in India, bringing together local and international denim mills, denim and garment manufacturers and those looking to source denim fabrics and apparel.
Denim has been one of the most promising textile segments in India in the past decade. While the capacity of Indian denim mills was only about 300 million meters in 2005, it is now about 1.3 billion metres; an increase of 300 percent, making India second only to China globally. Apart from being a denim producer, India is also an avid consumer: more than 500 million jeans are sold in the country annually, a bit more than the 490 million pairs sold in US per year.
The Denimsandjeans.com website was set up in 2007 by Sandeep Aggarwal to provide trends, analyses and reports on an almost daily basis for the denim industry worldwide. The first Denimsandjeans exhibitions took place in March and October of 2014 in Dhaka, with the Bangladesh shows then becoming annual events. The first Vietnamese edition followed in 2016. Denimsandjeans also launched De-Brands, the first online denim show, that brings buyers and suppliers together online at their portal.
During the month of April, which sees Denim trade fair Kingpins and the Amsterdam Denim Days taking place, FashionUnited focuses on Denim. For all our articles on Denim, click
here
.
Photo: denimsandjeans
Simone Preuss

|
The denim market is still booming and in view of the fact that 70 percent of the world's denim production is happening in Asia, countries such as Bangladesh are becoming increasingly important. At present, there are 26 denim factories and the country is the second-largest denim supplier for the EU (third-largest for the US) and imported jeans worth almost 933 million euros in 2015.
After safety and community in 2015 and sustainability in 2016, this year's edition of the Bangladesh Denim Expo (BDE) focuses on denim networks. The sixth edition of BDE will take place from 17th to 18th May at the International Convention City Bashundhara in Dhaka.
While there were 3,000 visitors and 50 exhibitors from 14 countries in November 2014 , BDE 2016 attracted more than 5000 visitors from over 46 countries worldwide, representing more than 1000 companies. They met 54 exhibitors from 15 countries who presented the latest products, trends and innovations of the denim industry.
Bangladesh Denim Expo grows exponentially
"The expo has become a much awaited event in the international denim calendar. That's why we are also trying to expand the scale of the expo on par with the expectations," explained BDE CEO Md. Mostafiz Uddin.
As in previous years, the "Sustainable Apparel Forum" will facilitate the successful exchange of knowledge on the first day of the event to make it easier for factories and individuals to implement sustainability. The WGSN workshops will also take place on May 17th.
The expo's second day is dedicated to the seminar program. In the morning, "From Ideas to Technology" is about discovering a new age for garment finishing while in the afternoon, everything revolves around the denim trends for autumn/winter 2018-19. There are also special events such as the Tonello Denim Gallery, a trend zone area for information exchange and virtual reality tours of a denim mill, jeans factory and laundry, not to forget the retro selfie booth.
During the month of April, which sees Denim trade fair Kingpins and the Amsterdam Denim Days taking place, FashionUnited focuses on Denim. For all our articles on Denim, click
here
.
Meenakshi Kumar

|
Children Baby Maternity Expo (CBME) will be held in Mumbai from April 11 to 13. CBME is the largest children and maternity product business expo in India. It offers business opportunities for local and global manufacturers and sellers of baby products to connect, network and conduct business with a choice of dealers, distributors, influencers and merchandise heads from modern retail businesses, online retailers, service providers, business investors and franchisee seekers.
An exhaustive spectrum of baby care products will be on display along with toys, baby food, organic clothing, nutraceuticals, ergonomic furniture, stationery, infant safety technology, brain development tools and more. Among the participating countries are Australia, China, Vietnam, Thailand, US, UK, Canada and Italy. More than 150 major global and Indian exhibitors will be present. The event will facilitate interactive forums like knowledge-sharing seminars, workshops and panel discussions on pertinent topics.
Brands will make their presence felt through a rich array of quality, technologically-advanced and aesthetically pleasing international products. The expo will also include a start-up pavilion that encourages innovative ideas in the sector; premium fashion accessories and clothing from both well-known and emerging designers, brands and manufacturers; an innovation product corner that will showcase creations that highlight design excellence, product safety and innovations, and many more.
Sujata Sachdeva

|
ICE (Indian Couture Experience) will be held in Hong Kong on March 18. Indian designers will present their work to a new audience. The aim is to change the clichéd view that Indian designers only create clothes with heavy embroidery and that are gaudy and over-the-top. These participants will appeal to a range of aesthetics, whether it's minimalist and understated to powerful and glamorous.
Places like Hong Kong are looking to discover new talent and have a big Indian community who are eager to see what their homeland offers. ICE will feature a range of labels, from bridal and ready-to-wear designers to accessories brands – a mix of high-profile names favored by film actresses to rising stars in the fashion world.
While the majority of clothing will be western in silhouette, there are some traditional collections that will also appeal to foreigners and prospective brides. Gujurat-based designers Shyamal and Bhumika are known for heritage textiles and traditional crafts. Izzumi Mehta is known for modern east-meets-west silhouettes, including long, cape-style tops with palazzo pants. Nikhil Thampi is known for his glamorous red-carpet gowns, body-conscious dresses and chic jumpsuits. There will be costume jewelry by Prerto and home accessories by Casa Pop. The event will also include makeovers and styling sessions.
FashionUnited

|
"Future" was probably the word cited most often during EuroShop, the world's largest trade show, which ran for five days and ended on 9 March in Düsseldorf. But the look of this retail future is uncertain. The only certainty is that retail will look much differently in the future than it does today.
The borders are becoming blurred – in every respect
The consensus in the fashion industry is that it will be facing major challenges in the coming years. The disruptions associated with digitalisation will fundamentally alter the design and function of conventional stores. The seasons will be reshaped due to climate change and people's passion for traveling and not least, because of the constant demand for new, fresh merchandise to be displayed in store. At the same time, product offerings are becoming increasingly diverse and creative, whereby clothing is designed to evoke emotions in combination with food, repair services, and so on.
More than ever before, sales clerks are required to take on the role of advisor and provider of inspiration. "I believe that conventional sales clerks on the floor will all be replaced by stylists in a few years' time", says Raul Sanchez of Interstore, who used to be head of design at Jelmoli. The centre of attention will therefore shift to the changing rooms. Experts point out the importance of making these more appealing in the coming years, as this is where the purchase decision is made. At Schweitzer and Interstore, steps have been taken to the effect that the store of the future will only consist of a changing room. The customer will select the items of interest online in advance and come in to try them on in a comfortable, relaxing setting. The stores of the future will be smaller, because their function of actually fulfilling the whole transaction will diminish as a result of the online presence. Instead, they should focus on the real experience, evoke emotions and showcase the brand. That is to say: the ratio of surface area containing merchandise to convenience areas e.g. dedicated to the changing rooms will change considerably.
Flexibility: the store must change constantly
While in the past a store had to be redesigned every seven years according to an unwritten rule, this timeframe has increased drastically today. According to the industry, it is now necessary to redesign a store every three to four years. In order to finance this endeavour, store fitters are feverishly working on the development of modular, flexible store equipment elements, which can regularly be rearranged or expanded as necessary. For example, this means going to such lengths that all merchandise fixtures are mounted on the ceiling in the existing track lighting system at Vizona. As a result, no expensive constructions need to be mounted on the walls or the floor at all. The electricity for powering narrow LED strips that are integrated into the shelves and provide different moods of light is also accessible from the top. The trend toward flexibility continues with the mannequins, whose faces can be modified at lightning speed, using different eyes and lips for example, such as at Window in France.
Lighting: it all depends on the target audience
Light is perceived unconsciously, but it is nevertheless one of the key components of the store design. After all, lighting plays a crucial role in whether or not a customer feels comfortable in a shop. Only if he feels comfortable, is he then willing to linger for a while and only then will he make a purchase and return to the store. So far, so good. However, according to a recent study conducted by lighting specialist Zumtobel, different target groups have different expectations with regard to lighting. The focus of lighting on certain types of target groups, known as human centric lighting, was one of the innovations in the area of lighting. When designing the lighting concept for a store, it is therefore increasingly important to be cognizant of one's target audience.
Digitalisation: from electronics to Big Data
Digitalisation in retail was among the main topics at the EuroShop. In the future, customers will increasingly expect all channels to be interconnected, irrespective of how the processes behind it are organised. Comprehensive IT solutions are required to achieve this. The digital dimension is not an "add-on", but an integral component in the planning of the respective retail strategy and the store outfit. For example, it includes the supply of electricity to merchandise fixtures such as shelves, so that tablets or screens can be mounted on them. By now, store design specialist Vitra equips all merchandise fixtures with electronic connectors. "We are not developing any more systems without electric connectors", says Sebastian Nisi von Vitra.
Big Data has also arrived in the fixed stores. In the past, it was the privilege of online players to generate data regarding their target group in a way that enabled them to obtain valuable insights with regard to marketing and the merchandise portfolio. In contrast, the fixed store was considered a black box by many. With the help of thermal imaging cameras and so-called heat maps, store operators are now also able to generate data in their shops and to measure for instance the customer frequency in different places of the store at different times of day and to find out which marketing strategies are most effective in which target group. Nowadays, these cameras are even capable of establishing people's gender. In addition, the aim is to identify logos and determine clothing styles in order to obtain information that is as accurate as possible about their target group.
Visual merchandising: uniqueness is compulsory
The visual merchandising halls featuring the store display models and new merchandise presentation ideas are always a optical highlight of the EuroShop. Metallic sheen was the favourite among the new designs, followed by graphic elements in the trendy colours of the 1980s. While Dutch mannequin producer Hans Boodt drew his inspiration from the elegance of the 1920s, Window Mannequin in France developed a brand-new method for creating customised lifelike mannequins. It is based on a technology that is used in animated movies, where a human body is captured three-dimensionally in seconds with a multitude of cameras and reconstructed within several days by means of robots. This method enables a brand to commission unique, lifelike mannequins. Ralph Hutchings, art director at Window elaborates: "brands spend large amounts of money for the right model and for their own store design – particularly in the luxury segment. So when it comes to mannequins, why should they resort to cookie-cutter solutions?"
High demand for information
EuroShop, which takes place only once every three years, has evolved from a conventional trade show to an innovation platform and a forum for discussion for new trade ideas. This is also demonstrated by the extensive program of presentations. For the first time, 2,367 exhibitors from 61 countries presented their merchandise on nearly 128,000 square meters in 18 instead of 16 halls, making it the biggest version of the EuroShop in its 50-year history.
Photos: by Regina Henkel, FashionUnited