Meenakshi Kumar

|
Fashion and lifestyle etailer Myntra has launched s handloom brand 'Navibhu' aimed at the niche but expanding customer interest in Indian handloom, promoted by Ministry of Textiles to support weavers. The brand was launched at Myntra's 6th Annual Brand Summit - Tech Threads 2017 by textiles minister Smriti Irani. Myntra will provide a platform for more than 250 styles of traditional hand woven saris, dupattas and other handloom products.
Myntra showcased how it is leveraging technology to fuel its next phase of growth with the launch of two breakthrough technology innovations -Rapid as a Service and Myntra Mirror. Myntra Mirror is an AI-based service set to revolutionise the customer-brand interface. The technology engages with customers and provides feedback regarding the customer's 'look' based on style, fit, brand and seasonality.
Nearly 200 leading Indian and international brands come together to deliberate on how e-commerce is shaping the growth of fashion in India at Tech Threads. The summit also served as a platform for Myntra to acknowledge its valued partners, recognize best performers, and announce new collaborations and customer-centric innovations. The summit featured customer success stories and two fashion showcases by Navibhu and Splash by Lifestyle.
Simone Preuss

|
The first Denimsandjeans India show, which took place from 25-26 September in Bangalore, attracted over 1,500 visitors and more than 30 exhibitors from nine different countries including Bangladesh, Brazil, Ethiopia, Italy, Spain, Switzerland, Turkey and Vietnam. Apart from brands and retailers, the show also brought together garment manufacturers and exporters with international buyers as well as technology providers and garment suppliers.
"The buyers' turnout at the exhibition as well as during seminars was phenomenal, we are very happy to see the responses. We thank everyone for supporting us and I hope all the stakeholders will be surely get benefited by such events in a long run," said Sandeep Agarwal, founder and CEO of Denimsandjeans.com, according to the show's media partner Fibre2Fashion.
More than half the exhibitors were from India - among them Archroma, Arvind, Raymond and Reliance Industries - but many made the trip from abroad to support and showcase their wares at the first international denim supply chain show in India, among them Bluesign Technologies from Switzerland; Delta Composite Knitting, Denimach, Mahmud Group and M & J Group from Bangladesh; Hyosung from Vietnam; Jeanologia from Spain; Kanoria Africa Textiles from Ethiopia; Kilim Denim from Turkey; Mactec and Ribbontex from Italy and Vicunha Textil from Brazil.
On the visitor front, all major international denim retailers and brands had sent their representatives to Bangalore, among them Asmara International, Benetton, C&A, Gap, H&M, Levi's, Li & Fung, Marks & Spencer, Ostin, Pepe Jeans, PVH, Spykar, Target, Tesco, VF Corporation and Zara. Among the Indian brands and retailers, Aditya Birla Fashion, Arvind Brands, Being Human, Blackberry, Hypercity Retail, ITC Limited, Jabong, Killer Jeans, Landmark Group, Mufti, Myntra, Pantaloons, Raymonds Apparels, Reliance Trens, Shoppers Stop, Tata Cliq, V-Mart and Westside were represented.
On the first day, Stefano Aldighieri, former creative director of 7 for all Mankind, spoke about "The secret of success for a denim brand" while Jordi Juani, division director at Jeanologia, pondered "The evolution of jeans finishing from hand to technology". On the second day, denim expert Dilek Erik from Turkey explained the question "Why should we use stretch denim in men's fashion despite the rebirth of the rigid look?", while Vasco Pizarro, director of Pizarro laundry from Portugal presented "Denim wash trends from op European brands for AW18".
Denim has been one of the most promising textile segments in India in the past decade and is set to grow further, given India's status of being an avid producer of denim - second only to China - as well as an avid consumer with a higher volume of jeans sold than in the USA and the second largest consumer worldwide.
Photos: Denimsandjeans and Killer Jeans website
Meenakshi Kumar

|
The Chennai Apparel Association is hosting the 14th garment fair from July 18. This is a platform for garment manufacturers and retailers of Tamil Nadu to showcase their products to expand business. They get a chance to understand current market trends and upgrade themselves to new technologies.
This year the fair is being held at the Chennai Trade Centre and Convention Hall. Nearly 400 to 500 participants from all over India are attending. Though the focus has always been on men's apparel section, a great amount of emphasis is being given to the other sections as well like women's and children's apparels. A string of well known Indian brands including Lawman, Sunnex, Citrus and Perrymoni have been constant exhibitors. This year new sari section has been introduced.
This fair is open to all manufacturers and retailers in India. Participation in the fair consists of 75 per cent from other states and 25 per cent from Tamil Nadu. In the long run they are looking to increase greater participation from Tamil Nadu. The fair has seen steady growth over the last 12 years. Starting with only 40 stalls it now houses about 100 stalls. The intention is to grow, to be one of the biggest garment fairs of India by 2018.
Meenakshi Kumar

|
For last 50 years Mumbai's Sasmira is a landmark with strong roots in textile sector. The institute which has trained over 30,000 professionals run businesses globally, has come together to form Sasmira Alumni Foundation (SAF) to give an impetus to a cause which truly needs to be voiced. The concept, aptly titled 'No Naked Child', is an unique initiative which aims to provide clothing to under privileged children across the country by hosting Texathon, an annual affair which is an effort to galvanize the alumni and others from the textile industry in a unique. The world's 1st textile community run, 'Texathon', is scheduled July 9, 2017.
At the onset of the major announcement of the tie-up with Goonj, a national NGO recognized for its vast reach in addressing basic need of clothing through its various campaigns across the country, SAF will reach out to many helping hands to give their surplus to the No Naked Child cause. This will be done through financial contributions by spending on stitching of fabrics as well sourcing surplus garments from the industry. Charan Ahuja, Project Head No Naked Child, Sasmira Alumni Foundation (SAF) says over the next two weeks, SAF proposes to have a garment collection drive at across places in Mumbai for students, alumni, textile companies and the public in general to give sparingly used clothing, fabrics and garment surplus for the cause of 'No Naked Child".
This marathon will give a chance to people to participate in an initiative which will help in clothing underprivileged children. The aim is to raise funds to support 'No Naked Child'.
Simone Preuss

|
Africa Sourcing & Fashion Week (ASFW), taking place at Millennium Hall in Ethiopia's capital Addis Abeba from 3 to 6 October 2017, will focus on sustainability and its central theme "Sustainability in Clothing".
Given that currently, clothing and textiles represent about seven percent of world exports - a percentage that is likely to rise - the trade fair puts particular emphasis on production, the environment and certifications. A fashion show, trend area and matchmaking platform for finding business contacts are just some of the other programme highlights.
From this year onward, Messe Frankfurt's three trade fair brands Texworld, Apparel Sourcing and Texprocess have been integrated into ASFW after Messe Frankfurt reached an agreement with the fair's organiser Trade and Fairs East Africa last year. More than 250 international exhibitors from 25 countries worldwide are expected to participate.
Because the origins of fashion and sustainable production are becoming particularly relevant to more and more fashion buyers, ASFW is anticipating an increasing interest in eco fashion and will present new approaches in this regard. Fast fashion giant H&M, GIZ (Society for International Cooperation) Ethiopia as well as circular economy and resource efficiency experts of WRAP and development agency Solidaridad will present sustainable solutions.
In addition, international manufacturers of textile machines will showcase new technologies for the African market. This includes the Italian textile machine association ACIMIT, which will be represented with a range of product innovations.
Visiors also look forward to the annual fashion show with African creations as well as the designer conference where experts will give presentations on "International fashion – designed in Africa". In terms of trends, trend forecasting and analytics company WSGN will present future trends in women's, men's and children's clothing while "Trend House" showcases international trends made in Africa.
The ASFW will take place for the seventh time in Addis Ababa, Ethiopia in 2017. It serves as a meeting point for garment manufacturers and the east African textile industry, focusing on apparel fabrics, leather, fashion and fashion accessoires to home and contract textiles, technical textiles and the processing and care of textiles. Machine manufacturers for garment production, CAD/CAM systems, printers, inks and accessories also have a strong presence.
Photos: Africa Sourcing & Fashion Week website
Simone Preuss

|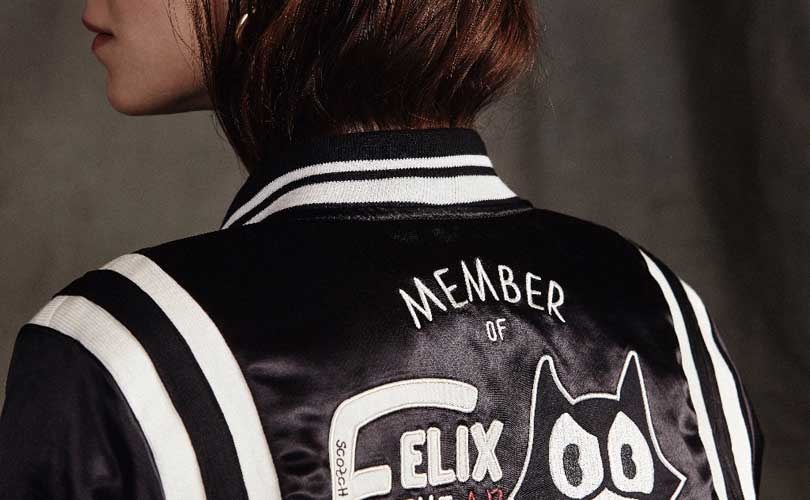 Amsterdam denim brand Scotch & Soda will show for the first time at international fashion trade fair Premium Berlin, which will take place from 4 to 6 July 2017 at Station Berlin. The brand's presence at the trade fair supports a recent increase in investment in Germany as part of Scotch & Soda's strategic growth plan.
"Berlin's naturally buzzy, creative and open spirit is a lot like Amsterdam, our home city. Premium Berlin feels like the right event to profile Scotch & Soda at, as part of our growth plan in this key market. We look forward to making the space at Premium our own, showing the full Scotch & Soda offering for our main line," commented Alex Jaspers, global director of merchandising at Scotch & Soda.
At Premium Berlin, the brand will present its spring summer 2018 lines for men and women in a 220 square meter space that includes an outdoor terrace. In the past year, Scotch & Soda has invested in three permanent showrooms in Germany: a 1.500 square meter space in Dusseldorf and two 600 square meter spaces in Hamburg and Munich. In addition, a new shop-in-shop concept with accompanying refreshed P.O.S. concepts has been rolled out with wholesalers across Germany, where a team of 25 sales experts led by sales director for Germany, Andreas Firneburg, services the market.
The decision to participate in Premium Berlin is part of a number of steps implemented to drive the brand's growth in Germany, including two seasonal instalments of Scotch & Soda's first global campaign "From Amsterdam, From Everywhere." A third phase of the brand campaign is currently in development and will be released in fall winter 2017.
The brand also just launched an exclusive denim capsule collection together with Universal Brand Development featuring Felix the Cat, the world's oldest cartoon character. The capsule collection offers denim and sports apparel for men, women and children that has been inspired by Felix the Cat. It will be launched in addition to the Amsterdam Blauw SS18 collection and will be supported by launch activities in October and November of this year.
Photo: Scotch & Soda PR
FashionUnited

|
Paris - On the eve of its tenth anniversary, Denim Première Vision demonstrated what might be tomorrow's denim. The buzz at the Paris Event Center on 26th and 27th April was all about ecology and technology. "If ecology is the major topic for the whole industry and has experienced real evolution, then technology remains associated with active sport, namely performing-fibre products, for example, with a vintage look", explains Marion Foret, fashion product manager of Denim Première Vision.
A greener denim
In the field of recyclable denim, Advance Denim (China) displayed a canvas combining 100 percent recyclable cotton and filament. The recycling of cotton/polyester mixes is usually impossible as fibres cannot be separated. Here, this action is possible because it dissolves in water thus enabling both fibres to be recycled. The idea is like inviting the consumer to take their used denim to the shop and from there it will be sent back to the factory so that the product can be fully recycled.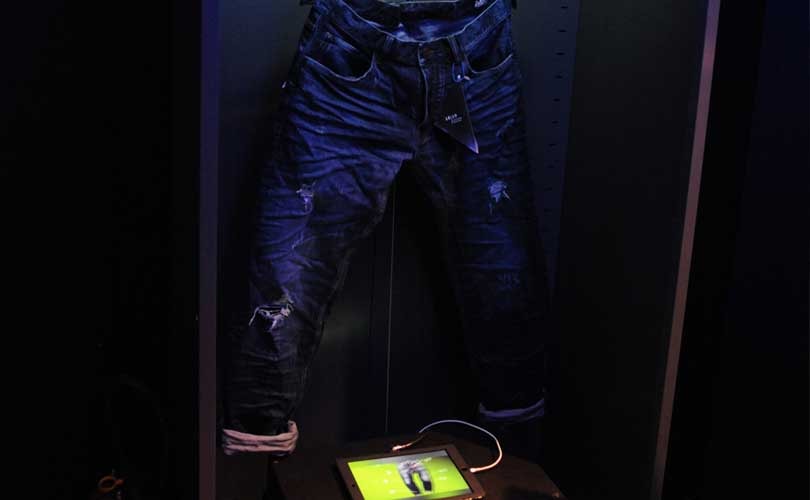 At M&J Group, innovation involves the reduction of laundry costs. Water, energy, chemical products…by means of a full-cycle monitoring and measuring system enables complete traceability of the denim canvas production process, all measures are taken into account in order to help the implementation of a consumption reduction plan. The only one of its kind, this software should soon be available at various launderettes.
A revolution is at last taking place on the display shelves of Artistic Fabric Mills (Pakistan) who aim to stock articles with a QR code allowing access to production information for jeans. As an overview, the strategy of the company's ecology manager is to provide full transparency of the production process: from cotton to the finished garment. This already involves a mix of eco-responsible fibres (bio cotton, cotton BCI, recycled coolmax polyester), a greener dye (reduced amount of water used), a cleaner wash…."This kind of approach which aims to attract the consumer is very new for manufacturers", outlines Marion Foret. "We are entering the era of global traceability which allows customers to understand the product manufacturing process."
The technological side
Meanwhile, another world enables the discovery of tomorrow's denim. This way, the artist Pauline Van Dongen, was able to present Solaar Windbraker: a recycled, waterproof denim jacket featuring solar panels. Concealed within the lining is a battery recharged by means of flexible solar panels thus allowing any mobile technology (telephone, camera, GPS…) to be recharged even with little sun. A smartphone can also be recharged wirelessly.
American streetwear brand Rochambeau displayed one of its limited edition jackets with Avery + Evrythng (15 units were marketed in December 2016). Equipped with microchips and QR codes concealed in the lining, it enables access to exclusive content. The wearer can use their smartphone to interact with the technology concealed in the jacket. It offers a tour of New York city and suggests unique points to the user for a personal itinerary (art galleries, shops, events or restaurants).
Written by Céline Vautard for FashionUnited France
For all our articles on Denim, click
here
.
Foto: Denim Première Vision
Simone Preuss

|
The denim market in India is booming, thus attracting its first international denim exhibition, Denimsandjeans, which will be held at the Lalit Ashok in Bangalore from 25 to 26 September 2017. Buyers like key retailers and brands as well as factory representatives from India, Europe, South East Asia and USA are expected.
"It gives me great pleasure to bring our show to India after successfully running it in Bangladesh and Vietnam," said Denimsandjeans founder Sandeep Agarwal. "I feel that the Indian denim industry is at an inflexion point, where we will see it take off strongly and attain depth and breadth. While we are already the second largest consumer of jeans today, we will see the market maturing substantially in terms of usage across regions and demographics. Our show aims to bring together the major stakeholders in the supply chain to come together and help in this process."
The two-day international trade show will be the first-of-its-kind in India, bringing together local and international denim mills, denim and garment manufacturers and those looking to source denim fabrics and apparel.
Denim has been one of the most promising textile segments in India in the past decade. While the capacity of Indian denim mills was only about 300 million meters in 2005, it is now about 1.3 billion metres; an increase of 300 percent, making India second only to China globally. Apart from being a denim producer, India is also an avid consumer: more than 500 million jeans are sold in the country annually, a bit more than the 490 million pairs sold in US per year.
The Denimsandjeans.com website was set up in 2007 by Sandeep Aggarwal to provide trends, analyses and reports on an almost daily basis for the denim industry worldwide. The first Denimsandjeans exhibitions took place in March and October of 2014 in Dhaka, with the Bangladesh shows then becoming annual events. The first Vietnamese edition followed in 2016. Denimsandjeans also launched De-Brands, the first online denim show, that brings buyers and suppliers together online at their portal.
During the month of April, which sees Denim trade fair Kingpins and the Amsterdam Denim Days taking place, FashionUnited focuses on Denim. For all our articles on Denim, click
here
.
Photo: denimsandjeans
Simone Preuss

|
The denim market is still booming and in view of the fact that 70 percent of the world's denim production is happening in Asia, countries such as Bangladesh are becoming increasingly important. At present, there are 26 denim factories and the country is the second-largest denim supplier for the EU (third-largest for the US) and imported jeans worth almost 933 million euros in 2015.
After safety and community in 2015 and sustainability in 2016, this year's edition of the Bangladesh Denim Expo (BDE) focuses on denim networks. The sixth edition of BDE will take place from 17th to 18th May at the International Convention City Bashundhara in Dhaka.
While there were 3,000 visitors and 50 exhibitors from 14 countries in November 2014 , BDE 2016 attracted more than 5000 visitors from over 46 countries worldwide, representing more than 1000 companies. They met 54 exhibitors from 15 countries who presented the latest products, trends and innovations of the denim industry.
Bangladesh Denim Expo grows exponentially
"The expo has become a much awaited event in the international denim calendar. That's why we are also trying to expand the scale of the expo on par with the expectations," explained BDE CEO Md. Mostafiz Uddin.
As in previous years, the "Sustainable Apparel Forum" will facilitate the successful exchange of knowledge on the first day of the event to make it easier for factories and individuals to implement sustainability. The WGSN workshops will also take place on May 17th.
The expo's second day is dedicated to the seminar program. In the morning, "From Ideas to Technology" is about discovering a new age for garment finishing while in the afternoon, everything revolves around the denim trends for autumn/winter 2018-19. There are also special events such as the Tonello Denim Gallery, a trend zone area for information exchange and virtual reality tours of a denim mill, jeans factory and laundry, not to forget the retro selfie booth.
During the month of April, which sees Denim trade fair Kingpins and the Amsterdam Denim Days taking place, FashionUnited focuses on Denim. For all our articles on Denim, click
here
.
Meenakshi Kumar

|
Children Baby Maternity Expo (CBME) will be held in Mumbai from April 11 to 13. CBME is the largest children and maternity product business expo in India. It offers business opportunities for local and global manufacturers and sellers of baby products to connect, network and conduct business with a choice of dealers, distributors, influencers and merchandise heads from modern retail businesses, online retailers, service providers, business investors and franchisee seekers.
An exhaustive spectrum of baby care products will be on display along with toys, baby food, organic clothing, nutraceuticals, ergonomic furniture, stationery, infant safety technology, brain development tools and more. Among the participating countries are Australia, China, Vietnam, Thailand, US, UK, Canada and Italy. More than 150 major global and Indian exhibitors will be present. The event will facilitate interactive forums like knowledge-sharing seminars, workshops and panel discussions on pertinent topics.
Brands will make their presence felt through a rich array of quality, technologically-advanced and aesthetically pleasing international products. The expo will also include a start-up pavilion that encourages innovative ideas in the sector; premium fashion accessories and clothing from both well-known and emerging designers, brands and manufacturers; an innovation product corner that will showcase creations that highlight design excellence, product safety and innovations, and many more.