Meenakshi Kumar

|
Italian fashion brand United Colors of Benetton has introduced the first active wear collection in India. This is being launched within the 'Undercools' portfolio of the brand. Keeping in mind the growing need for fitness casual wear, Benetton introduced its first ever active wear collection in India, which will offer high octane styles to match a higher intensity workout.
The range is lightweight keeping in mind the functional and thermal considerations required to make an active wear comfortable. It comprises seamless leggings, sports bras, hoodies, shorts, tees and body shorts for men and women respectively.
Sundeep Chugh, Managing Director & CEO, Benetton India, says Benetton as a brand continuously endeavours to adapt with consumer's changing lifestyle. With its latest range of active wear the brand has made a conscious approach to bring inspiration and innovation in the world of smart working out, truly building itself as a leisure brand. With the launch, the brand also announced the launch its first two exclusive Undercolors stores at Gurgaon and Kolkata by end of this year.
Benetton Group is one of the best-known fashion companies in the world, present in most important markets with a network of about 5,000 stores. The Group has a consolidated identity comprised of colour, authentic fashion, quality at democratic prices and passion for its work. These values are reflected in the strong, dynamic personalities of the United Colors of Benetton and Sisley brands.
Meenakshi Kumar

|
Global fast fashion giant Uniqlo has put off its India entry for a year due to the unavailability of quality retail space. The Japanese casual wear brand is now looking to enter the market by 2019. It has taken the help of Commercial Real Estate Services (CBRE) for a 15,000-17,000 square feet space in North India for the first store. Meanwhile the brand is talking to mall developers for the right location for its India expansion. Uniqlo, now plans to set up a wholly-owned subsidiary in India.
Global apparel company, Uniqlo works with a number of external companies to help find possible locations in both existing and new markets. And before venturing out it looks at and reviews a number of possible locations before making a decision.
Real estate consultant firm JLL says, for the first time in 2016, a net negative supply of retail space was observed in the country. While 13 malls were completed, 15 malls were withdrawn from the operational stock, resulting in a net effect of 0.3 million square feet reflecting on the supply side.
Meenakshi Kumar

|
Leading apparel companies viz. Arvind, Raymond and Aditya Birla Fashion Retail have now taken the initiative to promote khadi. They have tied up with Khadi and Village Industries Commission (KVIC) to source khadi fabric and and launch designer apparels with the khadi mark. KVIC feels involvement of corporates in the khadi industry will help boost artisans income while growing khadi's market, this will help khadi institutions fetch more orders.
Meanwhile, KVIC is looking at Rs 3,000 crores turnover in fiscal year 2017-18 up from Rs 2005 crores it made in 2016-17. KVIC is targeting Rs 5,000 crores turnover by the end of 2020.
Aditya Birla Fashion and Retail is looking to introduce khadi clothes under its brand Peter England by the end of this year. KVIC is taking initiatives to increase sales of khadi, which today stands under one per cent among total textile sales in the country. Raymond too is planning to launch khadi products in October this year, initially in India, and from next year Raymond khadi garments will be launched overseas. Raymond hopes to do business worth Rs 70 crores from khadi this year. The company would be sourcing around 4,00,000 meters of khadi from khadi institutions, which is expected to create three million man hours of employment for khadi weavers.
FashionUnited

|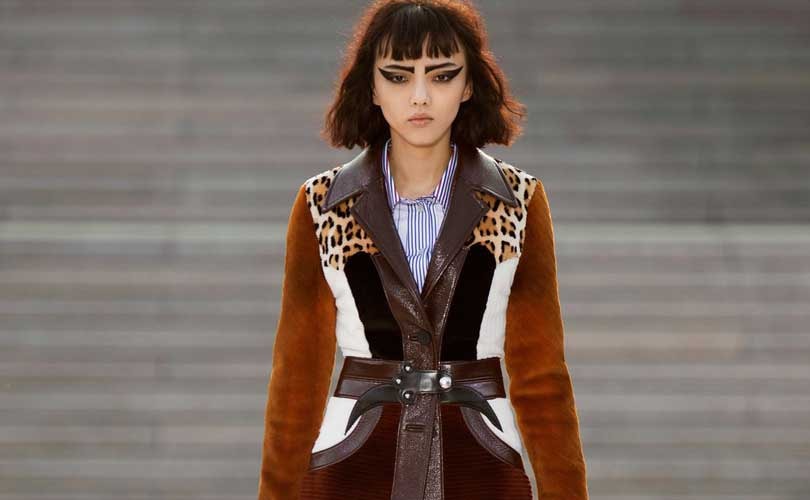 China can now say hello to shopping for Louis Vuitton online. The luxury fashion brand has launched e-commerce in the country to tap the booming online shopping market there.
While Louis Vuitton has had a presence in China since 1992 when they opened their Beijing store, this is their first e-commerce venture for the country. On Thursday, louisvuitton.cn officially launched. The site offers bags, small leather goods, shoes, accessories, watches, jewelry, luggage and writing instruments.
Louis Vuitton enter Chinese online shopping market
E-commerce is available for the following cities: Beijing, Shanghai, Chongqing, Chengdu, Guangzhou, Shenzhen, Hangzhou, Nanjing, Shenyang, Dalian, Haerbin and Wuhan. In a statement, Louis Vuitton said they plan on expanding to more Chinese cities at a later date.
While luxury brand were long resistant to e-commerce, they have been steady to embrace it over the past several years. The expansion into China marks the eleventh market for Louis Vuitton's e-commerce. The company first launched e-commerce in France, and also offers online sales in the U.K., Germany, Spain, Italy, the U. S., Canada, Brazil, Japan and Australia.
In China, payment can be made via UnionPay, Alipay and WeChat Pay.
photo: via Louisvuitton.cn
Meenakshi Kumar

|
Amid protests in Gujarat, Tirupur et al by textile traders who are demanding a rollback of 5 per cent GST on fabrics, Finance Minister Arun Jaitley has negated the idea that the textiles sector was never taxed in independent India. The entire textiles sector was subjected to central excise duty, he says. GST on fabrics will break the input tax credit chain for the domestic industry and make imported items cheaper.
Under new GST yarn and fibres made of silk, wool, cotton or other vegetable fibres have to pay 5 per cent tax. While garments and made up clothes costing less than Rs 1,000 pay 5 per cent tax and those exceeding Rs 1,000 attract 12 per cent levy. Yarns made of man-made fibre or filament attract 18 per cent GST, while he same is 5 per cent for fabrics. Jaitley stated that the GST rate structure for the textiles sector enables ease of classification and determination of rate.
Textile traders are demanding tax on fabrics to be removed completely. Jaitley has however shot it down saying zero GST on fabrics will break the input tax credit chain and garments/made ups manufacturers will not be able to get the credit of tax on previous stages also nil GST on fabrics will result in zero rating of imported fabrics, while domestic fabrics will continue to bear the burden of input taxes.
Meenakshi Kumar

|
In a bid to remodel their business and cut costs, Delhi-based fashion e-commerce firm Yepme has shut four brick and mortar stores. These were in Gurgaon and Noida. VAS data services, which runs Yepme, shut these offline stores two each in Gurgaon and Noida in the NCR.
Meanwhile it opened a new store in at EDM Mall, Ghaziabad. Vivek Gaur, Co-founder, Yepme points out if one is remodelling their business to an omnichannel (model), they have to get the cost structure right. It is cost-cutting in relevant places. The company has also opted for smaller warehouse. It may be recalled that sometime back, Yepme employees had lodged a complaint with the Labour Commission accusing them of delayed salaries. Employees blamed the company for putting "mental pressure" on them to resign and alleged they were being asked to return company assets. Yepme founded in 2010 by Sandeep Sharma (chief operating officer and chief technology officer), Gaur and Anand Jadhav offers fashion merchandise on its portal.
Meenakshi Kumar

|
Pernia's Pop-Up Shop, the online fashion store is in talks to raise funds for first round of funding. The funds will be used for marketing and acquiring new customers. Founder Pernia Qureshi feels they have established the brand well with good organic growth so far. And to boost future growth and reach out to more customers they are looking for funds. Besides jewellery, saris and accessories from top Indian designers, the store also sells its own Pernia Qureshi women's wear label.
The company is targeting venture capital funds, high-net-worth individuals and family offices to raise funds. It's a niche of business and therefore, there is strong investor interest.
It maybe recalled as per Boston Consulting Group (BCG) and Facebook report in March, India's online fashion market is estimated to touch 12-14 billion dollars by 2020 on the back of smartphone penetration, better logistics infrastructure and evolved shoppers. Online fashion shoppers will more than double to 130 million from the current 55-60 million. Several online fashion stores have come up to cater to the changing fashion trends of Indian customers.
Vivian Hendriksz

|
INTERACTIVE MAP
Retailers and shoppers alike can breathe easy, as fears of a hard Brexit have done little to scare away shoppers. London's New Bond Street has been hailed as one of the world's prime fashion retail destinations, according to CBRE Research's semi-annual Global Prime Retail Rents. West End's New Bond Street prime rental rates grew 39.1 percent during Q1 2017 compared to the same period in 2017, making it the fastest growing prime retail location in the world. And the second most expensive retail location, with rent averaging 1,753 US dollars per square foot per year.
The news map can be found after the next two paragraphs.
New York City remains home to the world's most expensive shopping street, namely Manhattan's Upper 5th Avenue, but London showed the strongest annual rent growth, climbing up the ranking to the second most expensive shopping street, with rent averaging 1,753 US dollars per square foot per year in Q1 2017. London's overall strong retail performance is said to be emblematic of the wider retail strength spotted across Europe, which was the only global region to register rent growth. Retail rents declined in the Americas, driven by weakness along the US Eastern Seaboard. Overseas in Asia Pacific, rents fell, but key cities, notably Hong Kong, rents started to stabilize, according to the report.
FashionUnited has mapped the Fastest-Growing Retail Locations, named by CBRE.
Instructions:Open the menu by clicking the button in the top left of the menu or click on the icons in the map to learn more about the locations and their retail rents.
Tip: For an optimal experience we recommend you view this map in full screen. Hit the button on the top right 'view larger map'.
Meenakshi Kumar

|
Ducati is launching its apparel range in India riding on Flipkart. The Italian motorcycle maker is has entered an exclusive licensing deal with ecommerce giant Flipkart that allows them to manufacture Ducati's T-shirts, shirts, jeans and the entire apparel line. Ducati, had launched its superbikes in India a few years ago. Among their Indian clients are cricketer MS Dhoni and Vikram Oberoi, Joint MD of Oberoi Group of Hotels.
While the popularity of these brands are increasing they are also facing an onslaught of fakes. In fact, in 2011, US-based superbike company Harley-Davidson had dragged Big Bazaar to Delhi High Court alleging trademark violation and in a bid to restrain the hypermarket chain from selling shirts and T-shirts with images and trademarks of the iconic motorcycle's brands.
The closed in an out-of-court settlement when Kishore Biyani's Future Group agreed to stop selling products Harley-Davidson and its trademarks, including Bar and its Shield logo, on T-shirts.
Meenakshi Kumar

|
Bata, is now looking to beef up customer experience to attract more footfalls in its stores. The footwear brand is now investing in both offline and online channels and as Anand Narang, VP, Marketing, Bata India, says the brand knows a good customer experience turns a casual customer into a loyal one and the experience of consumer is therefore regularly measured for continuous improvement of store-service.
Bata doubled its ad budget in 2017 and has launched a new TV campaign 'Me and Comfortable with It' aimed at modern Indian women, says Narang. The brand operates 1,200 outlets across India and is focusing on small cities, where consumers are seeking the same retail experiences as metros. Narang describes the outlet as being unique with its clutter-free aesthetics and visual impact creating a truly international shopping experience. The brand is creating breathtaking store windows where to showcase its collections.
Bata has started offering an omnichannel experience, as more and more consumer's research purchases online before buying. Consumers are able to buy online and pick up shoes in store or even reserve online for subsequent store trial, Narang explained. And as it looks to reach younger consumers with new sub-brands, Bata is looking to engage this demographic via social media, with a range of content from wardrobe curation posts to competitions.