Meenakshi Kumar

|
E-commerce platform Fynd plans to expand to Southeast Asia, including the Philippines. It also plans to expand beyond clothing, footwear and accessories to children's wear, decor and furnishing. Fynd offers same- or next-day delivery in eleven cities in India, and has tied up with about 250 brands. Its platform is both app- and webpage-based. This month Fynd deployed an omni-channel in-store product, Fynd Store, that lets customers browse all products of a particular brand on screens inside the brand's physical outlet. If a customer cannot find a product or a size at that outlet, it can be ordered and delivered via Fynd Store.
It is Fynd Store that the company plans to take to international markets. Many times when customers shop and cannot find products in their size they settle for something that is one level lower in their liking hierarchy. Fynd is trying to solve this problem. Fynd was launched in 2012 as an in-store engagement provider, then branched out to an e-commerce platform before evolving into an omni-channel or online-to-offline retail firm. The company's strategy for international markets will be the opposite of what it did in India — it will first deploy its omni-channel Fynd Store product before launching its e-commerce Fynd app.
Meenakshi Kumar

|
Max has unveiled its spring/summer 2017 collection. Imperial blue, barbados cherry red are the dominant colors of the season. The season shows off an eclectic range of trends - ruffle details, asymmetrical hem lines, engineered appliques, natural hues, inflated silhouettes and oversized proportions. The assortment expresses a richly detailed sense of elegance and passion through a wide range of exclusive apparel, footwear and accessories for every occasion.
Blush tones, muted corals mixed with digital botanical prints, handcrafted patchwork patterns form a chic line of women's wear this season. It also incorporates designs based on tropical prints and ditsy floral with luxurious fabrics such as weightless georgette, rib knits and sheer fabrics with embroidery details.
Indigo dyed fabrics woven in shades of blue and white, with an accent of beige, jacquard patterned collar ribs, multi-colored placement reverse collars, color blocked tees form the highlights of men's wear. The yacht motif, poster-inspired graphics, surfer icons, tropical motifs, distressed typos, beach life quotes, chevron patterns and palm tree motifs all add up to the quirky fun quotient.
Young girls have shift dresses, cold shoulder tops and dresses with watermelon shades of pink with red and navy. Florals blossoms in soft colors of pastel pink and corals mixed with denim blue, tangerine yellow, strawberry pink and fun fruity appliques add to the fun quotient. Boys have print tees, chest prints and bottoms, polos, character tees, hoodies, along with dynamic graphic T-shirts.
Meenakshi Kumar

|
Luxury brands in malls like Emporio and UB City want a cut in rentals. These include high end labels like Armani Jeans, Jimmy Choo, Canali and Giorgio Armani. Demonetisation has deeply hurt luxury retailers as their goods are sold primarily in cash. Sales in the luxury sector have halved since demonetisation.
Luxury rentals in India are already high. Due to limited options, there is a demand-supply mismatch with regards to leasing, which is driving up rentals. The rental structure is similar to a mature market, but the demand isn't. Rent should ideally be eight to ten per cent of turnover, but in India it currently stands around 16 to 20 per cent.
The luxury sector has reeling under various anti-black measures, such as the imposition of a one per cent excise duty on gold and diamond jewelry products. Besides, it has been made mandatory for customers to share their pan for cash transactions of more than Rs 50,000. Also there has been a one per cent luxury tax on goods worth more than Rs 2 lakh, which has led to a drop in sales of several luxury goods.
Meenakshi Kumar

|
Arvind Brands' web store NNNOW will soon have many brands even out of the Arvind portfolio. Going beyond the online space, NNNOW has made its offline presence with 200 stores of 12 brands like Calvin Klein, Flying Machine. IS Polo Assn, Aeropostale, Ed Hardy, The Children's Place, Gant, Aero, Nautica etc through window displays. Covering all stores of 25 brands NNNOW will also include brands like Puma, Levi's and many Indian ethnic brands.
Further developing on the offline and store presence, NNNOW will soon have pop-up shops and shop-in -hops in brick-and-mortar stores of the abovementioned brands. Bangalore-based Restore is developing fixtures of these shop in shops. NNNOW has looked beyond being only an online shop. Integrating many features, NNNOW will soon be physically present in many stores integrating many services. For example, shoppers can enjoy shopping with various brands from a single store depending upon proximity.
Arvind is one of India's largest integrated textile and apparel companies. It holds power brands like US Polo, Arrow, Calvin Klein, Tommy Hilfiger, US Polo Assn, Ed Hardy, Hanes, Arrow, Gant and Nautica. The company is also one of the largest producers of denim fabrics and is supplier to a large number of fashion brands in the world. The current market cap of the company is Rs 10,546 crores.
Meenakshi Kumar

|
Mandhana Retail Ventures is planning to expand its footprint across smaller towns and cities for the next phase of growth. Mandhana is a textile and apparel manufacturing company. It sells the Being Human brand of clothing. The company is planning to open 100 exclusive Being Human stores in the next four years across Tier II and III cities like Raipur, Bikaner, Guwahati and Vapi. Currently, the company operates 60 exclusive stores across 40 cities, including Ahmedabad, Ambala, Amritsar and Bangalore.
Mandhana Retail has a global licensing arrangement with Being Human, a Salman Khan Foundation, to design, manufacture, retail and distribute textile products. Royalties from the clothing line support education and health care initiatives of the Salman Khan Foundation. The Being Human brand is also into jewelry now.
Mandhana sells Being Human clothing through exclusive stores, multi-brand outlets like Central and Shoppers Stop and online marketplaces like Myntra, Jabong and Flipkart. All combined, the company has 600 sales points, including international stores (125 in the Middle East and 75 in Europe). For Mandhana 20 per cent revenue comes from exports and online marketplaces contribute eight per cent. It has been growing at a compounded annual growth rate of 65 per cent over the last three years.
Meenakshi Kumar

|
Foreign retailers are embarking on ambitious expansion plans in India. But with many Indians still fiercely loyal to traditional dressing — and with less purchasing power than their counterparts elsewhere in the world — commercial success for foreign brands is not easy. Progress has been slow. The ones that succeed are those that understand the Indian consumer psyche. Consumers don't have that euphoria about foreign brands anymore.
Initial challenges mean foreign retailers' presence in India is still more sparser than in China, another fast-growing market. Inditex has 18 stores in India, compared with 607 in China, while H&M has 12 in India, compared with 444 in China. Early entrants such as M&S struggled because prices were too high as a result of costly import duties. This changed for M&S after it partnered with Reliance Retail and developed a domestic supply chain.
Inditex and H&M, which both have garment factories in India, have aggressively cut prices and taken a lead among foreign fashion chains targeting urban Indian women. H&M plans to open 50 stores by 2020, targeting middle-class shoppers in smaller cities. Meanwhile the internet has catapulted foreign brands into the mainstream by reducing distribution costs. The number of middle-class households in India is expected to increase by 5.6 per cent by 2020.
Meenakshi Kumar

|
Saks Fifth Avenue may open two stores in India through a partnership with Aditya Birla Fashion and Retail. These stores will located in New Delhi and Mumbai. The luxury goods retailer will have goods from brands like Gucci, Burberry and Ralph Lauren across segments, such as cosmetics, apparel and accessories. Saks Fifth Avenue will be the first multi-brand luxury retailer to enter India. Globally Saks Fifth Avenue has about 60 stores.
Aditya Birla Fashion and Retail's business includes the Madura Fashion division. It sells brands including Van Heusen, Louis Philippe, Peter England and Allen Solly. Pantaloons which it acquired in 2012, is India's largest fashion and apparel retailer with a revenue of over Rs 6,060 crores in financial year 2016. In the luxury segment, Aditya Birla operates multi-brand retail chain Collective and has been slowly expanding its portfolio. Last year it announced a partnership with UK-based luxury brand Simon Carter and US-based fashion retailer Forever 21.
The luxury goods market in India is still to reach its full potential and lags behind more advanced markets such as China by 12 years. India's luxury goods market is led by the National Capital Region, Mumbai and Bangalore. It is dominated by single-brand retailers such as Gucci and Louis Vuitton, which have about half a dozen stores in India.
Meenakshi Kumar

|
Amante will open 20 exclusive outlets this year in India. At the moment there are seven stores. These are located in: Mumbai, Jaipur, Noida, Lucknow, Bangalore and Chandigarh. The brand is also available at 1200 multi-brand outlets across the country.
Amante sells premium lingerie, sleep wear, sportswear and swimwear. The brand is now worth Rs 100 crores and is growing at 20 per cent. The target is to attain a turnover of Rs 150 crores by 2018. Launched in India in 2007, Amante is an international lingerie brand, adding confidence, glamour and sensuality to every modern Asian woman's wardrobe. The brand is a part of MAS Brands, which is a subsidiary of MAS Holdings, South Asia's largest supplier of niche market intimate wear.
The fully integrated supply chain and design offices in New York, London and Hong Kong offers a premium product set to the latest international trends and styling. Designed for the active modern woman, this comprehensive clothing range includes innerwear for all occasions. Amante's products are known for quality, design, comfort and an accurate fit, which supplements in enhancing a woman's personality. The brand focuses on delivering the best product that is a careful blend of style, comfort, and affordability.
Meenakshi Kumar

|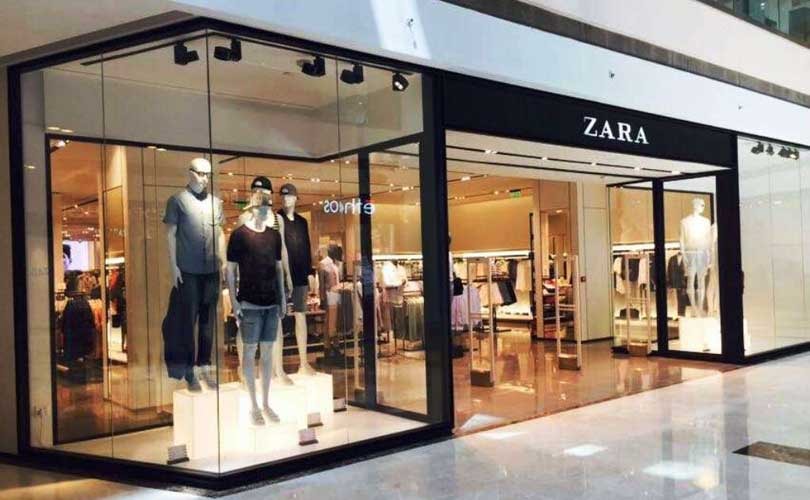 Global marquee fashion and lifestyle brands such as Gap, Zara and The Body Shop are resorting to price cuts to stay competitive and increase their market share in the price-sensitive Indian market. UK's cosmetic brand The Body Shop slashed prices across categories in India by 20-30 per cent on Friday while US fashion brand Gap is looking to bring down prices of certain products by 10-15 per cent by allowing its India franchisee Arvind Lifestyle Brands to manufacture them locally. To bring down the cost, Arvind will produce 30-40 per cent Gap merchandise in India to be sold here. The process has already started and the company plans to introduce them in spring-summer 2018.
Spanish brand Zara, the market leader in fast fashion, too is looking at slashing its prices to bring them closer to Swedish rival H&M. According to experts, price cut is one of the most effective ways to increase sales and market share in a price-sensitive market like India, particularly in highly competitive and fast-growing segments such as branded apparels and beauty products. Devangshu Dutta, CEO, Third Eyesight, highlights that most brands strategically lower prices for the value conscious Indian consumer. In most cases, prices are reduced to drive the demand further.
The Inditex-owned fashion brand had reduced prices by up 15 per cent when H&M entered the Indian market in October 2015 with its global strategy of aggressive pricing. The move helped record a 17 per cent sales growth during FY16, though that was its slowest sales growth since opening its first store in the country in 2010. Zara posted sales of Rs 842.5 crore during FY16.
Sourcing strategies
Gap has been struggling to keep pace with Zara and H&M in the Indian market. According to business head of a prominent mall in Delhi that has all the three brands, Gap's sales are at times less than half of sales of Zara and H&M. According to Gap spokesperson in San Francisco, sourcing strategies are tailored as appropriate for the markets and channels the company operates in to enable competitive positioning.
Some brand say the price cut will make their products more accessible to consumers. Lower prices of best sellers bring affordable cruelty free beauty closer to diverse consumers across age groups and geographies, recruiting new fans along the way.
In September 2015, when Arvind Lifestyle Brands took over the business of beauty and wellness retailer Sephora from former franchisee DLF Brands, the first thing it did was a price correction. The company looked at pricing in Dubai and Singapore and kept it in the band of 5-10 per cent lesser than that.
Meenakshi Kumar

|
Start-ups like Zivame, Myntra and Fynd are looking at setting up brick-n-mortar stores. Since fashion is a touch and feel category, they are looking at an omni-channel distribution approach. Zivame's foray into the brick-n-mortar space was to help women experience lingerie in an uninhibited way. With data suggesting that even today, four out of five women wear ill-fitted lingerie, the retailer saw a need for elevating this category and making women more aware of the right fit. This prompted Zivame to take the next step and establish Fit Studios. Zivame has nine stores across the country and the plan is to open 100 stores by the end of the year.
Online fashion platform Fynd recently launched an omni-channel in-store product, Fynd Store, to enhance the shopping experience through in-store kiosks, which will showcase inventory on interactive digital screens. E-commerce and online may be making a big splash but offline still accounts for 90 percent of retail sales in India. The penetration of fashion and lifestyle online is only two per cent.
Myntra is about to launch its first physical store in Bangalore. It is also looking at augmented reality/virtual reality and innovative software to provide a unique experience to customers at stores.